WE'VE GOT TO BE REALISTIC
(Friday 12th October 2001)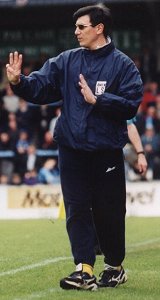 As Lawrie Sanchez goes into his 150th game in charge at Adams Park, the Wycombe boss is still remaining level headed on Wycombe's chances of pulling off a surprise promotion challenge. "At this moment in time we're not a First Division club. We want to be there, I want to be there, the players want to play there, the board want to get there. But at this moment in time we're not ready for it." commented the Wycombe boss at a recent supporters' forum. Sanchez feels that the fan base needs to be built up before Wycombe can sustain a position in the First Division and cited Rotherham as an example. "With the best will in the world, they'll come down either this year or next year and they are having to pay players 3 to 4 times what they were paying them last year and still have their wages to carry forward with them."
But Sanchez would still jump at the chance should he pull off another miracle. "I'm an ambitious manager. I want to 'do a Rotherham' and the rest of you can catch up with it. Off the field the Board can try and fund it."
Sanchez says the realistic aim this season is to finish 6th. "If we do that we've done marvellously well and as fans you've got to be realistic as well. Every fan and every manager and every player starts the season thinking we'll be top of the table come the end of the season. But there are eight teams in this division who are really First Division teams 'slumming it' in the Second Division. They've got fan base or they've got backing, or they've got both. We're competing against that. Much as I like to think I can pull rabbits out of hats, you can only do that for so long. Sooner or later those things are going to catch up with us."

Sanchez, now the longest serving Manager at Wycombe since Martin O'Neill, added "You've got to take pride in how far we have come. We can go to the next step but we've got to be realistic about how long it would take to get there. Something 'big' needs to happen off the field finacially. One of the biggest ones is if you had 9,000 people down here every week. The budget would be reviewed tommorrow, I would have a lot more money to spend and we could take that gamble."


Return to News Desk...
---
---
---

FANS
FORUM
Leave your own stories and comments via
www.gasroom.co.uk
---
---