THE OLD MAIN STAND - ADAMS PARK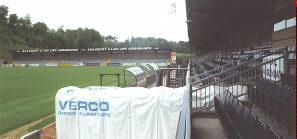 Until the Woodlands Stand was built, the 'Old Main Stand' was the only seated area of Adams Park. Although the stand is small - around 1,300 seats - the rear of the construction includes the commercial offices, changing rooms, bar, banqueting and hospitality suites. Apart from a few cosmetic changes, it has been virtually unchanged since it opened in 1990.
---
SPECIFICATION: Capacity 1,317 all seating and all covered. A small number of standing spectators are permitted along the perimeter fence - although these are only sold seperately for all-ticket games and have been greatly reduced since the 'away end' was increased in size during the summer of 2001. The original standing allocation in this area was 558 but without any terracing or elevation for spectators, only those standing against the perimeter fence would be guaranteed an unobscured view, making the paddock an area usually occupied by club officials and 'freebie' ticket holders.
Two toilet blocks (Male and Female) situated at either end of the stand. Two refreshment areas, again situated at either end of the stand. Two Press Boxes are also situated in this stand.
HOW MUCH?: For more ticket details go to the Ticket Office. Up until the end of the 2000/2001 season high demand games saw approx 300 seats allocated to 'away' fans towards the Hillbottom Road End of the stand. However, during the summer of 2001 the away end was doubled in size to 2,000 and away fans were intended to be no longer permitted in this area in order to meet with the Planning Obligation agreed at the time. However, overtime, high demand games have seen this stand used for an 'overspill' of away fans. On the final day of the 2012/13 season, the entire 'Old Main Stand' was allocated to already promoted Port Vale, taking their allocation to near the 3,000 mark. On other occasions, low demand for tickets from away fans (generally below 200), has seen the Hillbottom Road end closed and the away following situated in the end of the 'Old Main Stand' closest to the away end. Some additional press benches were also added in the summer 2001, again in the section closest to the away end and in front of the existing press and public address boxes.

---
Return to start of Stadium Tour