WANDERERS YOUTH TEAM ROUND-UP
August/September 2000
After a successful 1999/2000 season that saw the Wanderers Youth set-up win the Football League Youth Alliance Southern Division One Merit Table and reach the Fourth Round of the FA Youth Youth Cup, the 2000/2001 season was entered full of hope.
Changes in the league structure has seen an Under 17 section introduced to compliment the Under 19 competition. The Wanderers now compete in the South-East division, with the Under 19 section now consisting of 12 teams (an increase of three from 1999/2000). Teams play each other home
and away and the season ends in February when the teams are split into three groups who then go on to play the respective teams from the nine team South West Division on a one off basis in the 'Merit' matches.
The newly formed Under 17's division consists of eleven teams (all expect Luton Town from the U19 division). There are no merit matches at this level.
Youth Team Manager Gary Goodchild has welcomed the change to incorporate the Under 17 competition. Wanderers Youth Development Officer Adrian Cole has also praised the change. Writing in the Youth Team's award winning programme he said "With the number of Scholarship places to clubs restricted to 18 boys over 3 years it will also help us better in assessing the the players we are thinking of offering a place to".
Under 17's.

John Nolan, coach to last season's successful Under 14 Centre of Excellence team, has been given the new role of leading the Under 17 side. After a 5-0 pre-season victory at Hillingdon Borough, the Under 17's began their League campaign with a 6-0 reverse at Brentford followed by a 2-1 home defeat to Colchester United. However, these games were played with a number of the under 16 year olds missing due to injuries and family holidays. A 5-2 home victory over Gillingham got the team onto winning ways with 16 year old Daniel Plątel scoring twice to add to the four he scored in the friendly with Hillingdon. Plątel scored two more in a 7-3 defeat to a very strong Cambridge United side while the youngsters completed September with a hard fought 2-2 home draw with Brighton where exciting midfield prospect Mark Philo scored twice.
Under 19's
A 14th minute red card for defender Roger Johnson in the opening game at Colchester makes the 0-0 scoreline even more credible against a side that beat Wycombe twice last season. Jonny Dixon continued his goalscoring feats with two goals in the 3-0 victory at Brentford, while a 2-2 draw at Gillingham extended the unbeaten run for the Under 19's to 12 games.
That run came to an abrupt end with a 2-0 defeat at Luton - a performance that saw the boys dragged in for Sunday morning training.
A week later that result was in the past as Southend were beaten 4-0 while the September programme was concluded with a excellent 1-1 draw at Brighton. German triallist Kai Sudheimer got The Wanderers goal while Steve Williams performed heroics in goal to stop the South Coast side taking all three points. The lads will have to return to Brighton in the First Round of the FA Youth Cup on Wednesday October 25th.
CLICK HERE FOR FULL YOUTH TEAM FIXTURES AND RESULTS>>>
---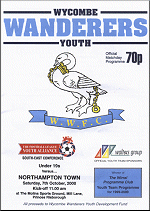 The Wanderers Youth Team play their home League games at Molins Sports Ground in Princes Risborough. Admission is FREE and a programme is produced for all Under 19 fixtures.
The programme won the Wirral Programme Club Youth Team Programme of the Season for 1999/2000.
CLICK HERE FOR FIXTURES AND RESULTS 2000/2001>>>
---
PLAYER OF THE MONTH
AUGUST 2000

Leeyon Phelan
PLAYER OF THE MONTH
SEPTEMBER 2000

Ben Towsend
Click here for more Youth team links