Cheltenham Town 1
Wycombe Wanderers 1
Saturday 25th September 2004
Football League 'League Two'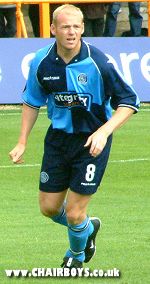 Wanderers missed the chance to register three consecutive away League victories for the first time since April 1999 after they grabbed a 1-1 draw at Cheltenham Town. In a dour contest it was the home side who took the lead in the 36th minute when Jamie Victory beat Frank Talia to a ball into the box and headed home. Wanderers hit back after the break and eventually drew level in the 75th minute when Keith Ryan struck home a low shot from just outside the box after Nathan Tyson, playing despite an injury scare, had picked up possession near the right corner flag.
Taking on 20th placed Cheltenham, Tony Adams made two changes to the starting line-up that had lost 1-0 at home to Swansea City the previous week - Gus Uhlenbeek returned in defence in favour of Bolton youngster Charlie Comyn-Platt, while up front Ian Stonebridge stepped in ahead of Reading loanee Bas Savage.
On a fantastic surface and in slightly wet conditions, it took until the 21st minute before either side had registered a serious effort on goal - that coming when Danny Senda made a run from the left of midfield before laying the ball off to Stonebridge who shot just over the crossbar and into the Wycombe following behind the goal.
The home responded when Martin Devaney shot high of the target following a slip in the Wycombe defence, while moments later Talia had to get down quick to push the ball at the far post after Devaney had crossed from the right.
Ryan had his first long range shot of the day on 34 minutes when he connected well from 25 yards but Shane Higgs in the Town goal tipped over. Two minutes later Wanderers were behind when Steve Guinan crossed from the left and Talia was slow off his line allowing Victory to nip in to score having advanced untracked from his defensive position.
A corner from the left on the stroke of half-time by Senda almost saw Wycombe draw level but Roger Johnson's header at the far post was forced away by Higgs.
Half-time Cheltenham 1 Wycombe 0
The game continued to be a scrappy affair in the second period. A twice taken free-kick by Clint Easton around the hour mark came to nothing despite the second kick being moved forward to the edge of the penalty area after John Finnigan had encroached on the first.
Bas Savage replaced a largely ineffectual Adam Birchall on 63 minutes but it was the home side who nearly doubled their lead when Ashley Vincent was given space down the Town right, thankfully for Wycombe the Town player shot straight at Talia instead of opting to cross for a waiting Guinan in the centre. The opening for Cheltenham prompted Easton to have a face to face with Talia but Johnson stepped in to prevent the matter getting out of hand.
Wanderers equaliser came after Talia had ignored a call to play the ball short to Savage, instead opting for the long ball towards the right corner flag. Tyson picked up possession but lost out as he just managed to keep the ball in play. However, Cheltenham made a mess of the clearance, allowing Easton to lay the ball off to Ryan in a central position just outside the penalty and the Wycombe veteran struck home to level and score his first goal since December 2003.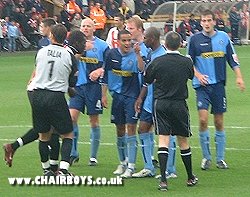 The game ended with a couple of heated exchanges. First in the 80th minute Gary Silk lunged in on Town substitute Kayode Odejayi close to the corner flag. The home crowd bayed for a red card while the referee deemed yellow was sufficient despite Odejayi being unable to continue. Former Bristol City trainee and Wycombe triallist Damien Spencer replaced Odejayi and was involved in the other controversial incident when Talia grabbed a ball on the edge of his penalty area ahead of a challenge by Spencer. The linesman appeared to signal for handball against Talia and it prompted a mass confrontation with the officials before a free-kick was given Wycombe's way for a foul on Talia by Spencer.
The best chance to win the game fell Wycombe's way in the final minute when Tyson, who played on loan for Cheltenham towards the end of the 2001/2002 season, picked up a back pass but seemed to take the ball too wide and the chance was blocked before Easton mis-kicked the follow-up.
Wanderers drop down to fourth place in the table after this result but the unbeaten away record in the League now stands at 6 games, including 2 at the end of last season.
Final Score - Cheltenham Town 1 Wycombe 1
Speaking to BBC Three Counties Radio after the game Tony Adams admitted "I didn't think it was the most entertaining game in the world," and added "I was pleased overall that we've got something out of the game but I still feel it's two points dropped. If we keep going behind like this it will make it very difficult. But there is a fantastic spirit amongst the boys. They are very together and there is a bonding there and I don't think the team I had last year would have come back from that."
Meanwhile, Town boss John Ward was not happy with the decision surrouding Silk's challenge on Odejayi. Ward, who turned down the Wycombe job in 1999 but didn't bother applying in 2003, said "It was a shocking challenge and I can't see how a yellow card for that can compare to a yellow card for John Finnigan for encrouchment. It just does not add up. It is just not correct in the laws because a challenge like that has injured my player, and my player has to come off and they're player stays on. It can't be right."
Wycombe: Talia, Uhlenbeek, Nethercott, Johnson, Silk, Senda, Ryan, Easton, Birchall (sub 63 Savage), Tyson, Stonebridge - subs not used Reilly, Dixon, Comyn-Platt, Williams
Bookings: Easton (73 foul), Silk (80 foul)
Scorers: Ryan (75)
Cheltenham: Higgs, Gill, Duff, Brough, Victory, Devaney, Melligan, Finnigan, McCann, Guinan (sub 77 Odejayi [sub 84 Spencer]), Vincent - subs not used: Wilson, Brown, Bird
Bookings: Finnigan (57 encroaching), Gill (60 foul)
Scorers: Victory (36)
Referee: F Graham
Attendance: 3,663 (590 away)
Interactive Stats

Match and players
All the Wycombe results, scorers, team line-ups and statistical breakdown of the current season - FULLY INTERACTIVE to your heart's content.


Latest Table and form Updated table with results archive of ALL Division Two games plus form guide and previous meeting between ALL clubs for the past four seasons.


All match reports © 1996, 1997, 1998, 1999,2000, 2001, 2002, 2003, 2004 Chairboys on the Net (www.chairboys.co.uk) - Not to be reproduced without our written permission.