NEWS FROM WEEK ENDING 10th July 1999

WYCOMBE SEE RED(9th July 1999)
Wycombe have been given a £20,000 suspended fine by the FA following last season's poor disciplinary record. Chairman Ivor Beeks and Manager Lawrie Sanchez travelled to London last week to hear the bad news. Beeks told the Bucks Free Press "We have got to clean the situation up and we will. We don't want want to be spending our money on fines to the FA". Wycombe accumulated 109 bookings last season
.

SQUAD NUMBERS ANNOUNCED(9th July 1999)
Wycombe have announced the following squad numbers for next season.
1.Martin Taylor 2.Matt Lawrence 3.Chris Vinnicombe 4.Jason Cousins 5.Paul McCarthy 6.Jamie Bates 7.Dave Carroll 8.Keith Ryan 9.Andy Baird 10.Sean Devine 11.Paul Emblen 13.Mark Westhead 14 Mo Harkin 15.Jermaine McSporran 16.Lee Holsgrove 17. Mark Rogers 19.Gary Wraight 20. Richard Thompson 21 Alan Beeton 22.Dannie Bulman 24.Nick Leach 25.Martyn Lee 26.Mark Osborn 27.Eddie Gray 28.Michael Simpson 29.Danny Senda 30.Steve Brown
Lawrie Sanchez has said there's "nothing to be read into the numbers". The players were asked to pick a number between 1 and 11 and then another between another between 12 and 30.


TICKET SALES GOING WELL(7th July 1999)
Lawrie Sanchez's target of having a record number of season ticket holders is still very much on as the Club has already taken over £300,000 in advance season ticket receipts with 25% of those buyers being new applicants from last season. Maximum discounted season tickets can be bought up to 8.45pm on Friday 16th July 1999.


COUNTY NOW ON A FRIDAY(7th July 1999)
The final alteration to the 1999/2000 fixture list (for the time being) is that the home game with Notts County will now take place on Friday 21st April 2000 rather than the suggested date of Thursday the 20th April. Full list

JC TO MISS IRELAND TRIP(7th July 1999)
Jason Cousins will probably miss the pre-season trip to Ireland after failing to recover from his twisted ankle picked up when he scored against Bristol Rovers back in March of last season. Cousins is currently having treatment at Lilleshall and may be out for the league opener against Burnley.


VIDEO NOW AVAILABLE (5th July 1999)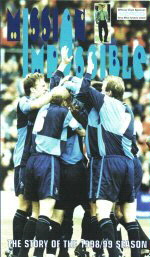 The annual review of the season video is now out and as expected draws much of its material from the last few weeks of the season. Running in at 1 hour and 43 minutes all the Wycombe goals for the 1998/99 season are featured, including the pre-season friendlies and cup games. Much of the footage is taken from the Nationwide Highlights programme with an occasional piece of 'in-house' commentary added for good measure. Once you've lived through the cheesey intro you'll find that Neil Smillie is 'sacked' just 35 minutes into the production with Lawrie Sanchez appointed within a couple of minutes (if only it was that quick!) The Man City game at Maine Road is dedicated 10 minutes of coverage with the final game at Lincoln commanding 15 minutes. The run-in to the season is interspersed with an 'after season' interview with Lawrie Sanchez which just about justifies the £14.99 price tag. From a quality point of view, camera work and picture transfer are excellent although some of the editing leaves a bit to be desired, as does the sound quality but for a complete record of the season in one package, plus the chance to relive Lincoln again and again, it's a must for every Wycombe nut. Available now from Wanderers in Town.


DROP FAVOURITES AGAIN (4th July 1999)
Wycombe have been made favorites for the drop to Division Three for the third season running. Bookmakers Tote have made Wycombe 66/1 for the title alongside rivals Colchester United. The full list of odds is as follows; Wigan 4/1, Bristol City 7/1, Bournemouth, Brentford, Preston 10/1, Cardiff, Gillingham 12/1, Burnley, Stoke 14/1, Blackpool, Notts County, Reading 16/1, Millwall 20/1, Bristol Rovers 25/1, Cambridge, Oxford, Wrexham 25/1, Chesterfield 28/1, Bury, Scunthorpe 33/1, Luton, Oldham 50/1, Colchester, Wycombe 66/1. (What do they know??)


NEWELL MISSES OUT (4th July 1999)
The start of the new season is now just over month away with the first friendlies starting in two weeks time. Still no news of any new signings but an unusual story in last week's Bucks Free Press revealed that former Blackburn and Aberdeen striker Mike Newell was being tracked by Lawrie Sanchez. The 34 year old Scouser ended up signing for Conference side Doncaster Rovers after his wife failed to pass on a telephone message in time. Sanchez seemed disappointed in missing out on the 6 foot target man and may now opt for the current forward line plus newly created forward Paul Emblen.
The squad starting training this week at RAF Halton minus expected guest Daley Thompson. Thompson had to pull out due to commitments at Wimbledon (Football Club that is, not the Tennis).


YOUTH TEAM TO NORWAY (4th July 1999)
Wycombe Wanderers Youth Team fly out to Norway this week to play in a pre-season tournament. They will play Youth Team Manager Gary Goodchild's former club Viking Stavanger as well as Lillestrom and Start. The 20 strong squad will include First Team fringe members Danny Senda and Martyn Lee.