TRUST AGM 2015 REPORT
(Friday 27th February 2015)



Trust Chairman Trevor Stroud quashed fears of a takeover bid from within during his report to Members at the 'Wycombe Wanderers Trust' Annual General Meeting held on Thursday 26th February 2015 at Adams Park. Stroud told the 250 strong attendance in the Vere Suite that new Football Club Chairman Andrew Howard had persuaded former Directors Ivor Beeks and Brian Kane to 'invest further into the Club' and went on to add: "Whatever your views you cannot deny that without their financial support over the summer we would also certainly be sitting on 49 points, rather than the 59 that we have. To clarify the situation regarding these loans, particularly for students of history, these are fully documented and agreed loans and are repayable by mutual agreement. So anybody harbouring concerns of 'guns being held to head' can relax."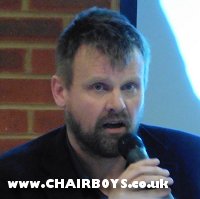 Stroud went on the add that Mssrs Beeks and Kane were not planning a take-over of the Football Club but added: "There have been a number of discussions with Andrew [Howard] about the best structure of the Football Club going forward that could include the reorganisation of debt, which could give him and possibly others, part ownership of the Club." Later in the meeting Andrew Howard took part in a short Question and Answer sessions that saw him confirm that he didn't want to own the Football Club and would love the Trust to keep up their ownership of what he described as 'something quite special'.

The business end of the AGM saw seven new faces fight out for four vacant places on the Trust Board. Existing Board members Keith Blagborough, Matt Clarke, Tim Goode and Reg Rundle all retired by rotation but didn't offer themselves for re-election. The seven new candidates each spoke to the members present prior to a ballot of the Members.

The results of the ballot were:

John Bignall 127
Martin Broughton 107
Mark Burrell 132 *
John Derben 198 *
Dale Jenkins 177 *
Nigel Kingston 113
James Sumner 194 *

*=Elected





The lengthy election process meant that the proposed share scheme launch was postponed until 19th March 2015, with the hope that this will coincide with a Fans Forum. Stroud confirmed that they had to 'jump through a number of hoops' to get to the launch but were now ready to go.

With regards finances, Stroud confirmed that the Club had cleared £295,000 worth of debt during the previous year and that the reputation of the Club within the business community had improved and every payment to Steve Hayes had been met - it was later confirmed that the outstanding debt to Hayes had been reduced from the original figure of £2m to £1.4m following agreed repayments and extras from the sale of players who joined during his tenure at the Club.

Finalised Football Club accounts have yet to be finalised for audit but provisional figures shown at the meeting revealed the estimated loss for the 2013/14 season would be around £244,000 compared to a loss of just over £1m the previous season. The change had come by reducing expenses (generally the wage bill) and an increased profit from player sales of £642,000 compared to £237,000 the previous campaign. It was also confirmed that the sell-on clauses with Liverpool for Jordon Ibe were still in place and were expected to provide a significant income stream in the future.

Stroud conclude his report by saying: "We are in the strongest position we have been since [The Trust] took control of the Club and I'm confident that we will be in an even stronger position by the next AGM. However, to continue down this positive path we cannot live in the past, we need everyone pulling in the same direction, with the underlying mantra of 'what is right for Wycombe Wanderers."

Click here to read all the latest Wycombe news
---
---

FANS
FORUM
See comments and updates via
www.gasroom.co.uk
---