Fleetwood Town 1
Wycombe Wanderers 0
Monday 21st April 2014
Football League Two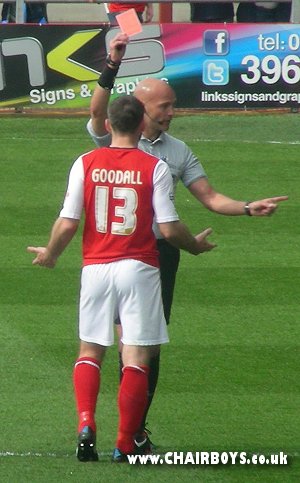 Wanderers missed out on the opportunity of easing their relegation fears after losing 1-0 to a Fleetwood Town side reduced to ten men after just 12 minutes. Gareth Ainsworth's team failed to take the initiative after hearing that fellow strugglers Bristol Rovers had lost in their 1pm kick-off with Rochdale. The only consolation from another miserable away day watching the Wanderers was that 23rd placed Northampton Town lost 1-0 at home to Portsmouth, leaving both Rovers and The Cobblers still trailing Wycombe on goal difference.

The following Saturday's meeting with Rovers has now been described by Ainsworth as one "which for all intent and purposes will probably decide the future of the club." This latest set-back came after Ainsworth made four changes to the side that had drew with Northampton on Good Friday - Anthony Stewart, Nick Arnold, Max Kretzschmar and Reece Styche coming in for injured Leon Johnson, Paris Cowan-Hall, Matt McClure and Jo Kuffour. The injury problems led to Wanderers naming ony six from a possible seven substitutes, with Manager Ainsworth amongst the substitutes on the team sheet - this coming despite McClure (who warmed up with the team) and Steven Craig travelling with the squad.

Hopes of a positive result for Wycombe came when the home side were reduced to ten men after Town defender Alan Goodall kicked out at Reece Styche as he lay injured on the ground - the Assistant Referee confirmed the sending off offence to referee Trevor Kettle. But Wycombe failed to take any advantage whatsever without a serious effort on goal during the first 70 minutes of the match. Before then, the winning goal had come on 59 minutes when Josh Morris was allowed to skip aside the Wanderers midfield and defence before striking home from around 20 yards past Matt Ingram.


The closest Wycombe came to an equaliser was a 72nd minute shot from substitute Junior Morias that home 'keeper Chris Maxwell saved. The youngster also went close with two minutes of normal time remaining but in fairness Wycombe never had enough imagination to break down the home side's defence and it's now onto two nerve shredding games with Bristol Rovers and then Torquay United to decide Wanderers' future as a Football League club and beyond.
Full-time - Fleetwood 1 Wycombe 0

Wycombe: Ingram, Rowe, Wood, Pierre, Stewart, Scowen, Arnold (sub 76 Jeffrey), Lewis, Bloomfield (sub 66 Morias), Kretzschmar, Styche (sub HT Morgan) - subs not used: Horlock, Dunne, Ainsworth
Scorers: none
Bookings: Pierre 49
Fleetwood: Maxwell, McLaughlin, Pond, Roberts, Jordan, Blair, Goodall, Sarcevic (sub 90 Murdoch), Morris, Ball (sub 79 Evans), Hume (sub 71 Matt) - subs not used: Davies, Cresswell, Schumacher, Parkin
Scorers: Morris 59
Bookings: Goodall 12 (red card)
Referee: Mr Trevor Kettle
Attendance: 2,711 (250 away)
Post match reaction:

Commenting after the game, Gareth Ainsworth said, Itís definitely a missed chance Ė thatís an understatement. Weíve seen the other results and they have all gone for us Ė it couldnít have gone any better for us this weekend. I told the boys they looked like they had a hangover from our goals being disallowed on Friday. Once they went to ten men, we looked the weaker side. We packed our midfield out but Morris was still able to dance through Ė Iím very disappointed with that. We looked a little bit rabbit in the headlights at times. There were too many under par. The passing wasnít there, the cutting edge wasnít there. We didnít create enough and looked a little bit lacklustre. Thatís the bottom line - Iíve got to look for more. The passing wasnít there Ė when we had chances to switch the play, we switched the play with a high, long ball instead of whipping it in. Itís a fantastic pitch to play football on and we werenít good enough, not by a long shot." The Wycombe boss added, "They have got to realise next week is what itís all about. Itís not about today; itís finished. We now have to put this to bed as soon as possible and concentrate on Bristol Rovers Ė itís the biggest game in Wycombeís league history for a long time. If you are not ready to step up and play in this game next Saturday, you donít deserve to be a League player. People relish games like this. Itís a one game season. Forget Torquay [on the final day of the season], weíve got Bristol Rovers next Saturday and if we win that itís a huge, huge step towards this clubís safety. I believe weíve got plenty to win that and Iím looking forward to the game. The boys know Iíve got a huge task on Saturday. We can win that no problem, but we have to turn up. We canít repeat what weíve done today."