STEVE HAYES GETS HIS WAY
(Monday 6th July 2009)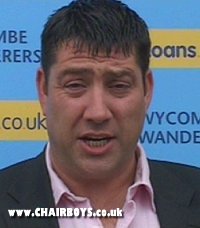 As expected, Wycombe Wanderers shareholders voted in favour of proposals to allow Steve Hayes to take full control of the Club at two prolonged EGM's held in the Vere Suite at Adams Park on Monday evening (6th July 2009). An attendance of close to 200 shareholders saw the start delayed by 20 minutes before the counting of the crucial vote of the Founder Shareholders took a 55 further minutes. The result saw 339 votes FOR the proposal (including the block vote of 153 from the Founders Trust) and 77 vote AGAINST the proposals, thus giving the necessary 'simple majority' for the Ordinary Shareholder vote to go ahead.

Then, despite the apparent formality of the Ordinary Shareholder vote, it was past 10pm before the vote was officially confirmed in favour of the proposals. A show of hands from the floor actually saw the PLC fail to gain the neccessary 75% majority and thus a poll had to be called by Chairman Ivor Beeks and then counted before the Directors wave of shares could be included and victory announced. Steve Hayes gave a passionate speech at the end but many in attendance had already left at this point after undoubtedly voting with a heavy heart on the future of the Club.

Commenting to the Wanderers official website the day after the meeting, Steve Hayes said, "I am delighted and very proud to assume ownership of this great club. I asked for the backing of the shareholders and I received it. I appreciate that the result wasn't to everyone's liking, but now we need to move on." Hayes, who is now sole owner of both Wanderers and ground tenants London Wasps, added, "There seem to be so many different factions amongst our supporters. Some fans just want to watch their team play and then go home without having any further involvement and I fully understand that. But there are others who continually choose to criticise the club on web forums without offering any practical solutions to move the club forward." He concluded, "I would love to see everyone pulling together in the same direction. I know that there are many who want to help the club and we want to talk to and listen to those supporters. We are all affiliated with Wycombe Wanderers and we should be proud of our club. But we can only move forward if we're pulling in the same direction."

Hayes will now be under pressure from many supporters to provide Manager Peter Taylor with a playing budget that help achieve Hayes' previously publicised ambition of making the 'League One' play-offs. Hayes said in May 2009, "It's about progression and we want to progress. We want to get to a position at Christmas where we are there or thereabouts. I think it is realistic that we could get in to the play-offs, that's the aim"

---
Read the COTN summary of the proposals
Click here to read all the latest Wycombe news
---
---

FANS
FORUM
Leave your own stories and comments via
www.gasroom.co.uk
---