PAUL LAMBERT QUITS - REACTION
(Wednesday 21st May 2008)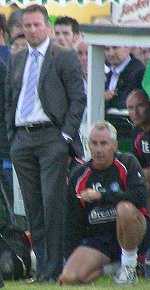 With the dust still settling after the departure of Paul Lambert and the revelation that the Scots man made his decision to quit the Club two months previous, COTN takes at look back at his quotes to the press during this period.

Lambert was speaking in a telephone interview with Sky Sports News on the day of his departure when he said "I made my mind up two months ago, but I had to protect the lads as they are the most important thing,". He went on to add, "It is a great little club with terrific fans and there is no doubt about it. I just thought it was time to go, there was one or two little things that didn't sit with me - but I have had an absolutely brilliant time here. We have just fallen short and it is time for somebody else to have a go."

Coincidentally, it was just over two months ago that press speculation linking Lambert with the Manager's post at Motherwell riled the former Celtic player. He told the Bucks Free Press on the 14th March 2008, "I don't want to leave here. I came from Scotland and I don't really want to go back there. The two years I've been at Wycombe have been terrific. I've managed in Scotland and I've played up there, Motherwell is a terrific club but, at this minute in time, I've got a massive job to do down here."

Lambert has also expressed his dissapointment at certain points during his time at Adams Park. At the Club's AGM back in Decemeber 2007 he spoke openly about his frustration at not being given additional playing budget following the sale of Roger Johnson, Kevin Betsy and Jermaine Easter. He also had a knock back when his attempts to sign Barnet's Liam Hatch and then Luton's Paul Furlong fell through due to lack of finance. Elsewhere, he has criticised the state of the Adams Park surface and even had a dig at the Youth set-up, suggesting it was in turmoil before new staff arrived part way through the 2007/8 season. Lambert was quoted in the Bucks Free Press on 2nd May 2008 as saying "This club's youth system was in a real mess when I came here. It was tragic, I was shocked. There was no organisation, there was nothing there. Everything was wrong until Gary Karsa came in and got it going along with Richard Dobson. He has done a mammoth job."

And speaking two weeks after the links with Motherwell and as he approached the 100 match milestone with Wycombe, he said to the Bucks Free Press, "I've been here two years. That's a long time, long time for any manager to stay at a club." Links of a return to his former Club have also been mentioned with Lambert commenting on 28th March 2008, "The Celtic job is huge. It's a big, big job but I love working in England. This is a terrific football club to be at and we'll see how far we can go with it." Asked to comment where he would be in another 100 games he quipped, "I'll probably be alongside Bill Turnbill in that BBC Breakfast programme by then."


Paul Lambert's Managerial record while at Wycombe.

2006/7 PL  W   D  L  GF  GA 
League 46 16  14 16  52  47
Cup    11  6   2  3  14  15

2007/8 PL  W   D  L  GF  GA
League 46 22  12 12  56  42
Cup     3  0   0  3   2   6
P/O     2  0   1  1   1   2

Total 108 44  29 35 125 112

PLC Managerial time line

9th November 2004 - Tony Adams walks away after just over a year in charge at Wycombe. Club Chairman Ivor Beeks said "It is most unfortunate that the resignation was disclosed during the day to members of the media before a formal meeting with myself." COTN archive

30th November 2004 - Peter Cawley and then Keith Ryan take temporary charge before John Gorman is appointed full-time. Club Chairman Ivor Beeks comments, "All our staff, including our office staff, have been absolutely amazed with his enthusiasm." COTN archive

20th April 2006 - John Gorman placed on compasionate leave following circumstances following the tragic loss of his wife due to cancer. Steve Hayes comments to the Bucks Free Press, "John Gorman is still our Manager and we look forward to seeing him again when the season is over". COTN archive

26th May 2006 - John Gorman is relieved of his duties. A statement from the PLC board says, "The Board believe John needs a great deal more time and professional help to deal with the tragic loss of his wife." Meanwhile, Gormans tells the media, "I wanted my job back. I didn't want to go. I've definitely been sacked. It's got to be known that I didn't want to leave." COTN archive

30th June 2006 - Paul Lambert is confirmed as the new Wycombe boss. Club MD Steve Hayes comments, "Every single manager is a risk, but the board are highly delighted. Some fans might be disappointed it's taken so long, but we think patience and planning is important and we believe we've got the right man for the job." COTN archive

20th May 2008 - Paul Lambert quits as Wanderers' Manager after failing to take the Club up to 'League One' via the play-offs. He comments "This is a great club, but I feel that the time has come for me to move on and I don't have another job to go to. I just feel that this is the right thing to do."

Click here to read all the latest Wycombe news
---
---

FANS
FORUM
Leave your own stories and comments via
www.gasroom.co.uk
---