PITCH PROBLEMS
(Wednesday 8th February 2006)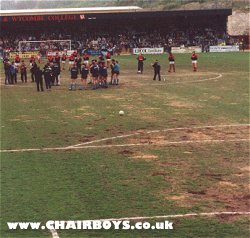 Wanderers are set to implement a pitch protection policy at Adams Park following a noticeable detoriation in its condition over the winter months. Wanderers have already switched a County Cup tie with Aylesbury United to the Ducks Buckingham Road ground, while remaining Reserve fixtures for the 2005/6 season and beyond are likely to follow the same route. Meanwhile, tennants London Wasps will be asked to limit their use of the surface to match related activity. Speaking at the Wanderers PLC AGM on 1st February 2006, Wanderers Managing Director Steve Hayes said, "There has been no cover up on the pitches as mistakes have been made and we have to be very precious with the pitch." The Club issued a lengthy statement on 24th January 2006 in an attempt to explain the reasons behind the pitch breakdown and Hayes went as far to shoulder some of the blame by admitting that he had sanctioned the pre-season friendly with Chelsea on 13th July 2005 despite pitch contractors Sports Turf advising otherwise.
But the pre-season use where three games were played within six days is just one of number of factors affecting the current state of the Adams Park pitch and several fingers are pointing towards tenants London Wasps.
The 'Desso' pitch, along with undersoil heating, was installed in the summer of 2002 at a shared cost with Wasps of around £500,000 and earned early plaudits for its condition. However, after initially restricting its use, the 2005/6 season has seen a gradual increase. During December 2005 there were seven full scale games on the pitch (4 football and 3 rugby) and then a further four games (3 football and 1 rugby) in the first two weeks of the New Year. Prior to this, in a three week period during October and November 2005, there were three occasions where football and rugby were played on consecutive days a situation which the contractors say gives the pitch little time to recover, especially during what has been a relatively dry winter period.
To add to the problem both clubs also use the pitch for pre and post match exercise sessions as well as youth activities. Hayes is reluctant to pin the blame on Wasps and added at the AGM, "The rugby is a factor, that is true, but there are many other factors. We are over utilising the pitch and we've got to do better and we already have a plan in place. We've already had meetings with Wasps coachinhg staff to make sure that we are not doing pre-season friendlies. Our reserves will not be playing on there, our youth will not be playing on there."
The condition of the Wanderers' pitch will not come as a surprise to those familiar with these types of part artificial surfaces. Both Watford and QPR installed 'Desso' surfaces prior to the one at Adams Park and in each case experienced significant problems three or four into its use after what is described as an 'organic top layer' built up over the 'Desso' fibres. The Hornets put their pitch down in the summer of 1998 in order for them to share with Saracens. They claimed they had a planned renovation cycle of five years but undertook earlier action in the summer of 2002 where the damaged top surface was removed to allow reseeding. QPR went down the same route at Loftus Road where Wasps had previously shared and Wycombe will now look for similar maintenance following the close of the 2005/6 season.
Until then Wanderers' precious pitch will have to contend with up to 18 further games, including a Women's Premier League Cup final between Arsenal and Charlton arranged for Sunday 5th March. Hayes says that the Club would willingly spend more money on the pitch now but have been advised it would make little difference until the Spring weather kicks in. Hayes, concluded, "We really need to look after it. It is all very well having a good side but if we haven't got a good pitch then we are letting the playing side down and we have apologised to John Gorman for that."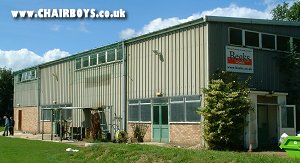 The pitch problems for the Club are not just confined to Adams Park. Continuing issues with the playing surfaces at the Training Ground on the Marlow Road have led to selective training sessions being switched to Bisham Abbey. Wanderers splashed out in the order of £150,000 for the land back at the start of the 2000/1 season and have spent close to half that again to install pitch drainage and upgrade the dilapidated structure that now house training, medical and changing facilities. However, Wanderers Managing Director Steve Hayes indicated at the PLC AGM on 1st February 2006 that plans had been pencilled in for a possible relocation and major improvement to a facility that had been eulogised over by Club officials since it was made operational less than two years previous. Hayes commented ""We really do need a new training facility. We have only got two pitches where we are and I would very much like the Youth, Community (Scheme) and the First Team squad to use and to have, not necessarily a state of the art facility, but a proper training facility where they can all work from."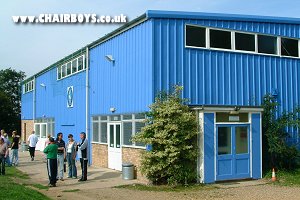 At present the Youth Team and Community Scheme use Molins Sports Ground for the majority of their Saturday and Sunday morning matches and there has been regular talk of wanting these moved permanently to the training ground. But Hayes' AGM comments suggest this still could still be some way off. He said, "If the two pitches are over used, which they are at the moment, then we are spending money to go somewhere else because the players are playing on a sub-standard surface where chances are you get injuries and all the other problems." Hayes says the Club are looking for a site before consultation, design, finance and planning can begin but he warned the process of providing a better training facility will be a long one, saying "There is no way it will be done quickly. But we are trying and looking forward. Our belief is that community and youth is our way in the future as we go forward."
The talk of incorporating more Youth and Community facilities at Wycombe comes as several other Football League clubs question further the financial practicality of running such schemes. Wanderers put in around £100,000 per season into their schemes and this is backed up by a similar amount from grants. However, these grants have diminished in recent years and the through put of players to regular First Team duty has always been relatively low. But Hayes wants a facility that would provide residential capability to ease travelling problems for the youngsters and also provide educational back-up. He added "Our belief is that community and youth is our way in the future as we go forward. It's a long term vision. It is something we are working on."

Click here to read all the latest Wycombe news

---
---

FANS
FORUM
Leave your own stories and comments via
www.gasroom.co.uk
---