MATCHDAY TRAVEL 2004-2005
last revised January 2005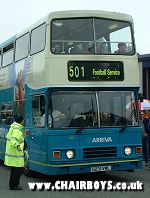 These are details of the special bus services and FREE park and ride schemes running to Adams Park on all Football League and FA Cup home matchdays for season 2004/5. The bus services are subsidised by Wycombe Wanderers, in conjunction with Wycombe District Council and Motts Travel. The new services incorporate the discontinued Arriva 500 service from High Wycombe railway and bus station.

Note that the two Motts routes will not run for any friendly, Carling Cup or LDV Vans Trophy matches unless otherwise publicised.



ROUTE 1 - Motts Travel
			Departure Times		Return
			Afternoons  Weekdays	Fare
Chesham Broadway	12.55	    17.40	£4.00
Amersham Station	13.05	    17.48	£4.00
Old Amersham, Tesco	13.08	    17.53	£4.00
Gt Missenden Station	13.15	    18.00	£3.50
Prestwood High Street	13.20	    18.05	£3.50
Kingshill Common	13.25	    18.10	£3.50
The Common, Holmer 	13.30	    18.15	£3.50
Park Parade		13.33	    18.18	£3.50
Hazlemere Cross Roads	13.35	    18.20	£3.50
Tyzack Rd, Totteridge	13.38	    18.23	£3.00
Hollis Road		13.40	    18.25	£3.00
Hicks Farm Rise		13.42       18.27	£3.00
Micklefield Road	13.44	    18.29	£3.00
Wycombe Marsh		13.45	    18.30	£3.00
Homebase, Hatters Lane	13.48	    18.33	£3.00
Railway Station		13.55	    18.40	£2.50
Wycombe Wanderers FC	14.15	    19.00       Arrive


ROUTE 2 - Motts Travel
			Departure Times		Return
			Afternoons  Weekdays    Fare
Aylesbury Bus Station	13.10	    17.45	£4.00
Stoke Mandeville Hosp	13.16	    17.51	£4.00
The Woolpack, Stoke	13.20	    17.53	£4.00
Mandeville
Terrick Roundabout	13.22	    17.57	£4.00
Little Kimble Railway S 13.23	    17.58	£4.00
The Black Horse, Askett	13.24	    17.59	£4.00
Mill Lane, Monks Ris	13.25	    18.00	£3.50
Place Farm Way, Princes	13.27	    18.02	£3.50
Risborough
Market Place, Princes 	13.30	    18.05	£3.50
Risborough
The Black Prince	13.33	    18.08	£3.50
The Whip, Lacey Green	13.36	    18.11	£3.50
Parkwood, Walters Ash	13.40	    18.15	£3.50
Naphill Post Office	13.44	    18.19	£3.50
Coombe Lane Bottom	13.48	    18.23	£3.50
Bus Station, Union St	14.15	    18.35	£2.50
Wycombe Wanderers FC	14.00	    19.00

Please note: Concessions are ½ price. Return services depart from Adams Park 10 minutes after final whistle (subject to traffic conditions). All Single fares £2, NO Concessions. Motts Travel Tel: 01296 613831 (Coach hire)

FREE 'PARK AND RIDE' SCHEMES
The Club are again providing Park & Ride football services at their own expense to encourage Wanderers supporters to Park & Ride to home matches as part of the Club's ongoing commitment to delivering a 'Travel Plan'. All services return via all pick up points after the final whistle.
CRESSEX CINEMA CAR PARK
Buses leave at 1.45pm and 2.15pm for afternoon home matchdays
Buses leave at 6.30pm and 7pm for midweek games
The 1.45pm bus will stop at Squirrel Lane Stores on New Road
Please note the 2.15pm service will no longer call at the Railway Station. Please use the Motts Route 1 service as an alternative.
KINGS ARMS, STOKENCHURCH & THE DASHWOOD ARMS, PIDDINGTON
Buses leave at 1.50pm (Stokenchurch) and 2pm for afternoon home matches
Buses leave at 6.15pm (Stokenchurch) and 6.30pm for midweek home matches
This bus will also stop opposite the Village Hall in Lane End.

SCHEDULED BUSES BY ARRIVA FROM TOWN CENTRE
Supporters should also be aware that there are scheduled bus services running from High Wycombe Town Centre that pass the Hour Glass pub (approximately 15 minutes walk to ground). The bus numbers are 326 daytime and 315 evenings. They both leave from Bay E in the main Bus Station in Union Street. Note there is a limited return service for evening games with the 315 bus scheduled to leave from near the Hour Glass at 21:31, 22:31 and 23:31. As another alternative, the 33 service departs from close to the Half Moon pub in Dashwood Avenue at 2 minutes and 32 minutes past the hour during the evening. The Half Moon is approximately 30 minutes walk from Adams Park.
See the Arriva website for specific times of services..

chairboys.co.uk will endevour to update this page with any changes to the above services. We cannot be held responsible for any disputes that arise from using the above information but if you are aware of any errors or omissions then please let us know and the page will be ammended.


Click here to read all the latest Wycombe news
---
---
---