Fulham 1
Wycombe Wanderers 0
Tuesday 15th January 2002
FA Cup Third Round replay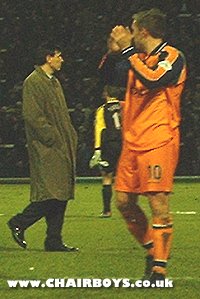 Wanderers bowed bravely out of the FA Cup at Craven Cottage, holding Premiership Fulham until the 69th minute when Barry Hayles capitalised on a Steve Brown error before slotting past Martin Taylor.
Wycombe's brave effort wasn't helped by the intolerant refeering of Graham Barber. The Tring official booked five Wycombe players and dismissed Jason Cousins in the 75th minute for a second bookable offence and with it went any real chance of causing another upset. But that shouldn't mask Wycombe's battling performance against their so called betters from the Premier League.
Wycombe had good chances through Jermaine McSporran, Stuart Roberts and Dannie Bulman before Fulham were gifted their goal. Even when reduced to ten men Wycombe soldiered on and Martin Taylor will look back on a string of saves in the closing stages that were simply breath taking. The introduction of Sean Devine with ten minutes remaining brought a massive cheer from the 3,500 travelling fans in the 11,894 crowd but there was no fairy tale finish.
Wycombe had to make do with a patched up side as they faced up to Fulham's multi-million pound array of talent. Chris Vinnicombe returned at left-back after suspension but Dave Carroll was forced to debutise at right-back before an injury forced an early departure. Keith Ryan took on the centre-forward role but he was later drafted into the defence to cover for the departed Carroll.
Despite the makeshift side Wycombe put up a decent show and it was only after The Wanderers had been reduced to ten men that Fulham looked like adding to their fortunate goal. Before Hayles strike Wycombe always looked like nicking a goal with Stuart Roberts having Wycombe's best chance on 52 minutes as he closed in on goal just right of centre. Sadly for the Welshman he couldn't direct his effort past Maik Taylor in the Fulham goal.
Wanderers started the game with Steve Brown spraying a couple of efforts wide of the target while Louis Saha went close on 5 minutes when he fired a low shot just inches wide of Martin Taylor's right hand upright.
Saha was involved in the first controversy of the night on 15 minutes when Vinnicombe caught the Fulham player in the face with a high kick just as Saha crossed the half-way line. The home fans bayed for a red card but referee Barber applied the letter of the law and produced a yellow. Saha was eventually replaced by Steve Marlet.
The home side were certainly rattled now and on 23 minutes Wycombe could have taken the lead when Zat Knight made a mess in defence but McSporran couldn't take advantage when the ball fell to his left foot.
Barber started his flurry of yellow cards on 31 minutes when he booked Cousins for a foul, while three minutes later Fulham defender Steve Finnan saw the same for a late challenge on McSporran. The madness continued on 37 minutes when Bulman received the harshest booking of the night when he tripped a Fulham out on their left wing.

All hell let loose four minutes before the break when Cousins cleanly tackled Rufus Brevett deep inside the Wycombe penalty area. The Fulham player's theatrical dive and claim of foul play brought no joy from the officials before players from both sides stormed in to offer advice. Sanity was eventually resumed with both Brevitt and Brown the unlucky players to be shown yellow cards for 'giving it large' to the ref.
Half-time 0-0
Roberts effort on 52 minutes brought hope for the Wycombe contingent before the home side stepped up the pressure with Martin Taylor saving from Steed Malbranque. Then on 55 minutes the Marlet's effort was ruled out for offside with flag raised well before the Fulham fans were fooled into celebration.
Three minutes later Darren Currie dazzled the crowd with a neat turn before a trip went unpunished by Barber. However, Wycombe continued to look for an opening and it nearly came following a foul on Roberts as the Welshman took charge down the right wing. Brown delivered the free-kick to the far post where it was headed back across the face of goal and other Fulham cleared, Bulman was unlucky to see his follow up blocked.
Wycombe conceeded the goal in unfortunate fashion. Brown gave away possession in a vital area outside the Wycombe penalty area and Hayles made no mistake as he ran on before driving the ball past Martin Taylor.
Cousins' second yellow for a reckless challenge on Hayles brought the inevitable red card as Wycombe threw on Sean Devine. Sadly for Devine, he was given little chance to make the headlines and it was left to Martin Taylor to stun the locals with some amazing saves, the pick of the bunch being a double save that saw Marlet's effort blocked and the 'simple tap in' by Malbranque also stopped.
Wycombe trooped off at the end looking a little disappointed but it was no shame to lose to a Premiership side who had taken two games to finally get the better of Wycombe. It was a shame that the majority of the after match reaction centred around the bookings and sending-off, as Wycombe were clearly never outplayed and some of the passing, particularly in the first-half would have made a neutral wonder who were the Premiership side.
Final Score Fulham 1 Wycombe 0


Wycombe: Taylor, Carroll (sub 42 Roberts), Rogers, Cousins, Vinnicombe, Currie, Brown (sub 71 Lee), Bulman, Simpson, Ryan, McSporran (sub 80 Devine) subs not used: Johnson, Osborn
Yellow Cards: Vinnicombe (foul 15), Cousins (foul 31), Bulman (foul 37), Brown (dissent 41), Roberts (dissent 70)
Red Cards: Cousins (second bookable foul 75)
Fulham: Taylor, Finnan, Brevett, Melville, Goma, Knight (sub 67 Stolcers), Malbranque, Davis, Saha (sub 21 Marlet), Hayles, Boa Morte
subs not used Hahnemann, Betsy, Trollope
Yellow Cards: Finnan (foul 34), Brevett (dissent 41)
Referee:Graham Barber (Tring)
Attendance: 11,894 (Wycombe 3,500)
Interactive Stats

Match and players
All the Wycombe results, scorers, team line-ups and statistical breakdown of the current season - FULLY INTERACTIVE to your heart's content.


Latest Table and form Updated table with results archive of ALL Division Two games plus form guide and previous meeting between ALL clubs for the past four seasons.



All match reports © 1996, 1997, 1998, 1999, 2000, 2001, 2002
Chairboys on the Net - Not to be reproduced without our written permission.