Aldershot Town 0
Wycombe Wanderers 1
Saturday 4th August 2001
Pre-Season Friendly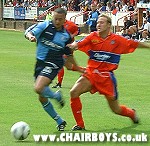 The Wanderers completed their pre-season programme wih a 1-0 victory at Ryman League Aldershot Town. In a sometimes physical encounter Andy Rammell and Jermaine McSporran made a welcome return after injury and it was 'Rambo' who scored the only goal of the game after 25 minutes.

McSporran was in the action as early as the 13th minute when he forced Shots 'keeper Gareth Howells to tip over after Michael Simpson had pulled the ball back from the left bye-line following a through ball from Darren Currie.

Twelve minutes later Wycombe's goal was a typical 'Rambo' strike - the ex-Walsall man slotting home from 15 yards following a ball in from the left side of midfield by Chris Vinnicombe.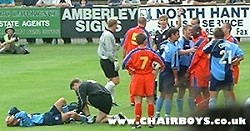 The match threatened to boil over in the 35th minute when a two footed challenge by Mark Bentley on Vinnicombe saw 'Simo' take the law into his own hands with a fierce tackle in retaliation. After some frank discussions between players, officials and management, both the guilty men were 'asked to be substituted', although later we were treated to the farce of 'Simo' returning as one of Wycombe's seven second-half substitutes.

Mark Rogers did well to cut out Mark Watson on 40 minutes while at the other end Currie saw a curling effort saved just before the half-time whistle.
Half-time Aldershot 0 Wycombe 1
Watson blasted wide for the home side eleven minutes into the second-half before Wycombe went on to dominate as conditions turned from sunshine to torrential rain. On 58 minutes 'Rambo' pulled a shot wide from McSporran's through ball and Steve Brown will want to know how he missed from close range following Currie's delivery from the right in the 65th minute.

The closest the home side came to equalising came in the 71st minute when Stafford Browne's header was ruled out for a marginal offside. Wycombe finished off with substitute Gavin Holligan also left rueing a miss from close range - this time from Senda's cross from the right and in the final minute Brown dragged an effort wide of the far post.

The sight of 'Jocky' and 'Rambo' will have eased a few worries in the Wycombe camp, with McSporran looking particularly lively until he picked up a slight knock midway through the first-half. It was also Holligan's first appearance after agreeing a one year deal with Wycombe and he showed enough pace to suggest he could cause problems for opposing defences.

Lawrie Sanchez will know that his forwards will need to clean-up their act in front of goal when the real stuff starts at Cardiff on August 11th but with Holligan, Rammell and McSporran at least giving some options up front, the Welsh side could yet be surprised.
Final Score Aldershot Town 0 Wycombe 1
Wycombe: Taylor (sub 75 Osborn), Cousins, Vinnicombe (sub 75 Emblen), McCarthy, Rogers, Simpson (sub 36 Brown), Carroll (sub 57 Simpson returned), Bulman (sub 75 Ryan), Currie (sub 75 Senda), McSporran (sub 57 Marsh), Rammell (sub 75 Holligan)
Yellow Card: Cousins (foul 17)
Aldershot: Howells, Protheroe (sub 87 Cole), Nutter (sub HT Chewins), Kirby (sub 87 Ellis), Townley, Hartford (sub HT Adedeji), Graham (sub 77 Holsgrove), Bentley (sub 36 Browne), Payne (sub 52 Sugrue), Watson, Gell (sub 77 Payne returned)
Yellow Card: Hartford (foul 41)
Referee: N Russell
Attendance: 1500 approx (approx 300 Wycombe)
All match reports © 1996, 1997, 1998, 1999,2000, 2001
Chairboys on the Net - Not to be reproduced without our written permission.