ROBERTS READY TO GIVE 100%
(Monday 22nd October 2001)


Wanderers' Welsh capture Stuart Roberts has spoken out briefly about Swansea City Chairman Tony Petty and how he's ready for his new challenge at Wycombe.
Talking to the Western Mail, Roberts branded Petty "an absolute disgrace" after he was reported to have 'sacked' seven players at The Vetch Field and put others on reduced contracts. But Roberts wouldn't be drawn into further comments, concluding "There's nothing else I can say about him"

The 21 year old said he would have liked to have stayed with Swansea for the remainder of his football career but said "circimstances meant that wasn't going to happen". Roberts is now setting his sights on his future with Wycombe.

He said "This is a good move for me. Yes I'm sad to leave but I've got to be excited about Wycombe. If I do well here who know what might happen." He went on to say "Hopefully coming here will improve my chances of getting into the Senior Wales squad"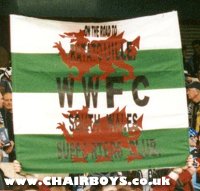 Roberts attended his first Wycombe game at the 1-0 victory at Bristol City and sat in the stand with Martyn Lee. "I've met the Wycombe players and they've made me feel very welcome. The club is going forward, we're only five points off the top of the Second Division and I'm playing under a highly resepected manager in Lawrie Sanchez, so things are looking up."

Roberts said he had mixed feelings when he was signing the contract with Wycombe and actually paused for a couple of seconds before putting pen to paper. "I signed and then realised I wasn't a Swansea player anymore. But I've got to look to my next challenge now and give my new club 100%". Roberts hopes to make his Wycombe debut in the game at Colchester on Tuesday (23rd October) but may have to settle for a place on the bench as Sanchez eases the Welshman into a Wycombe squad that has gone seven games unbeaten.


Click here to read all the latest Wycombe news
---
---

THE GAS
ROOM
Leave your own stories and comments via the Message Board
---