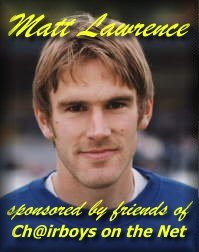 MATT LAWRENCE IN THE CHAIR.


Back on the 27th November 1999 WWISC and Chairboys on the Net undertook a joint interview with Wycombe defender Matt Lawrence. The majority of the interview appeared in the December issue of The Wanderer but here for the first time on the internet is a slightly extended version, including Matt's thoughts on Kevin Keegan, Alan Smith, Indie music and who's on the Net at Wycombe.

WWISC: Matt, you've had two spells at Wycombe, tell us how you first arrived?

Matt: I first arrived from Grays Athletic, who were in the Diadora Premier division and I had just finished college. I was taking six months out as I had finished my degree quickly so that I could have that time in English Football and try and make it professionally. If I hadn't made it here, I'd have gone back to America and played over there. As it happens I played about five of six games for Grays and scored a couple of goals for them as I was playing attacking midfield. Then Wycombe took me on a two-week trial in the January, I played in one reserve match, trained with the team and signed a six-month contract.

WWISC: Whom did you play for before Grays?

Matt: When I was 15/16 I played for Rothwell Town who are now in the Dr Martins Premier but I went off to college at 17 so I didn't play very much English Football when I was younger.

WWISC: Was there any particular reason that you left to join Fulham?

Matt: Yes! John Gregory wouldn't play me. Alan Smith had signed me and perhaps he's not the most popular manager Wycombe has had but he did really well for me by signing me and giving me my chance in professional football. I played under him and when Neil Smillie took over but the moment John stepped through the door I didn't have a chance. In three months I played just over twenty minutes of football so I went and told to him that I wanted to play or leave. Fulham watched me play for our reserves and then signed me. next page....
See also...