Addicted: Tony Adams
by Tony Adams with Ian Ridley
First published in 1998, this revealing autobiography written with the assistance of Adams' good friend and journalist Ian Ridley, details the emergence of the England centre-half coupled with his growing addiction to alcohol. An essential read for those wishing to research the background to Wanderers latest Managerial casuality.
Retail Price £6.99 - available at £5.59 via amazon.co.uk link below
Order 'Addicted' from amazon.co.uk for only £5.59
---

Martin O'Neill: The Biography
by Alex Montgomery
A long awaited biography on Wanderers former Manager Martin O'Neill was published on 10th April 2003. An extract from the synopsis of this 256 page book reads "This biography deals with every aspect of O'Neill's life and career from the early days as a player in Northern Ireland to joining the tyrannical Brian Clough at Nottingham Forest. It chronicles O'Neill's managerial triumphs from non-league Grantham Town, Shepshed Dynamo and Wycombe Wanderers, to Norwich City and Leicester City, then on to Celtic where he broke Rangers monopoly on Scottish football."


Click here to read a chairboys.co.uk special feature on this book
Retail Price £18.99 - 20% discount available via amazon.co.uk
Order 'Martin O'Neill: The Biography' from amazon.co.uk
---
There's Only One Simon Garner
by Simon Garner with foreword by Kenny Dalglish.
The former Wanderers star has finally but together his biography which is now on sale. Some interesting stuff about his times at Wycombe and some choice comments about Alan Smith! Click here for full book review
Price £9.95 ISBN 1-903158-36-2
Order 'There's Only Simon Garner' from amazon.co.uk
---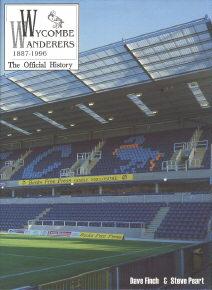 Wycombe Wanderers History 1887-1996
by Dave Finch and Steve Peart.
This is the most comprehensive history of WWFC ever produced. Over 250 pages including results and scorers from every game plus line-ups from 1963 onwards. It's not just a statisticians dream, however, there is a considerable narrative plus pictures, player profiles, programme covers and other snippets. Basically all you are ever likely to want to know about WW. A must for every aspiring Wycombe guru.
Price £16.95 ISBN 1-874427-76-3
Order Wycombe Wanderers History from amazon.co.uk
Please note this book may also be available cheaper from the Wanderers' Club Shops.
---
General Football Reference books
Some essential reads and reference material for the football guru.
Several special offers are available if you buy through the amazon links below


Sky Sports Football Yearbook 2003-2004 - 992 pages - SAVE 30%
BBC Football Yearbook 2003-2004 - 516 pages - SAVE 30%
OPTA Football Yearbook 2001-2002 - 687 pages - SAVE 20%
Football Grounds of Great Britain - 464 pages - SAVE 30%
Supporters' Guide for 2001/2002 - published August 2001 - ONLY £4.79
Football in our time - Stuart Clarke's photos - 224 pages - SAVE 30%
Rough Guide to English Football - 624 pages- SAVE 20%
Bluffers Guide to Football - Just for laughs - ONLY £3.99

If you have any further titles to recommend please e-mail us at books@chairboys.co.uk
---

You can also search for any book via the Search facility below

---