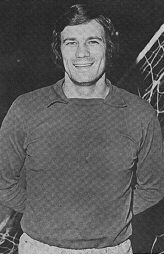 John Maskell
Position: Goalkeeper Nickname: Mask
Played: 616 times When: 1964 to 1979
Characteristics: Strong 'keeper with great reflexes and safe hands. Let his defenders know he was there with some timely comments.
Finest Hour: FA Cup replay versus Middlesbrough in 1975. Rarely missed a game between 1965 and 1975
Don't mention: Breaking a leg after just two months at Wycombe. Bromley away 1971 let in goal from half way line - but Wycombe still won 2-1.
Life after Wycombe: Manager at Oxford City after a spell as Reserve Team Manager at Loakes Park. Also had a short spell at Wycombe in 1986 under Alan Gane before coaching at Abingdon Town and Witney Town.