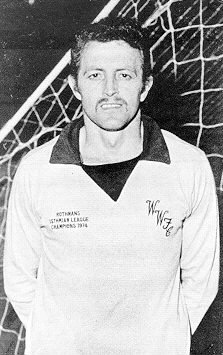 Tony 'Bodger' Horseman
Position: Forward Nickname: Bodger
Played: 749 times Scored: over 400 When: 1961 to 1978
Characteristics: Salmon like in the air. Didn't like training. Can be seen with a packet of Rothmans Kingsize in team photos from the 1970's.
Finest Hours: 60 goals in the 1966-67 season. Playing against Middlesbrough in 1975. Anglo Italian Victory 1975 versus Monza.
Don't mention: retired at least three times due to disputes with the Manager.
Life after Wycombe: Played for Tring and Flackwell Heath and now works locally for Club Sponsors Verco Office Furniture.