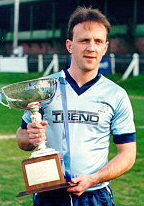 Noel Ashford
Position: Attacking Midfielder Nickname: Ash or simply GOD
Played: 50 Scored: 13 When: 1986 to 1987
Characteristics: The most skillful player in semi-professional football at the time. Ability to beat an infinite number of players, score goals and provide crosses on a plate. Owned the No 10 shirt.
Finest Hours: Winning promotion at the end of his only full season at Wycombe - an excellent taunt of the Bognor defender for scoring a match winning own-goal in the clinching game.
Don't mention: Start of the following season when he left in a hurry for a then record non-league fee of £17,000 after Wycombe's Manager 'resigned'. Wycombe took six months to recover with a string of losers trying to fill the No.10 shirt.
Life after Wycombe: Sold to Barnet and later played for Redbridge Forest. Probably retired now to be a full time gambler although thought to be in States.