Wycombe Wanderers 4
Chelmsford City 0
Saturday 12th November 1994
FA Cup 1st Round Proper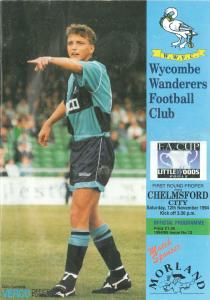 The visit of Southern League Chelmsford City to Adams Park in the First Round Proper of 1994/95 FA Cup saw Martin O'Neill's side understandably marked down as red hot favourites to win the tie. However, it was the non-Leaguers, backed by more than 1,000 fans in a 5,500 plus attendance, who initial gave the home crowd something to worry about.

Wanderers nerves were settled when they took lead against the run of play in the 27th minute when Simon Stapletons's drive from around 25 yards hit both posts before going in. Manager O'Neill apparently blasted his side at the break although the visitors still caused a few problems and tested 'keeper Paul Hyde on a number of occassions.

However, Wanderers went into cruise control after Mickey Bell extended the lead on 58 minutes after a 20 yard run down the left ended with a fierce shot into the bottom corner of the net. Three minutes later it was 3-0 after Lee Turnbull held the ball up for Stapleton to smash home. Keith Ryan completed the victory in the 86th minute when he glanced home a Bell cross.

Reporting for the Bucks Free Press at Adams Park, Claire Nash wrote:

'A half-time verbal rocket from Martin O'Neill gave Wycombe Wanderers an essential kick up the proverbial to shake off the challenge of would-be giantkillers Chelmsford City. Blues, ultimately, negated the Beazer Homes League Premier Division clubs's threat in emphatic fashion in Saturday's potentially tricky FA Cup first-round tie. But the first half hour saw the non Leaguers do enough to make life uncomfortable for O'Neill's men, as well as fuel impatience among the Adams Park faithful.

O'Neill said beforehand that he would treat the tie with caution and was sure that his players, the bulk of which are steeped in nonLeague football, would do likewise in not underestimating their opponents. But status and form, as Marlow's shock victory over Oxford United illustrated the next day, does not prevail in this competition which is ingrained with an aura of unpredictability - most of the time.

It didn't help that Cyrille Regis had failed a fitness test with a thigh injury suffered just two days before, but the fact that Blues allowed a whiff of uncertainty in the first half enraged O'Neill. Goalkeeper Paul Hyde, who made crucial saves in the first half, described the half-time chat as one of the most severe talkings to the players had received since Wycombe were in the Vauxhall Conference.

The way the game unfolded, however, was an intriguing and pleasing measure of Wycombe's maturity since they joined the Football League 18 months ago. So many times in the past they've been the perennial underdogs. This time the boot was on the other foot. Chelmsford were understandably buoyant and up and at 'em. Wycombe were forced to scrap to thwart the visitors' best attacks. But Simon Stapleton, with a helping head from Lee Turnbull, put Blues into a timely lead on 27 minutes.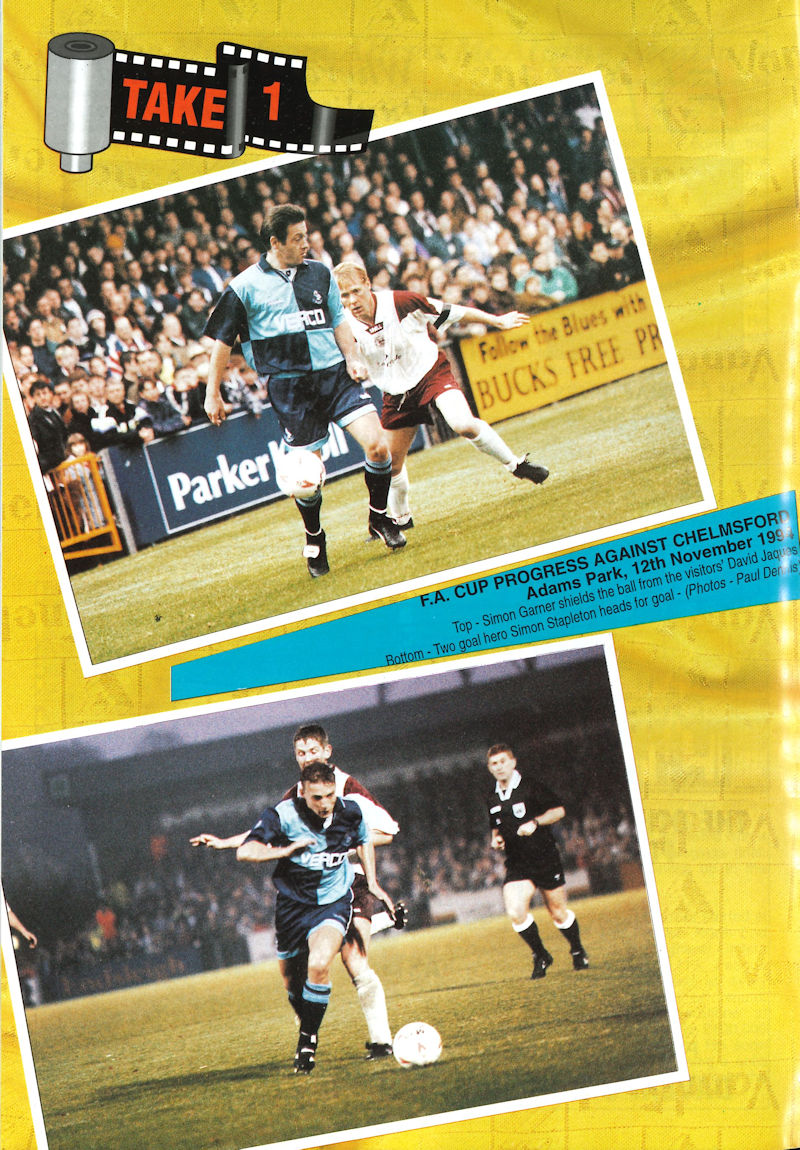 Chelmsford flickered briefly before the break. But the gap between the two sides yawned to realistic proportions after O'Neill's half-time 'pep' talk. Wycombe played their own game and produced three further goals, all procured with fine finishing - by Mickey Bell, with his first goal for Wycombe, Stapleton, with his second of the day, and Keith Ryan, for his second goal in two games.

Chelmsford came close to scoring in a bright early spell. Their leading scorer Steve Restarick was a lively handful and hefty Tony Rogers was an intimidating presence alongside him. Kevin Roddy played in two tantalising crosses within minutes of each other for Rogers to snap up, Hyde doing well to fend off the danger each time. Wycombe forced their advantage against the run of play on 27 minutes. Stapleton's shot from 25 yards, after the ball came out to him from a corner, beat Chelmsford keeper Kevin Shoemake and hit both uprights before going into the net. Turnbull, playing up front in place of Regis, claimed the final touch. Whoever the scorer, however, it was the foothold Wycombe required.

Chelmsford were unlucky not to prosper. Hyde dived superbly to his right to deny Adrian Owers. The Chelmsford midfielder, the sole survivor from the teams' last clash in the 1985/86 FA Cup second round, pounced on a loose ball in the 18-yard box after Restarick's shot cannoned off Wycombe skipper Terry Evans. Blues looked momentarily dopey when Restarick had a shot sear across the face of the goal on 55 minutes. But from there, Wycombe went about their business in no-nonsense fashion. Bell rounded off a great 20-yard run on the left with a fierce shot into the bottom corner after cutting in to beat the keeper on 58 minates. Ryan had a shot go wide of the near post a minute later. Turnbull paved the way for Stapleton to score Wycombe's third when he held the ball up for the latter to run on to before smashing it home on 61 minutes . Ryan wrapped it up four minutes from time when his deft header converted Bell's cross.


Wycombe: P.Hyde, J.Cousins, S.Brown, M.Crossley, T.Evans, K.Ryan, D.Carroll, M.Bell, L.Turnbull, (sub 75 S.Thompson), S.Garner (sub 80 N.Reid), S.Stapleton - sub not used: C.Moussaddik
Scorers: Stapleton 27,61, Bell 58, Ryan 86
Bookings: Evans 32, Turnbull 76, Brown 73
Chelmsford: K.Shoemake, L.Hunter, Eliot Martin (sub 85 Eddie Martin), P.Clark, D.Jacques, M.Keen, K.Hoddy, R.Garvey, A.Rogers, S.Restarick, A.Owers (sub 59 S.Campbell) - sub not used: L.Ballard
Scorers: Restarick 5, Rogers 8
Bookings:
Referee: P Durkin
Attendance: 5,564

Speaking after the game Martin O'Neill said, "We did fine in the end after a difficult first half. Chelmsford got going early on and caused us problems. I think we coped with it very well. I'm just glad we are in the hat for the next round." The Wycombe boss added: "Chelmsford played very well and were unlucky to be a goal behind at half-time. But we expected that. I cannot recognise [Eric] Cantona and [Andrei] Kanchelskis but I can regognise seven of the Chelmsford players – it is only 14 months since we were a non-League side!"

Wanderers were drawn away to Isthmian League Hitchin Town in the Second Round amid rumours that O'Neill was about the join Leicester City. The press would gatherlike vultures at Top Field to see if his side would fall victim of a giant-killing.



Next game - Wycombe v Cardiff City - Saturday 19th November 1994