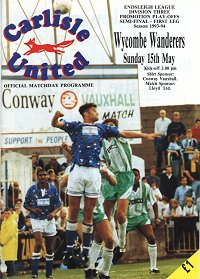 The trip to Carlisle United on Sunday 15th May 1994 was looked upon with trepidation by many in the Wycombe camp. United had reached the play-offs with a late burst up the table and were the form side. However, those fears where dimished as Wycombe took control of the game when Steve Thompson knocked the ball home after Simon Garner's shot rebounded out. Garner was involved in two more more chances before the break while Rod Thomas went closest to levelling the scores for the home side.
United came on stronger in the second period but frustration boiled over onto the home terraces with a 'domestic punch-up'. More chances went begging for Carlisle before Garner wrapped the game up with four minutes remaining - the veteran smashing home at the near post after Thompson had fed the ball down the left channel from midfield.
it proved too much for some of the home crowd who spilled onto the pitch and halted play. Referee Brian Hill eventually resumed play but blew for full-stime before stoppage time had been completed.
Wycombe line-up at Carlisle: Hyde, Cousins, Titterton, Crossley, Creaser, Ryan, Carroll, Thompson, Reid, Garner, Guppy - sub unused: Brown, Hemmings, Moussaddik - Att:10,862 - Ref: B Hill
Before the home leg on Wednesday 18th May 1994 Martin O'Neill had his last say for the season via the Club matchday programme, including this extract "I will try to condense my thoughts on the season into a few short paragraphs. When we won promotion from the Vauxhall Conference last year I decided that, if the existing playing staff wished to go full-time instead of remaining part-time, they should have first crack at the Football League. We could have fallen flat on our faces. There's a wise old saying that what was good enough to get you there may not be good enough to keep you there. But as usual I ignored the obvious path and kept faith with a big nucleus of players from our non-League triumphs. Initially it was, I felt, a risk worth taking. The risk, let me tell you, was not all one way. Quite a number of the players gave up decent paying jobs and took a drop in wages to have a go at being professional footballers with not an ounce of security attached. Not one player got longer than a two year contract and a couple of them, including our player of the year Jason Cousins, actually needed persuading to take the gamble of a drop in wages and the possibility of not making the grade for the "opportunity of (what I described to them as) a lifetime". I am pleased to say that those I wanted to join the full-time playing ranks did so and together we gave it our best. Whatever happens tonight their efiforts for this football club over the last year have been totally and utterly appreciated by me, even though there are many occasions when I feel I am in a minority group over such appreciation. The players here merit every penny of their wages. They don't just earn money at the club. Their incredible efforts on the field of play, culminating in two Wembley triumphs and a possibility, however great or small, of another Wembley visit means they earn money for the club. Not too many professional footballers up and down the country can boast of that at their respective clubs."

"And what about your own part in all this? After our third League defeat in a row this season when howls of derision echoed throughout Adams Park I suppose I get a bit upset. Only when I received a rather ugly and vilifying letter - from my mother - telling me to act my age not my size did I decide to do just that. I have said it before and I will say it again without you we don't even have a football club. That's how important you are. Whether you like it or not you have also gained the reputation of being the best behaved fans in the Third Division, perhaps in the entire League. So far, touch wood, the police's only concern down here in recent weeks is trying to prevent the manager of the club getting into the ground. A young policeman stopped me queue hopping just outside the gates of Adams Park. I am pleased to say that the more important part of his day passed without incident."
O'Neill safely made it into Adams Park for the return with Carlisle and sent his troops out with the precise instructions not to sit back on the 2-0 lead. That attitude was rewarded when Dave Carroll gave Wanderers the lead on 12 minutes when he headed home from Steve Guppy's cross. Another pitch invasion from the travelling hoards from Cumbria caused a break in play shortly afterwards and seemed to upset Wycombe's flow. Carlisle's best spell followed and after the break Paul Hyde made a one handed save from Rod Thomas to deny their best chance of the night. However, moments later on 58 minutes it was goodnight for the visitors when Garner latched onto a long ball and then sprinted around 40 yards, shrugged off two defenders and then slotted the ball under Tony Caig in the United goal to put Wycombe into a 4-0 aggregate lead. Carlisle gleaned some consolation with an 81st minute penalty converted by Simon Davey after Jason Cousins had fouled Thomas. But it was too little too late and Wanderers were through to Wembley to face Preston North End.
Wycombe line-up v Carlisle: Hyde, Cousins, Titterton, Crossley, Creaser, Ryan, Carroll (sub 62 Brown), Thompson (sub 66 Hemmings), Reid, Garner, Guppy - sub unused: Moussaddik - Att:6,265 - Ref: P Durkin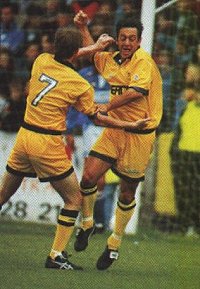 Speaking after the game Simon Garner said "I feel good. I enjoyed the goal on Sunday and the goal tonight. With tonight's goal, after two touches, I thought the keeper had made my mind up for me. I don't usually like going one on one but it worked well this time." Fellow goalscorer Dave Carroll added "Two-nil was funny lead to have. You are in two minds whether to attack or defend. But when it was three-nil, I didn't think any side could could get back from that." Martin O'Neill said he was Thrilled to bits" with the victory and commented "There is a sense of achievement here, but it is, in a way, also an anti-climax. If it had been the last game game of the season and that win was for promotion, then I think you would have seen a different Wycombe celebrating." Final opponents Preston came back from 2-0 down against Torquay United to go through 4-3 after extra-time on the Deepdale plastic. "They have had a remarkable win in extra-time. It will be a hard game and desperately disappointing if we do not win", said O'Neill of the final. "John Beck has been manager with Cambridge and I think it will be the first time in a while that we will be outnumbered, but perhaps that will gee up the Wycombe fans."



Next up Preston North End in the play-off final at Wembley. Read more



1993-1994 index