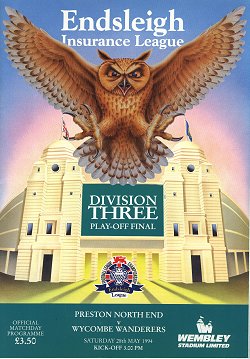 The 1993/94 season would reach a climax for Wycombe as they took on Preston North End in the Division Three Play-off Final at Wembley on Saturday 28th May 1994. In what is regarded as one of the Wanderers best ever performances, Martin O'Neill's side would achieve promotion to Division Two after twice coming back from behind and playing the kind of passing game that had John Beck's hoof merchants in tears.
The nervous tension surrounding the game was immense but Wanderers went into the game as slight favourites with the bookies and many of the squad remainded confident of victory. Steve Guppy said "We can go to Wembley feeling confident. We know how Preston play. They tend to bombard you, so the first 20 minutes will be important and hopefully once we settle, our skill will come through." Midfielder Steve Thompson added "I'm quitely confident. I do not think it will be like any other League game. This will be the biggest occasion we have been involved with. The stakes are higher."
Some of Wanderers' players were not totally in favour with the play-off system. Simon Garner, who played in play-off finals for Blackburn Rovers and West Brom and was on the winning side both times commented "It all comes down to 90 minutes which is why I don't like the play-offs." Jason Cousins said "It's a shame, after 42 league games, that it comes down to this." Meanwhile, goalkeeper Paul Hyde added "I watched the play-offs last year. Then I did not think they were a bad idea. Now, I think they are a bad idea. We are good enough to go up."
Hyde was a major doubt for the Wanderers in the week leading up to the game after the fans favourite went down with a viral infection. He had not trained and hardly eaten until the day before the game and Manager Martin O'Neill waited until the day of the match before announcing that he was placing faith in 'Hydey' and the rest of the team who had beaten Carlisle United so convincingly in the semi-final.
Wanderers sold around 17,000 tickets for the final - well down on previous visits to Wembley against Kidderminster (1991) and Runcorn (1993). Inflated ticket prices were blamed for the reduced interest - between £13 and £24 being charged for regular adult seats and £32 for the Olympic Gallery. Meanwhile Preston had sold close to 25,000 tickets as Wembley fever gripped a side that had not been to the home of football since the FA Cup Final in 1964. It made for a more balanced atmosphere than Wanderers' FA Trophy visits but there was massive tension in the air due to promotion prize at stake.
Wanderers dominated the opening 20 minutes but couldn't find the net. Chances for Thompson and Guppy went begging before Wycombe found themselves a goal behind on 32 minutes when a throw from the right was centered by Tony Ellis and knocked past Hyde with a superb overhead kick by Ian Bryson. It was cruel taste of reality for Wanderers but the scores were level before the North End fans had a chance to settle. Glyn Creaser played the ball up field where Garner laid it off to Thompson down the left channel. The former Slough man found space and nipped the ball past Steve Woods and into the Preston goal.
However, Preston would not lay down and forced a series of corners and throw-ins as the half concluded. There efforts were rewarded when they regained the lead on 38 minutes after Paul Raynor put an unstoppable shot past Hyde from another Ellis centre. The half closed with Preston in front by a 2-1 margin and Wanderers shellshocked and in fear of missing out on promotion.
Wanderers fans had two minutes of the second-half to wait before those fears were eased. David Titterton played a powerful ball out of defence which Garner controlled superbly before firing left-footed past Woods from the left side of the penalty area. Ten minutes later it was Garner who played a part in Wycombe's third goal which was one from the school of passing genius. Steve Guppy picked up possession down the left wing and quickly fed the ball across to Thompson. The midfielder then swiftly continued the move by finding Garner in a central postion. The former Blackburn striker unselfishly and without hardly looking up, played the ball further across and into the path of Carroll who converted with ease past Woods.


A different kind of tension now passed through the Wycombe followers as they realised that promotion was now very much a reality. However, there was always the danger that Preston may force something. One more goal was needed to give the necessary cushion and start the real celebrations. Hyde made a crucial stop following a goalmouth scramble on 72 minutes and the ball was cleared to the right wing. Cousins knocked the ball forward before a certain Mr David Carroll picked up possession just inside his own half. A trademark Carroll mazey run ensued. Thompson was to his right but Carroll continued towards goal. Guppy was wide to his left but he still continued goalwards. What next thinks most of the crowd? Answer, he cuts back onto his right foot and swings in a shot that clips the side of the left-hand upright and into the back of the net. Cue overload from all connected with Wycombe. It was as good as game over, although Simon Garner tried to out do Carroll's goal with an incredible chipped effort from around 50 yards out on the right wing. The effort was ruled out for offside but the video replay showed that Garner was clearly onside and had every right to complain. However, nothing could spoil Wycombe's day after delivering a performance of the highest order.
Wycombe Wanderers line-up: Hyde, Cousins, Titterton, Crossley, Creaser, Ryan, Carroll, Thompson, Reid, Garner, Guppy - subs unused: Brown, Hemmings, Moussaddik
Preston North End line-up: Woods, Fensome, Kidd, Cartwright, Squires, Moyes, Ainsworth, Whalley, Raynor, Ellis, Bryson - subs unused: Conroy, Lucas, Berryman - Att:40,109 - Ref: Keith Cooper


Martin O'Neill said after the game "I honestly thought we were absolute class for a Division Three side." And the Manager, who turned down the chance to move to Nottingham Forest twelve months previous, added "If there was such a thing as total vindication, then this was it." The Wycombe boss heaped praise on his players for their achievements, commenting "You get a lot of reflected glory as a manager. It cannot compare to playing. Being a manager puts years on you. The game will always be about players." He had special words for double goalscorer Dave Carroll, "He is the most unlikely footballer you could ever see. His final goal was simply marvelous. He did not know what he was doing with it. He had to check back on to his right foot and had the courage to keep going. It was the best goal of the lot." Carroll said "I'd like to remembered for scoring a good goal."



Read more player quotes from the Wembley Play-off Final



1993-1994 index