Wycombe Wanderers 2
Carlisle United 1
Wednesday 18th May 1994
Football League Division Three
The return leg with Carlisle United at Adams Park on Wednesday 18th May 1994, saw Manager Martin O'Neill have his last say for the season via the Club matchday programme (see extract here). The Wycombe boss also sent out his players with the precise instructions not to sit back on the 2-0 lead. That attitude was rewarded when Dave Carroll gave Wanderers the lead on 12 minutes when he headed home from Steve Guppy's cross. Another pitch invasion from the travelling hoards from Cumbria caused a break in play shortly afterwards and seemed to upset Wycombe's flow. Carlisle's best spell followed and after the break Paul Hyde made a one handed save from Rod Thomas to deny their best chance of the night. However, moments later on 58 minutes it was goodnight for the visitors when Simon Garner latched onto a long ball and then sprinted around 40 yards, shrugged off two defenders and then slotted the ball under Tony Caig in the United goal to put Wycombe into a 4-0 aggregate lead. Carlisle gleaned some consolation with an 81st minute penalty converted by Simon Davey after Jason Cousins had fouled Thomas. But it was too little too late and Wanderers were through to Wembley to face Preston North End, who beat overturned a 2-0 first leg defeat to triumph 4-2 on aggregate. The final would take place on Saturday 28th May 1994.

Wycombe: Hyde, Cousins, Titterton, Crossley, Creaser, Ryan, Carroll (sub 62 Brown), Thompson (sub 66 Hemmings), Reid, Garner, Guppy - sub unused: Moussaddik
Scorers: Carroll 12, Garner 58
Bookings: Guppy 37 (retaliation)
Carlisle: Caig, Gallimore, Walling, Valentine, Robinson, Thomas, Conway (sub 79 Reddish), Reeves, Davey, Arnold (sub 58 Burgess) - sub unused: Elliott (GK)
Scorers: Davey 81 (pen)
Bookings: Thomas 40 (foul), Reeves 45 (foul), Walling 83 (foul)
Referee: Mr P Durkin
Attendance: 6,265
What the papers said: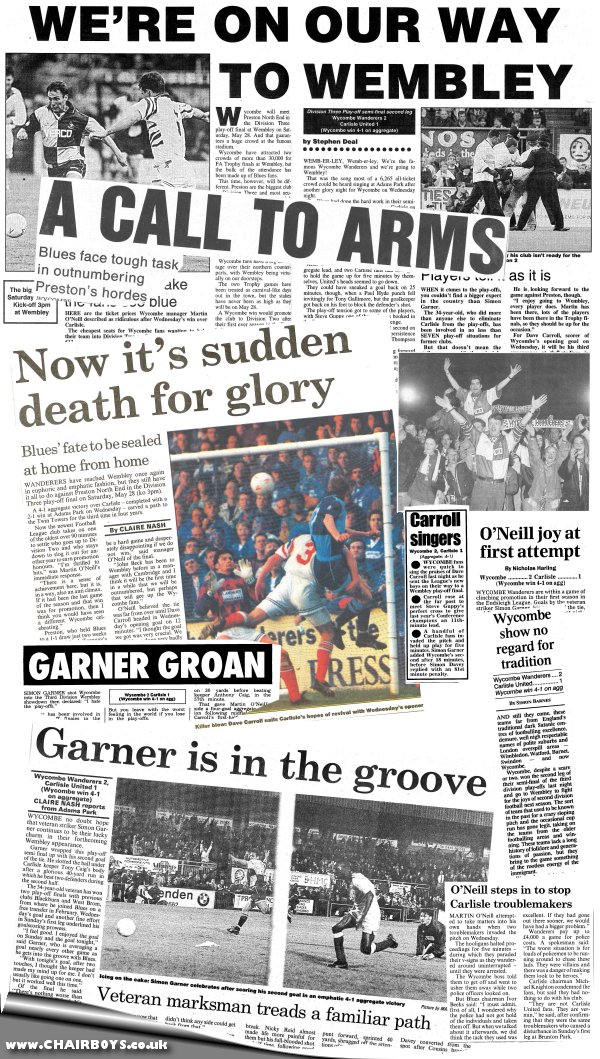 Bucks Free Press - Claire Nash reporting from Adams Park:
Wycombe no doubt hope that veteran striker Simon Garner continues to be their lucky charm in their forthcoming Wembley appearance. Garner wrapped this play-off semi final up with his second goal I of the tie. He slotted the ball tinder Carlisle keeper Tony Caig's body after a glorious 40-yard run in which he beat two defenders during the second half.
The 34-year-old veteran has won two play-off finals with previous clubs Blackburn and West Brom, from where he joined Blues on a free transfer in February. Wednesday's goal and another fine effort in Sunday's first leg underlined his goalscoring prowess. "I feel good. I enjoyed the goal on Sunday and the goal tonight," said Garner, who is averaging a goal nearly every other game as he gets into the groove with Blues. "With tonight's goal, after two touches, I thought the keeper had made my mind up for me. I don't usually like going one on one, but it worked well this time." Of the final he said: "There's nothing worse than losing in a play-off final. It's no good going if you are going to lose. "It's not like a cup final. You don't get anything for it. It's all about 90 minutes of football which is why I don't like the play-offs." The Football League journeyman was handsomely aided and abetted by Martin O'Neill's largely Vauxhall Conference side of last year. "I think the lads are just as experienced as me. Obviously I will be helping them as much as I can, but once you go out there you are on your own," he said of his team-mates.
Wycombe played with as much style and gumption as they displayed so effectively at Brunton Park. They held true to avow that they would not sit back and defend their 2-0 first-leg lead. Dave Carroll gave Blues the perfect start when he powerfully headed home Steve Guppy's acute cross on 12 minutes. "I thought to be honest that it was going out for the goalkeeper. Once it missed the keeper it was a matter of outjumping the left back. I think it killed the tie really," said Carroll, who was later substituted after being clattered in the back. The midfielder added: "Two-nil was a funny lead to have. You are in two minds whether to attack or defend. But when it was three-nil, I didn't think any side could get back from that."
Not even a pitch invasion could stem Wycombe's progress although it badly interrupted the game's flow. However Blues were kept busy as Carlisle tried to get a foothold in a tie they had high hopes of negotiating beforehand. Former Notts County player David Reeves remained a threat to be reckoned with but full back Jason Cousins underlined that Wycombe were more than equal to it. His tackle on 26 minutes swiped the ball from the striker's toes.
Wycombe soaked the pressure up and hit Carlisle on the break. Nicky Reid almost made life more painful for them but his full-blooded shot on half time, following good work by Keith Ryan and Steve Thompson, was impressively pushed away by Caig. Thompson had two half chances at the start of the second half. Paul Hyde was in assertive mode at the other end. It seemed, at times, as if he had glue on his hands. He denied Carlisle's best chance with a one-handed save from the tricky, and oddly hair styled, former Watford player Rod Thomas. Garner compounded Carlisle's misery moments later after he latched onto a long punt forward, sprinted 40 yards, shrugged off the attentions of two Carlisle defenders before slotting the ball under the keeper.
The atmosphere by this time was building up to a crescendo of joy on the Wanderers' supporters part, which helped banish the antagonistic spoiling by some of their opposite number. Wycombe's players started to line up to have a go, Titterton tried one from 30 yards, and Garner, again, was close with a shot on the turn on 79 minutes. Carlisle gleaned some consolation with a penalty on 81 minutes. Captain Simon Davey converted from the spot after Cousins brought down Thomas who tried to jink past the right back and Matt Crossley.