Rochdale 2
Wycombe Wanderers 2
Monday 4th April 1994
Football League Division Three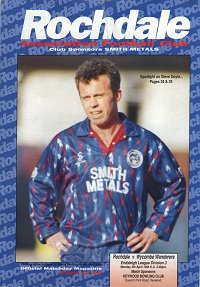 The trip to 11th placed Rochdale on Easter Monday 4th April 1994 proved another tough encounter for The Wanderers. On a day when they weather ranged from bright sunshine to hail and snow, Wycombe were beind in the third minute when Steve Whitehall slotted past Paul Hyde from close range. It could have been worse before O'Neill switched the formation, moving Steve Guppy to the right, Tony Hemmings to the left and pushing Dave Carroll up front with Tony Cunnigham. The changes took a while to work but on 70 minutes Hemmings laid the ball off to Carroll who fired past Martin Hodge in the home goal.
Rochdale, however, were ahead again within six minutes when substitute Jon Bowden saw a shot deflect past Paul Hyde. O'Neill responded by making a double substitution, bringing on Simon Garner and Nick Cusack for Cunningham and Hemmings. It was Garner's first appearance for three weeks following a hamstring injury and while the home fans were dishing out their 'zimmer frame' jokes, it was the former Blackburn Rovers striker who silenced them when he stabbed home after Glyn Creaser had headed down Carroll's cross.
The two points over the Easter period saw Wanderers drop back to third place in the table, trailing Chester and Shrewsbury (both on 67 points) by three points. Crewe (62 points) and Preston (59 points) were both hot on Wycombe's heels and both would provide opposition in Wycombe's final run-in to the season.

Wycombe: Hyde, Cousins, Titterton, Crossley, Creaser, Ryan, Carroll, Stapleton, Cunningham (sub 81 Garner), Hemmings (sub 81 Cusack), Guppy - sub unused: Moussaddik (GK)
Scorers: Carroll 70, Garner 89
Bookings: Titterton 74 (foul)
Rochdale: Hodge, Thackeray, Graham. Reid, Reeves, Butler, Stuart, Doyle, Lancaster, Whitehall (sub 87 Taylor), Peake (sub 45 Bowden) - sub unused: Creighton
Scorers: Whitehall 3, Bowden 75
Bookings: Reeves 75 (foul)
Referee: Mr J Holbrook
Attendance: 2,575
What the papers said:
Bucks Free Press - Claire Nash reporting from Spotland: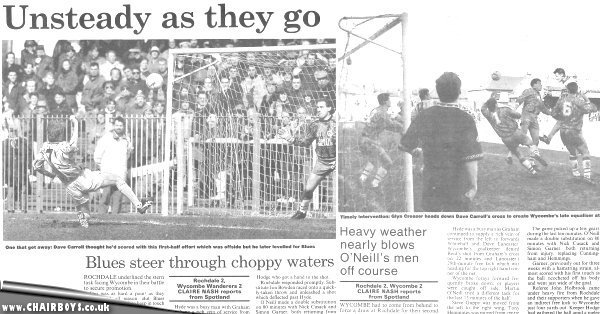 Wycombe had to come from behind to force a draw at Rochdale for their second point from a possible six available during the Easter holiday. Blues retained third place, the last automatic promotion slot, with Monday's result and are three points off the pace being set by Division Three leaders Chester with six games to go. Wycombe dropped from second to third after Saturday's 1-1 home draw against Torquay. Second-placed Shrewsbury were the only top- seven side to have a 100 per cent record during the holiday and are now equal on points with Chester. The leaders were fortunate an own- goal equaliser earned them a point at (3illing- ham to add to Saturday's victory over Preston. But Crewe (fourth), trailing Blues by two points, and Preston (fifth) only earned a point from their games. Wycombe ended up with a point from each of their matches, but they were achieved in markedly different ways.
Martin O'Neill described Saturday's tense clash against Torquay, which saw nine bookings, as two points lost after the visitors scored in stoppage time. Yesterday's game, played in bizarre weather conditions — you name it, it fell, while the sun shone and a gale gusted — was very much a point earned when Simon Garner scrambled home an 89th minute equaliser. Wycombe were the party poopers to spoil Rochdale's home-and-dry feeling at Spotland. But the hosts had already proved to be a significant stumbling block for Wycombe. They hit Blues hard early, and in style, on three minutes after left back Jimmy Graham carved open Wycombe's defence with a long pass which found Dave Lancaster. The latter beat Glyn Creaser to head it down for Steve Whitehall. The striker firmly slotted his shot inside Paul Hyde's near post. The first half was as bleak as the dismal weather for Blues. Rochdale, skippered by Shaun Reid, brother of Peter, the former Ever- ton and England star, continued to make them sweat.
Hyde was a busy man ai Graham continued to supply a rich vein of service from the left to forwards Whitehall and Dave Lancaster. Wycombe's goalkeeper denied Reid's shot from Graham's cross on 22 minutes and Lancaster's 29th-minute free kick which was heading for the top right hand corner of the net. Wycombe forays forward frequently broke down, or players were caught off side. Martin O'Neill tried a different tack for the last 15 minutes of the half. Steve Guppy was moved from the left to the right wing, Tony Hemmings was moved from centre forward to the left flank, with right winger Dave Carroll joining Tony Cunningham up front. The reshuffled line up got their heads down but struggled to create anything fruitful.
Rochdale continued to counterattack ominously well on the break. The second half got frozen pulses racing. Wycombe enjoyed a bright opening to the second half, forcing a flurry of corners — one being cleared Off the line by Whitehall. Cunningham almost set Hemmings on his way but the latter was hauled back by Reeves, who was booked on 54 minutes. Rochdale responded by sparking a goalmouth scramble at the other end with Reeve almost having a free header. Wycombe started to weave nicely worked moves with Carroll, Guppy, Hemmings and Jason Cousins prominent. Hemmings laid on Wycombe's initial equaliser, outsprinting Paul Butler and laying the ball on to Carroll whose shot was too powerful for Rochdale keeper Martin Hodge. The latter got a hand to it as it seared into the net. Rochdale, however, went ahead again within six minutes. Substitute Jon Bowden raced onto a quickly-taken throw and, with Wanderers' players entranced, unleashed a shot which took a cruel deflection to beat Hyde. The keeper did well moments later to stop Whitehall in his tracks.
The game picked up a few gears during the last ten minutes. O'Neill made a double substitution on 80 minutes with Nick Cusack and Simon Garner, both returning from injury, replacing Cunningham and Hemmings. Garner, previously out for three weeks with a hamstring strain, almost scored with his first touch as the ball ricocheted off his body and went just wide of the goal. Referee John Holbrook came under heavy fire from Rochdale and their supporters when he gave an indirect free kick to Wycombe just four yards out. Keeper Hodge had gathered the ball amid a melee from Reeves's backpass on 89 minutes. With all of Rochdale's players seemingly lined up on the goal line it wasn't surprising the resulting free kick cannoned off it. But Wycombe kept up the pressure in the dying seconds to grind out a very precious equaliser. Creaser headed down Carroll's cross for Garner to stab over at the far post.