Colchester United 0
Wycombe Wanderers 2
Saturday 12th March 1994
Football League Division Three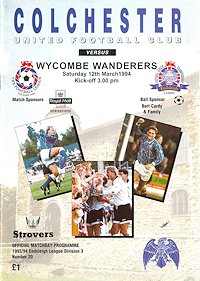 The visit to Layer Road on Saturday 12th March 1994 to take on Colchester United was a long awaited one for Wycombe followers. Martin O'Neill commented beforehand "There is a big deal of rivalry between us. Colchester would be easy to beat in normal circumstances. But there never seem to be normal circumstances when we play them."
Around 1,500 Wycombe supporters made the trip to Essex to witness a tense game played out in front of an ever increasing hostile atmosphere. United had beaten Wanderers 5-2 at Adams Park earlier in the season and although there had been a a minute amount of revenge with a victory in the AutoGlass Trophy in January, this was the important one against a side slumming it in the lower half of the table.
Once again Langford and Garner were the playmakers for Wycombe but with the game still goalless at the break it was two unlikely faces that would turn out to be the heroes and write themselves into Wanderers folklore. 58 minutes were on the clock when John Cheesewright in the home goal first blocked a shot from Guppy and then after Carroll had returned the ball from the right the U's keeper recovered to push away Langford's effort. However, when the ball broke loose again Simon Stapleton nipped in to steer the ball home before he celebrated in front of a manic travelling support.
While the fans exchanged taunts, Wanderers continued to dominate and could have gone further ahead with Langford firing over and Guppy squandering a couple of chances. Steve Thompson replaced an injured Garner around the 70 minute mark before United had their best chance to level on 78 minutes when the U's Steve Brown saw his header pushed wide by Hyde following a cross from Peter Cawley. David Titterton replaced Langford a couple of minutes later and was pushed forward into an unfamiliar centre-forward role. There was just a minute remaining when Read swept the ball over to the left side of goal where Guppy controlled and then made a trademark cross for Titterton to tuck the ball past Cheesewright and send the Wycombe fans into ecstacy. For the home support, they could only look on in anger. A minority tried to invade the pitch but were wrestled to the ground by stewards. The referee saw the potential problem and as soon as the game entered stoppage time he blew the full-time whistle. Job done.
The result at Layer Road had kept Wanderers in fourth place in the Division Two table with 56 points from 31 games. Leaders were Crewe on 58 points, followed by Chester City and Shrewsbury Town both on 57 points. A Wanderers party of players and officials, including Club Chairman Ivor Beeks and Director Alan Parry, jetted off to Portgual shortly after the game at Colchester for the previously earned four day bonus break in the sun. Meanwhile, Martin O'Neill stayed back in the UK on the look out for players that would potentially help earn Wycombe a place in Division Two the following season.

Wycombe: Hyde, Cousins. Stapleton, Crossley, Creaser, Ryan, Carroll, Langford (sub 80 Titterton), Reid, Garner (sub 59 Thompson), Guppy - sub unused: Moussaddik (GK)
Scorers: Stapleton 58, Titterton 89
Bookings: none
Colchester: Cheesewright, English, Allpress, Kinsella, Cawley, Hyslop, Dickens, Ball, Brown, Watts (sub 75 Betts), Fry (sub 83 Smith) - sub unused: Schultz
Scorers: none
Bookings: none
Referee: Mr P Alcock
Attendance: 3,932
What the papers said:
Bucks Free Press - Claire Nash reporting from Layer Road: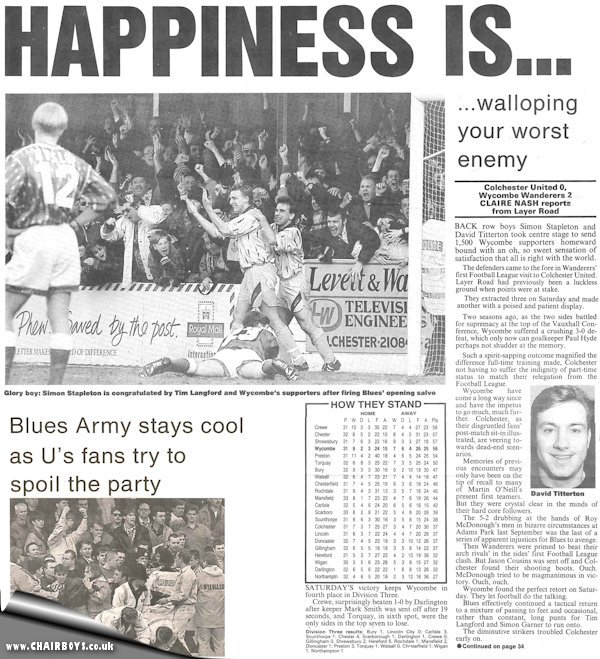 Back row boys Simon Stapleton and David Titterton took centre stage to send 1,500 Wycombe supporters homeward bound with an oh, so sweet sensation of satisfaction that all is right with the world. The defenders came to the fore in Wanderers' first Football League visit to Colchester United. Layer Road had previously been a luckless ground when points were at stake. They extracted three on Saturday and made another with a poised and patient display.
Two seasons ago, as the two sides battled for supremacy at the top of the Vauxhall Conference, Wycombe suffered a crushing 3-0 defeat, which only now can goalkeeper Paul Hyde perhaps not shudder at the memory. Such a spirit-sapping outcome magnified the difference full-time training made, Colchester not having to suffer the indignity of part-time status to match their relegation from the Football League. Wycombe have come a long way since and have the impetus to go much, much further. Colchester, as their disgruntled fans' post-match sit-in illustrated, are veering towards dead-end scenarios. Memories of previous encounters may only have been on the tip of recall to many of Martin O'Neill's present first teamers. But they were crystal clear in the minds of their hard core followers. The 5-2 drubbing at the hands of Roy McDonough's men in bizarre circumstances at Adams Park last September was the last of a series of apparent injustices for Blues to avenge.
Then Wanderers were primed to beat their arch rivals' in the sides' first Football League clash. But Jason Cousins was sent off and Colchester found their shooting boots. Ouch. McDonough tried to be magnanimous in victory. Ouch, ouch. Wycombe found the perfect retçrt on Saturday. They let football do the talking. Blues effectively continued a tactical return to a mixture of passing to feet and occasional, rather than constant, long punts for Tim Langford and Simon Garner to run onto. The diminutive strikers troubled Colchester early on. Garner came the closest of the two to snatching a first half lead when he raced to latch onto Langford's 38th-minute shot across the fate of goal. But the former's desperate lunge just failed to connect.
Both Langford and Garner would surely have profited further had Colchester's Mark Kinsella's pace and panache not kept them on a tighter rein. The hosts had done enough to suggest they could catch Wycombe out on the counter attack in the second half. But Stapleton fired Wycombe into the lead amid a dominant spell. Blues needed three bites however to beat John Cheesewright. The keeper blocked Langford's effort from Carroll's pass. Steve Guppy picked up the rebound, but his effort was thwarted. Stapleton steamed in to tidy up. "All I needed to do was tap it in," said the full back whose last goal was against Bromsgrove Rovers in the FA Trophy in February last year. "The gaffer thought it would be a crime if we did not win it. He told us to remain strong and to be patient." Amid jubilant scenes behind the goal, Garner was replaced by Steve Thompson after pulling a hamstring which will keep him out of action for at least two weeks.
Colchester's moronic minority than began to taunt Wycombe's supporters In ugly scenes that attracted the close attention of up to 50 police officers, two with dogs. Wanderers squandered a handful of chances to increase their lead Langford fired over on 63 minutes and Guppy wasted two good chances. Colchester were emphatically subdued. Some of their supporters weren't. The fans tried to incite Wycombe's contingent. Their taunts escalated after Titterton scored Blues' second on 89 minutes. Jason Cousins, breaking out of defence, played the ball to Nicky Reid who floated the killer pass over the top to Guppy. The left winger fired straight across to Titterton who had replaced Langford up front nine minutes earlier. The full back belied any unfamiliarity with the centre forward role and wellied home for only the second goal of his career. "I was told to go out there and make a make a nuisance of myself," he said later. Wycombe and their fans were ecstatic. But U's supporters were in spoiling mood. Two had to be wrestled to the ground as they invaded the pitch. With the match entering stoppage time, the referee blew his whistle early after the ball went out of play. Thankfully the scenes did not escalate into national newspaper back- page material. It is to Blues' supporters' credit that they kept their cool.