Colchester United 0
Wycombe Wanderers 1
Tuesday 11th January 1994
Auto Glass (Football League) Trophy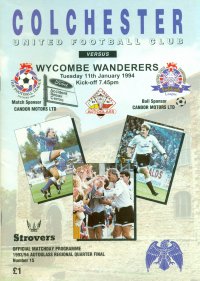 Wanderers continued with more cup action the following Tuesday evening with an Autoglass Trophy area quarter-final tie at Colchester United. In a drab encounter it was Wycombe who snatched victory over the 'old rivals' with a bizzare goal. Just four minutes were remaining when U's keeper John Cheesewright saw his clearance deflected to Dave Carroll on the left side of midfield. Carroll then swung the ball across the face of the goal where Peter Cawley's clearance hit Steve Guppy's left thigh and the ball ended in the back of the net to delight the travelling support behind the goal. Speaking after the game Martin O'Neill admitted his side had been down after the Norwich defeat but this had brought back a few smiles, saying "It was nice for us. We were amazed to see that there was expectation that we could beat Norwich. I am delighted to get through first and foremost. But the fact that it is against Colchester makes it all the more satisfying." Wanderers would travel to Fulham in the next round.
Meanwhile, O'Neill announced that he was stepping up his search for a new striker to cover for the loss of Keith Scott. Goalscoring problems were also made worse as Tony Hemmings continued to suffer with a knee injury and the remaining options up front were loanee Lee Hodges and Tim Langford, the latter suffering from a loss of form. O'Neill commented "It is difficult to get the right sort of people in. I do not want to waste resources." O'Neill continued "I have a wage scale to ahere to and it is not fair if one player is paid over and above others". He then revealed he had already turned down one player's demands for that very reason. It was understood that the player was Watford's Roger Willis who later went to Birmingham City. O'Neill said he was hoping to get somebody in within the next ten days and concluded "I would prefer people who are going to sign. Loan players' heart and soul are not really there"

Wycombe: Hyde, Cousins, Horton, Kerr. Evans, Ryan (sub 86 Shepstone), Carroll, Thompson, Stapleton, Hodges, Guppy - subs unused: Cooper, Moussaddik (GK)
Scorers: Guppy 86
Bookings: Horton 36 (foul)
Colchester: Cheesewright, Betts, Allpress, Kinsella, English, Cawley, Dickens, Ball, McDonough, Booty (sub 80 Cook), Campbell (sub 45 Watts) - sub unused: Schultz
Scorers:none
Bookings: Ball 14 (foul), Cawley 25 (dissent), Watts 82 (foul)
Referee: Mr P Jones
Attendance: 2,751
What the papers said:
Bucks Free Press - Claire Nash reporting from Layer Road:
It was unattractive, but effective. Steve Guppy steered a late rebound home to secure Wycombe's passage to the Autoglass Trophy southern section semi-final stage. It was a satisfying victory over archrivals Colchester, especially for Wanderers' hardcore followers who had to suffer mind-numbing traffic jams caused by a pileup.on the way to Layer Road. What they saw after a delayed arrival would not have reawakened the adrenalin. But the fragrant old spice between the two sides, Vauxhall Conference foes of old, Wycombe having a 5-2 Division Three hammering to avenge, was clear.
There was more testing of temperament than of keepers Paul Hyde, who was rarely troubled but alert when threatened, and Colchester debutant John Cheesewright. Steve Ball was booked for a foul on Andy Kerr, defender Peter Cawley was yellow-carded for dissent and Blues' left back Duncan Horton was reprimanded for a foul. Colchester substitute Grant Watts was later booked for a challenge on Keith Ryan, which resulted in the latter hobbling off. Captain Terry Evans, and United's player/boss Roy McDonough were told to cool down their troops. Blues let their feet do the talking. Steve Thompson recovered from bruising his foot against Norwich to play in a forward role, in place of injured Tony Hemmings, just behind on-loan striker Lee Hodges. Other changes included Andy Kerr at centre back for Matt Crossley (flu) and Duncan Horton returning to left back, with Simon Stapleton moving to midfield.
Wycombe's forays were engineered primarily by Thompson and Guppy on the left flank. Keith Ryan spurned one chance when he headed Guppy's cross wide of the unguarded far post on 53 minutes. Thompson threaded a through ball to Guppy, but the winger seemed over entranced, lingered, and hit his shot to Cheesewright. With extra time looming, a gaffe helped break the deadlock on 86 minutes. Struggling to clear the ball, Cawley kicked it directly at Guppy, whose body and momentum angled the shot home.