Wycombe Wanderers 4
Coventry City 2
Tuesday 5th October 1993
Football League Cup Second Round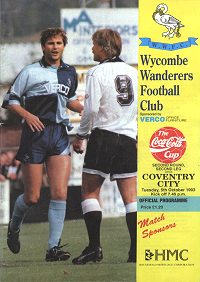 Wanderers nearly pulled off the seemingly impossible as they attempted to overturn a 3-0 first leg deficit in their Football League Cup Second Round meeting with Coventry City at Adams Park. Keith Ryan got things moving with goal just after the half hour mark, before an amazing second-half where Keith Scott's header on 63 minutes and then a late goal from Terry Evans levelled the aggregate scores.
With City reeling and the game into extra-time, Wanderers then took a 4-0 lead on the night when the returning Jason Cousins netted. But Wanderers dream was ended when City grabbed two late goals to knock Martin O'Neill's side out of the competition. However, it was Wycombe who earned the plaudits in the press in the days following the tie.
There was praise too from Martin O'Neill, saying, "We beat them fairly and squarely. I as distraught at the end. The players' efforts were extraordinary. We must glean a lot of confidence from that. And we pulled off that result without our strongest side. I've got four players injured. It was heartbreaking but I have nothing but admiration for my players." Goalscorer Jason Cousins added, "The fans were brilliant with me tonight. However they felt about the incident the other Saturday they kept it to themselves and tonight I didn't get any backlash from it."

Wycombe:Hyde, Cousins, Crossley, Kerr, Evans, Ryan, Carroll, Hayrettin (sub 67 Hutchinson), Hemmings (sub 107 Horton), Scott, Guppy - sub unused: Moussaddik (GK).
Scorers: Ryan 31, Scott 63, Evans 87, Cousins 92
Bookings: Hemmings 56 (dissent)
Coventry: Ogrizovic, Babb, Boland, Williams (sub 76 Jenkinson), Atherton, Morgan, Wegerle, Flynn (sub 96 Busst), Kruszynski, Gayle, Rennie - sub unused: Gould (GK)
Scorers: Morgan 111, Babb 117
Bookings: none
Referee: Mr John Brandwood
Attendance: 5,993
What the papers said:
Bucks Free Press - Nick Goodman reporting from Highfield Road:
Sensational. Amazing. Words which only start to describe Wycombe's staggering Coca-Cola Cup performance which threatened to sweep Premiership Coventry into the graveyard for giants felled by underdogs.
This was a monumental effort by Blues. After clawing back a 3-0 deficit from the first leg, they incredibly scored a fourth and dared to flirt with the unthinkable - one of the greatest cup upsets. But what promised to be a Wanderers night of euphoria, turned to heartbreak as Coventry scored two killer extra-time goals.
There were tense scenes at the end as Coventry fans celebrated and police horses were deployed on the pitch. Wycombe can console themselves with the thought they tore to pieces one of the best sides in the country on an unforgettable Tuesday night for the 5,933 privileged to witness it.
But City's overall victory margin was wafer-thin. When Jason Cousins, impressively back in the groove after suspension, stunningly smacked in a free kick from some 30 yards two minutes into the first period of extra time, Adams Park shook with the emotion cascading down from the packed stands.
This was real cup football, which made the heart beat furiously. Wycombe fashioned another chance, Steve Guppy firing wide after a good ball from the tireless Keith Ryan. But six minutes into the second period of extra time Coventry turned the game on its head. A slip by substitute Simon Hutchinson allowed Steve Morgan to crack an unstoppable shot, much to the relief of the City fans who spilled on to the pitch to celebrate. The score was now 4-1 to Wycombe on the night, and 4-4 on aggregate. The tension was unbearable.
Coventry scored a vital, lucky second goal when Phil Babb's shot cruelly took a deflection off Cousins and looped over keeper Paul Hyde. It was a sickening end to a Wanderers display which nearly achieved the impossible.

Conditions were far from ideal after heavy rain had turned the pitch into a slippery, difficult surface. There was a minute's silence before the game for Jim Holton, the former Manchester United and Coventry player.
Blues started brightly. Cousins superbly released Tony Hemmings and his fine cross was saved by keeper Steve Ogrizovic. The Sky Blues created their first real chance when Wegerle's trickery led to a deep centre which found the head of John Gayle at the far post - but a corner was their only reward. Ryan went desperately close on 24 minutes when his well-struck, goal-bound shot took a deflection. Guppy's penetrating free kick caused a few Coventry hearts to flutter before Wycombe deservedly took the leap on 31 minutes. The impressive Matt Crossley threaded a delightful ball through to Ryan, and he unleashed a tremendous 25- yard strike.
Buoyed by this, Wycombe attacked from the onset of thesecond half, Carroll thumping wide after Scott's knockdown. Wycombe kept plugging away and conjured a magical second goal, Scott meeting a corner with a great header on 63 minutes. Now we were in for a treat. City were there for the taking, Hemmings' piledriver extracting a stupendous save from Ogrizovic. Then we entered a fantasy world when Terry Evans supplied the finish to Hutchinson's cross three minutes from the end. The disbelieving Wycombe fans relished the occasion as Cousins turned the screw with a fourth goal. But all too quickly we were rushed back to reality, and the stark truth that for all of Wycombe's remarkable passion, it was not quite enough.