Coventry City 3
Wycombe Wanderers 0
Wednesday 22nd September 1993
Football League Cup Second Round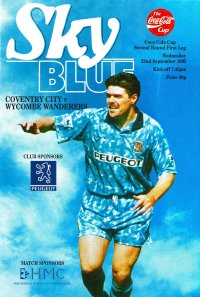 Wanderers' estimated 4,000 following at Highfield Road earned praise despite seeing their team lose 3-0 to Premiership Coventry City. Two goals from Steve Morgan put the home side into a two goal lead at the break and Micky Quinn added a third after the break to make the already near sell-out Second Leg at Adams Park seem like a formality for Bobby Gould's side.
Speaking of the Wycombe fans, City boss Gould said, "The Wycombe supporters were truly superb." Meanwhile, Martin O'Neill added, "It's the talk of the Coventry people. They all said they could not believe the support we got. I do not think there is any away support in the country as good as ours. They are fantastic all the time." Keeper, Paul Hyde, also praised the Wycombe fans, saying, "The fans were the loudest I have ever heard them. They were continually outsinging the Premier League side's fans." Talking of the game, Hyde said, "I thought 3-0 flattered them. But 3-0 is a tall order to make up. But we are not frightened of them. We are looking forward to the home game and hope the atmosphere is as good as it was tonight." Steve Guppy also had written the tie off yet, adding, "Of course it's not all over, but it is a long way back. We have still got to give it our best shot in the return leg."

Wycombe:Hyde, Cousins, Potter, Crossley, Evans, Ryan, Carroll, Langford (sub 68 Hemmings), Thompson (sub 37 Hayrettin), Scott, Guppy - sub unused: Moussaddik (GK)
Scorers: none
Bookings: none
Coventry: Ogrizovic, Rennie, Morgan, Atherton, Babb, Booty, J Williams (sub 79 Gayle), Boland, Quinn (sub 84 P Williams), Wegerle, Ndlovu - sub unused: Gould (GK)
Scorers: Morgan 13, 40, Quinn 66
Bookings: none
Referee: Mr I Lunt
Attendance: 9,615
What the papers said:
Bucks Free Press - Claire Nash reporting from Highfield Road:
SLICK COVENTRY ENJOY SMOOTH RIDE
Wycombe ran themselves into the ground at Highfield Road on Wednesday night against a superior side who barely broke a sweat. Coventry simply underlined the class gap between the Premiership and Division Three, and were so awesomely assured in all departments most of the time, that it became a treat just watching them ooze quality control.
Wanderers' commitment was not in doubt. It put them in with a shout of beating West Bromwich Albion in the PA Cup last year, but this time it just about kept their heads above water. They threw all they could muster at Sky Blues' Thames Barrier-like defence, while facing a gargantuan struggle at the other end in stemming City's tidal wave of neat attacks.
Coventry may have forced their advantage through crisp set pieces, which Blues were disappointed to concede, and alert opportunism. But they dominated with assured control which often dripped with visionary passing along the floor, with Roy Wegerle illustrating that his prowess in midfield was one step ahead of everyone else.
There were also tricky little dinks and back heels, by Mick Quinn particularly, which made the game flow at an exciting pace. On the flanks Steve Morgan, scorer of two City goals, and John Booty, added to the attack as wing backs, but reverted to their defensive positions to assist the central insurmountable obstacles of Phil Babb, David Rennie, and Peter Atherton, if called on. Wegerle directed affairs from midfield, where Peter Ndlovu the wing wizard was playing more centrally alongside Willie Boland, with pacy John Willams and Quinn up front.
Wycombe endeavoured to harry Coventry's intimidating line-up after a jumpy opening. Wanderers' highly-rated winger Steve Guppy had, he admitted, a quiet game. But the Sky Blues' sophisticated brand of open football did allow Wanderers to spread their wings and fly with a good 20-minute spell of one-touch passing at the start of the second half.
Steve Thompson, the man who always times a comeback for a big occasion, indicated his return was a risk worth taking, although not completely fit from a groin injury. When he tried to chip City keeper Steve Ogrizovic from 30 yards early on in the first half. But the midfielder was clearly struggling after 30 minutes and was replaced by Hakan Hayrettin, who later chiselled out opportunities for both Keith Scott and Tim Langford to score.
Coventry coolly prised their way to a half-time two-goal lead through Morgan, who pounced on Boland' s cross, from Wegerle's corner, to drill the ball past keeper Paul Hyde at the near post in the 13th minute. He followed up just before the interval with a superb header, again at the near post from the same provider.
Hayrettin piled forward on 45 minutes to provide Langford with a pass which the diminutive striker latched onto with just one marker and Ogrizovic to beat, but his shot sailed over the crossbar.

Wycombe started the second half in industrious mode with their best chance of the match coming in the 57th minute. Hayrettin toughed it out one-, on-one with Wegerle in the centre, with the Blues midfield hardman beating his USA international marker to burst through with a pass which Dave Carroll crossed to Scott. But the striker's first touch let him down and he sprayed the ball the wrong side of the near post.
The game went off the boil after Wycombe's strong patch. Even Coventry's passing started going awry at times, Quinn almost scored in the 61st minute after Matt Crossley inadvertently gave him the ball, but the striker, who turned swiftly and struck the ball in one neat movement, missed with his close-range shot.
The bulky Quinn was then rewarded for efforts in bringing his eight-game goal drought to an end by scoring Coventry's third. John Williams dispossessed Graham Potter on the right wing, before crossing to Quinn who made no mistake this time.
A three-goal deficit now poses a stiff challenge in the second leg, on Tuesday, October 5, but a full- strength Wycombe would do well to at least rattle Coventry's composure.
Ian Ridley - The Times reporting from Highfield Road
The early-season version of Coventry, all pace and passion, has made them the only unbeaten team in the Premiership and though they did not need to exhibit its full force at Highfield Road last night, there was enough to suggest that a repeat of previous embarrassment was unlikely.
The Football League's newest club, on the other hand, did not do enough to warrant making the second leg a close-run thing, being intent mostly on damage limitation.