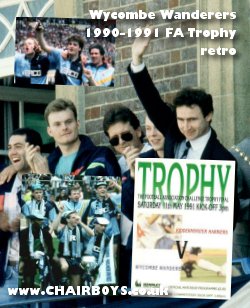 Kidderminster Harriers 1
Wycombe Wanderers 2
Saturday 11th May 1991
FA Trophy Final - reaction
(research, memories and words by Paul Lewis - first published during 2015/16 to mark the 25th anniversary)
Wanderers' victory in the 1991 FA Trophy Final brought probably the biggest peace-time celebrations seen in High Wycombe to that date. An estimated 25,000 Wycombe fans travelled to see the meeting with Kidderminster Harriers at Wembley on Saturday 11th May 1991 and went to make up a then record Trophy attendance of 34,842.

There was an out pouring of emotion at the final whistle and when all that was done it was back to High Wycombe for the more personal celebrations to take place. These went on deep into the night as the revellers frequented the likes of town centre pubs including, The Flint Cottage, The White Lion, The Hobgoblin, The Antelope and The Bell. The following afternoon it was back to town again for a celebration procession that started at Wycombe Marsh and culminated in the players and officials coming out on the Council Offices' balcony in Queen Victoria Street.


What they said: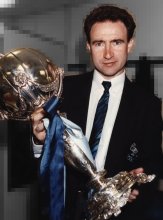 Martin O'Neill: "I'm absolutely thrilled, thrilled to bits. We all thought it was going to be a difficult game. Kidderminster have a lot of talented footballers in their side especially going forward and they caused us monumental problems. They played very well just before they got the equaliser. What I was really pleased about was the bit of resolve and resilience that we pulled together again to score what I would call a classic FA Trophy winning goal. It's all about scoring goals and I don't think that there was that much between the two sides. We got started very well and got the goal at an early stage and that helped us. I felt just before half time that they were beginning to wear us down."

Graham Allner (Kidderminster Manager): "Wycombe's first goal was dubious. Indeed, I would like to see both the Wycombe goals on video to see if they were offside, but we have no complaints about the result." Allner then added: "We had a chance when we got the equaliser but I felt we were always second best and always at full stretch. When we got the goal I thought that might just give us the impetus to knock them down. As it turned out they got the next goal and that was always going to be the winner. I've got no complaints about the result. In the end we weren't quite good enough. We didn't fire on all cylinders but that's probably because Wycombe could handle us."

Wanderers' Captain Glyn Creaser went up to collect the Trophy donning a red and white Kidderminster cap given to him as he climbed the famous Wembley steps. The Trophy was presented by guest of honour, former England and Liverpool goalkeeper, Ray Clemence. Creaser said: "I just felt numb. I said to [Ray Clemence], 'Can we compare noses now?'" The 31 year old, playing his first match at Wembley, went on to reveal that his father was watching him play football for the first time. "I never started playing till really late in my career, and he was always working and not getting any younger. His brothers came along, and lots of my family and friends were here." Creaser added: "[Ray Clemence] mentioning my old man was tremendous. But I've not done it for him, I've done it for me, for Martin, the Chairman, the Club. Everything they've done in the last two or three days has been done right — the build up and everything." The Wanderers Captain also put on record the numerous faces behind the scenes. "People like the chairman, John Goldsworthy, JR (John Reardon), Rod (Lavers, the groundsman), and Wally (Steve Walford). Rod, like John Reardon, has taken so much stick through the season, but they're tremendous. Wally's been here before and done it, but he's always got time to listen and talk to you about things," said Creaser.

Steve Guppy was picked out by Glyn Creaser as man of the match, and Guppy asserted: "I wasn't happy with that seven out of ten in the Bucks Free Press. I'll put the team down for ten out of ten today. It was a wingers' game, and I got a lot more of the ball in the second half and got a few crosses in. And now we're in the European Cup Winners' Cup!"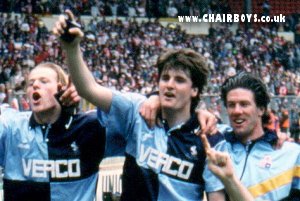 Simon Stapleton added: "Everything happened so quickly. Guppsy and Dave Carroll came back and worked really hard. Brilliant we're there. Good report, eh?" Stapleton and Keith Ryan had their work cut out in the middle of the field faced by three opponents, but Ryan claimed: "It was easy no problem. The lads are buzzing, and it's the best day of my life, without a doubt." Matt Crossley said: "I didn't think they were going to score. They started playing a bit and we soaked it up. I didn't think they'd score until it slipped under John's body. Before the game, you think 'I'm going to take it all in,' but it's just gone straight past me, even walking around the pitch at the end."

It was revealed shortly after the game had ended that Wanderers 'keeper John Granville had played with a hand injury. Granville said: "I broke the thumb of my left hand when I hit one of posts in training. I was given an injection last Thursday to numb the pain and then went through a training session to see how reacted. Having come through that, I then had another injection 20 minutes before the Trophy final and felt confident things would be all right."

Martin O'Neill explained the decision to keep the injury secret: "We didn't want Kidderminster to know, so we had to get through this game before we told [the press]." O'Neill then joked: "For me, the highlight of the whole week was keeping John Granville away from Pete Lansley [Bucks Free Press reporter]."

The last minute decision to risk Granville in the Final would have come as disappointment to second choice 'keeper Chuck Moussaddik. The popular stand-in must have known about Granville's injury, but was too choked to comment after the game at Wembley and soon left.

The were disappointments for other members of the squad too. Andy Kerr recalled the feeling of when he missed out on Telford United's FA Trophy Final three years previous to the 1991 game. "I was just in the squad for Telford, and that day I never thought I'd get the chance to come back," said Kerr. "But every dog has his day. I feel so sorry for the young lads who haven't played today but they've got age on their side and they'll get their chance."

Those that were left out included midfielder Steve Whitby, whose form in between ankle ligament troubles had been near faultless. Left out at Altrincham when his first injury had recovered, he said: "You could safely say that's the worst season I've ever had. It's great to be at Wycombe, but the disappointments are the worst ever." Eight-goal Mickey Nuttell said: "I managed to enjoy the lads' performance, and I thought they deserved to win the game."

Martin Blackler, a regular in the Wycombe side before injury struck in December 1990, was as close as anyone to breaking into the 13 that won at Altrincham in the semi-final. He said: "I'm delighted for the lads. I felt all along the side wouldn't be much different, and it was the right side at the end of the day. It's hard to get involved, but inside I'm delighted for the boys. To be fair, every single one of them justified their place."

Although, the team as a whole were heroes, goalscorers Keith Scott and Mark West were singled out for praise. Commenting on the winning goal from West, Martin O'Neill said: "It was a winner good enough to grace any Wembley game, and good enough to win this Trophy. He wasn't always the fans' favourite, but he's had a magnificent season."


Mark West, who finished the 1990/91 season with 38 goals from 57 appearances in all competitions said: "I'll settle for that. Brilliant! The whole team's worked so hard. The midfield, the defence hardly gave anything away. Dodgy goal, but I thought we played really well." Describing his match winning goal, Westy added; "The ball was at an awkward height. I just dived in and got my head on it and that was it – I was away! I had intended to run down the tunnel after I scored but I thought I'd better not! It was great – both Scotty and I made goal for each other."

Wanderers' incredible support on the day at Wembley and the following day for the Town procession got special mention too. Stuart Cash, who had played in front of 30,000 plus gates for Nottingham Forest said: Dave Carroll said: "The fans were tremendous. They were great, not half special. It hasn't really sunk in yet." Meanwhile, Reserve Team Manager Jim Melvin added: "With the exception of the day my wee son Stuart was born, this is the greatest day of my life. My family came down from Glasgow, where we're born and bred on Rangers and Celtic, and they said, 'Where did you get those fans?' I told them we hired them for the day. But [the supporters] were incredible."

And finally Martin O'Neill, commenting on the support as he spoke to the masses from the Council Balcony, said: "You're the best in the country. Just remember all this when we're having a really dodgy spell. And then you can tell the Chairman not to sack me. It's incredible. You can really see what winning means to the people here."



Saturday 11th May 1991 - Kidderminster v Wycombe - FA Trophy Final - Preview >>>
Saturday 11th May 1991 - Kidderminster v Wycombe - FA Trophy Final - Matchday>>>
Saturday 11th/Sunday 12th May 1991 - Picture special >>>




FA Trophy memories 1991 - 25 year anniversary retro index