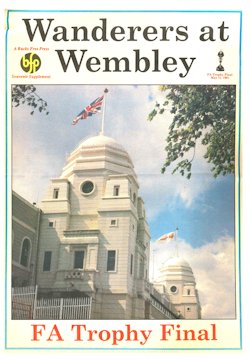 Kidderminster Harriers v
Wycombe Wanderers
Saturday 11th May 1991
FA Trophy Final Preview
(research, memories and words by Paul Lewis - first published during 2015/16 to mark the 25th anniversary)
Wanderers' first appearance at Wembley for 34 years had captured the imagination of the town. In the four weeks between beating Altrincham in the Semi-Final and their trip to take on Kidderminster Harriers at Wembley Stadium on Saturday 11th May 1991, an estimated 25,000 tickets had been sold for the Wycombe sections alone.

Meanwhile, Martin O'Neill had the dilemma of picking his side for the Wembley showdown. In the final six league games of the 1990/91 season, the Wycombe boss gave 20 of his squad a run-out and a chance to impress for a possible Wembley appearance. The Conference title was now well out of reach but the incentive of a possible Wembley place meant that Wycombe lost just one out of their last six games to end up 5th. Barnet, the only team to beat Wycombe in the run-in, going on to pip Colchester United for the promotion spot ahead of a flagging Altrincham.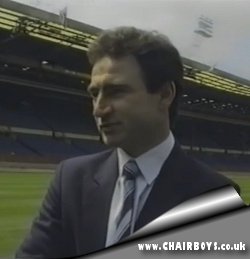 Talking in the days before the final, O'Neill said: "I must say I am pleased about it, not just for me though, for the supporters and the chairman and the sponsors. If you'd written a script for the first year, you couldn't have come up with anything much better."

For O'Neill the Wembley visit would not be a new experience. He played there in three Football League Cup finals and the 1978 Charity Shield, where he scored twice, for Nottingham Forest. Not that he felt his experiences of those occasions would be of much help to his players. "I'm a believer in letting people use their own experiences. Obviously this is going to be a once in a lifetime day out for most of the lads. I think that for the players to get anything out of it they'll have to go out and win it. If you lose, you tend to shut the experience out." His one defeat at the iconic stadium came in the 1980 Football League Cup Final against Wolves when a bizzare collision between team-mates Dave Needham and Peter Shilton gave Andy Gray a fluke winner.

"It was a terrible way to lose, and the feeling stays with you for a long while afterwards. It really brought home to me the fact that you can lose there, and it wasn't just a case of just turning up and picking up the cup." For two years previously O'Neill had done just that — when Forest beat Liverpool after a replay, and Southampton. It was the Southampton game, a 3-2 win in 1979, that provided him with his best Wembley memories. "We were expected to beat them, but they were winning at half-time and we weren't doing very well. But in the second half we murdered them. Garry Birtles scored twice and had two goals disallowed. It was a great day."

O'Neill commented on the perceived team selection problem. "I know I will have to tell someone they won't be playing at Wembley but that is what I'm paid for. It is tough, but that is the name of the game." O'Neill knew only too well the sickening feeling of being left out of a Final. A thigh-high challenge by ex-England centre half Dave Watson left him with a blood clot that forced him out for three weeks before the 1978 European Cup Final against Malmo of Sweden. "It was sad for me because I had played every game. I was just back from injury, but hadn't played a game, so Clough left me on the subs bench." Trevor Francis wore O'Neill's number seven shirt, the only game he played in the competition and scored the winner.

In the end O'Neill stuck with the same squad of 13 that won through at the semi-final stage. However, there was one hidden secret that O'Neill and his staff were keeping from public knowledge. First choice goalkeeper John Granville had broken the thumb on his left hand after hitting a goalpost during a training session held ten days before the final. Popular stand-in 'keeper Chuck Moussaddik played in Wanderers' final League game of the season at home to Stafford Rangers but Granville was mysteriously missing from training in the days before the game. The rest of the squad and any curious press reporters were told that because the 'keeper lived in Swindon, he was training with Oxford United to save on midweek travelling time.

The squad were took to the plush surroundings of Burnham Beeches hotel on the Thursday before the Final and also issued with new tracksuits and suits. Meanwhile, Granville was seen playing tennis having had a plaster cast removed the previous day and been given a pain killing injection. On the Friday morning, the squad took a coach journey to Wembley to take a look around and set foot on the turf – giving interviews for the official club video - 24 hours later it would be the big day. O'Neill said: "I know we can do it. I just hope the supporters have a great day out. Their support has been superb this season. Even at the away matches. At Northwich Victoria, VS Rugby and Altrincham they were sensational. We want to go out and win it for them as much as for ourselves."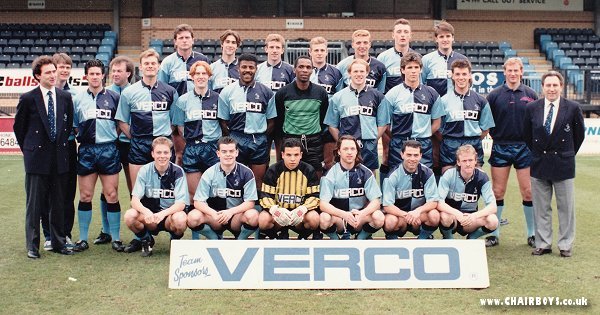 Wycombe Wanderers - May 1991 - pre-Wembley
Back Row: Steve Walford, Matt Hanlon, Stuart Cash, Gary Smith, Simon Stapleton, Glyn Creaser, Matt Crossley.
Middle Row: Martin O'Neill (Manager), Dave Jones (Physio), Andy Robinson, Jim Melvin (Youth Team Manager), Keith Scott, Steve Whitby, Andy Kerr, John Granville, Keith Ryan, Mickey Nuttell, Simon Hutchinson, Paul Franklin (Coach), John Reardon (Assistant Manager)
Front Row: Steve Guppy, Josh Price, Chuck Moussaddik, Martin Blackler, Mark West, Dave Carroll
Picture kindly supplied by Steve Peart and as published in the Wembley matchday programme.
Saturday 11th May 1991 - Kidderminster v Wycombe - FA Trophy Final at Wembley
report, memories and pictures >>>

FA Trophy memories 1991 - 25 year anniversary retro index