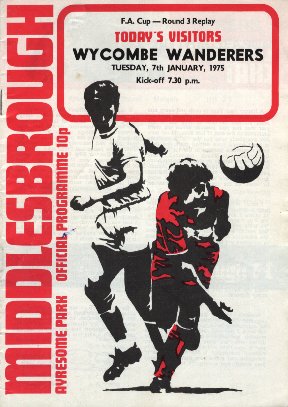 Wycombe were not overwhelmed by the occasion but no one expected anything other than an easy victory for the professionals. Boro stormed forward from the off but were foiled time and time again by a rigid Wycombe defence led by Alan Phillips and a superb display by John Maskell in goal. He saved a 20 yarder from Souness in the 25th minute before Wycombe's best move of the game that involved Birdseye and Searle and ended with a close range shot from Perrin that Platt held on to. Incredibly it was still goalless at half-time
Boro continued the pressure in the second-half but Maskell was on top form. The home side took off top scorer Alan Foggon just after the hour mark as Wycombe continued to hold on. It was literally in the last minute that Wycombe buckled under the pressure. It came after Maskell had made another full length save. The ball was cleared but Craggs found Souness who picked out England Under-21 international David Armstrong. He cut inside the Wycombe defence before pushing the ball wide of Maskell to bring a massive roar from the 29,000 home fans.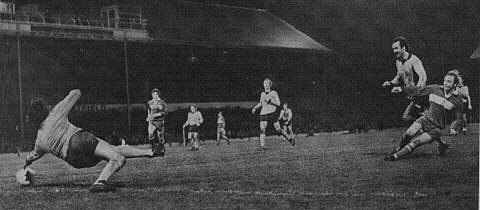 The final whistle went moments later but not before a last ditch effort from Howard Kennedy. As the Wycombe players left the field, the Boro players formed a guard of honour and the home fans chanted WYCOMBE and WANDERERS to leave few dry eyes amongst the Wycombe fans. Boro went on to play Sunderland in the next round before losing out to Birmingham City in the Sixth Round. For Wycombe the Isthmian League title followed in May but this was to be the end of an era as Wycombe stepped into the world of semi-professional football. The two games with Middlesbrough, however, will be many peoples first memory of Wycombe Wanderers - perhaps their first visit to Loakes Park and the start of many long associations with the Club.





Team Line-Ups at Ayresome Park:
WYCOMBE:Maskell, Birdseye, Mead, Phillips, Hand, Holifield, Reardon, Kennedy, Horseman (sub 74 Evans), Searle and Perrin.
MIDDLESBROUGH: Platt, Craggs, Maddren, Boam, Spraggon, Charlton, Souness, Armstrong, Hickton, Foggan (sub 61 Willey), Mills Att: 30,128
Article first published by chairboys.co.uk in 1998
Also see extended feature published for 40th anniversary in January 2015.