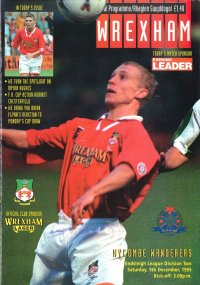 Wrexham 1
Wycombe Wanderers 0
Saturday 9th December 1995
Football League Division Two
After going 13 League games undefeated until the start of November 1995, Wanderers made it six games in all compeitions without a win after going down 1-0 at Wrexham. The latest set-back followed the previous Sunday's 4-2 defeat at Carlisle United plus cup exits at Walsall and Gillingham. Once again Wycombe's day was marred by a controversial sending-off, plus the situation with 'keeper Paul Hyde had come to a head, with the fans favourite left out of the side by Manager Alan Smith.

This match marked the first ever report uploaded by Chairboys on the Net - the archives from December 1995 say: 'The major talking point of the day, however, was the news that 'keeper Paul Hyde has possibly played his last game for the Club following further disagreements with Manager Alan Smith. Smith has apparently asked for a written apology from Hyde in response to his request to be put on the transfer list. Second choice 'keeper Chuck Moussadik, expecting to play at Wrexham, also had disagreements with Smith when Ben Roberts (on loan from Middlesboro') was revealed as the stand in 'keeper. Confirmation is awaited to see if Moussadik has been sacked by Smith. Also making his Wycombe debut in addition to Roberts was Gary Blissett (on loan from Wimbledon). 'Hard Man" Blissett was booked within 2 minutes of the start. All in all a pretty awful day with Patterson, Rowbotham and Garner all picking up bookings in the final 10 minutes. Wycombe's best efforts were first half attempts from Desouza and Patterson.'

Meanwhile, reporting for the Bucks Free Press, Claire Nash wrote: 'Frustration reigned at the Racecourse Ground as Wycombe Wanderers' new- look line-up trooped off at the final with tempers more than a tad frayed by Saturday's defeat. Jason Cousins was sent off for deliberate use of the elbow at a critical point just before half time, with Blues a goal down. It left Wycombe with a mountain, which was already a testing molehill on the outset, to climb.

Blues started without key mid-fielder Steve Brown who was serving the first of a three-game suspension and the two debutants — goalkeeper Ben Roberts and striker Gary Blissett faced a testing baptism. Both new boys were going to have to make favourable first impressions to help get Blues back on a winning track after two consecutive defeats.

It would have been hard enough with a settled Wycombe line-up, but the reshuffled pack had to overcome a disjointed first 45 minutes — by the end of which they were a man short. Cousins' dismissal was a harsh decision by referee Kevin Breen, one which the Wycombe defender and his team-mates vociferously protested against. But it served to fire Wycombe up for an improved second-half performance in which they were unfortunate not to snatch an equaliser.

But the niggle and also a certain amount of indiscipline remained, with six Wycombe players booked altogether. Blissett had an inauspicious start when he was cautioned for a foul in the second minute. His name was followed into the book by those of David Farrell for kicking the ball away, Miquel Desouza for a clumsy challenge, Gary Patterson for a tussle with Wrexham's Peter Ward, Jason Rowbotham for a foul and Simon Garner for deliberate handball.

But the mounting cautions were the least of Blues' problems early on. Wrexham immediately put Blues skipper Terry Evans, in his first full league game of the season after a series of injuries, and the rest of his defence under pressure. Wayne Phillips gave Roberts a wake-up call when his thunderous 25-yard shot rapped the crossbar on 13 minutes.


In one of Blues' rare forays forward in the first half, Farrell did excellently when he brought the ball out of his own half and raced down the left wing before releasing a first-time cross on 21 minutes. Desouza was perfectly positioned in the centre but his finishing wasn't so hot, blasting his header over the bar. Wrexham's crisp passing moves often caught Blues unawares.

One sweeping attack on 28 minutes saw Ward steal into the box unmarked to meet Kevin Russell's cross but fortunately he fired into the side netting. Two minutes later, however, Wrexham took the lead after Evans headed Russell's cross away but only as far as the incoming Karl Connolly who fired home from the edge of the box.

Wycombe were thwarted in making a quick response when Patterson had a volley from a Farrell corner cleared off the line after 38 minutes and moments later Desouza's volley was deflected over the bar. Circumstances conspired against Blues again five minutes before the break when Cousins, playing his second consecutive game in an unfamilar central midfield role, received his marching orders. Although he used his arms to lever himself up for a header along with Ward, his elbow did not hit the Wrexham midfielder in the face. Ward, though, clutched his face in an overly elaborate manner and Breen had no hesitation in making his judgement on the incident.

Alan Smith's half-time talk was enough to fire ten-man Wanderers into a spirited second-half performance. Dave Carroll started a good move which saw Blissett put in a good ball to Desouza on 55 minutes but the striker couldn't make a good connection.

Farrell felt he had good ground for a penalty, or at least a free kick just outside the box, when he was tugged back in mid-flight on 6 minutes but his appeal and those of Blues' fans in the overlooking away terrace went unanswered. Frayed tempers boiled over when fisticuffs erupted between Patter son and Ward on 76 minutes, the Wycombe midfielder reacting angrily to his Wrexham counterpart's challenge. Both could have been sent-off but they escaped with yellow cards.

Wycombe could not find a way through from thereon in, however much they tried. Simon Garner, who replaced Patterson on 78 minutes, unleashed a shot which bobbled awkwardly on 89 minutes, but Wrexham goal keeper Andy Marriott smothered the shot. Even last-ditch tactics, with Evans going up front, could not save the day.'


Wycombe: Roberts, Rowbotham (84 Williams), Bell, Howard, Evans, Cousins, Carroll, Patterson (sub 78 Garner), Desouza, Blissett, Farrell - subs not used: Williams, Soloman
Scorers: none
Bookings: Blissett 2 (foul), Farrell 45 (kicking the ball away), Desouzs 46 (foul), Patterson 76 (ungentlemanly conduct), Rowbotham 81 (foul), Garner 86 (deliberate handball)
Sending off: Cousins 40 (violent conduct: deliberate use of elbow)
Wrexham: Marriott, Jones, Hardy, Phillips, Humes (sub 60 McGregor), Hunter, Skinner, Russell, Connolly, Watkin, Ward - subs not used: Morris, Hughes
Scorers: Connolly 30
Bookings: Ward 76 (ungentlemanly conduct)
Referee: Mr K Breen (Maghull)
Attendance: 3,468 (away 244)

The post match comments centred around Jason Cousins' sending-off and then the situation with Paul Hyde. Commenting on the red card Alan Smith said: "I think the players felt absolutely cheated. It was a strange decision. We deserved something after playing like that — especially with only ten men." Meanwhile, Wrexham's Peter Ward denied he had feigned injury, saying: "For a horrible moment I thought I was going to have my cheekbone broken again. I missed eight weeks when it happened last season."

Explaining the situation with Hyde, Smith said: "He had asked for a transfer which he didn't have to do. He has put me in a very unfortunate position. Paul Hyde is a popular player. But if he had received any offers, I don't think he would be worrying about me, you, the Club or the fans. He is now having to rethink what he should do. He is still at the Club because there have so far been no offers for him."

Smith's displeasure with Hyde was underlined when he went on to say: "I am not going to be messed about by him or any of the players. I want the team to play well and I think we can play better than we are. Paul Hyde asked for a transfer. He did not need to ask for a transfer. I asked him twice to withdraw it. He has put me in a very unfortunate position. I am not going to be messed about by him or any of the players. I want the team to play as well as they can and I think they can play better than they are."



Meanwhile, Paul Hyde, at the Club since the summer of 1991, added his side of the story: "I am 100 per cent committed to the Club. I want to play. I wanted to extend my stay here. I want to get across to people that I do not want to leave the Club. This whole thing started because I wanted to have a meeting to discuss my situation and that request was not entertained."



Second choice 'keeper Chuck Moussadik was also left upset by Smith's actions of not giving him the chance to prove himself in First Team football. Moussadik told the press it cost him £2,000 to return to England from an international tour to find out that he would not be replacing out-of-favour Paul Hyde for the game at Wrexham, and that he was surplus to requirements. "I feel as though I have been messed around. It cost me a lot of money to come back. Obviously I wasn't happy when I was told that a 20-year-old goalkeeper [Ben Roberts] who has never played in the league was going to replace me. I felt like Alan Smith wanted me to say that had had enough. The truth is I have had enough. I don't think I've been given a chance. I don't think I let the Club down when I played in the friendly against Cambridge and against Peterborough in the league. This was a chance for me to get a run in the side."



In the same week that Wanderers lost at Wrexham, news was coming out that former Wanderers boss Martin O'Neill was about to quit Norwich City after just five months at Carrow Road. O'Neill had become unhappy with Canaries Chairman Robert Chase over player budgets and he was quickly being linked with the Manager's job at Leicester City. O'Neill remined people via his Norwich programme notes that he had already turned the Leicester position down on two occasions while still at Wycombe, saying: "I had the possibility of signing to become manager of Leicester City but the only reason I did not take the offer was timing. I was very impressed with the whole Leicester set-up. But, at the time, I had a nonsensical dream that Wycombe could carry on climbing the leagues."



Next game - Wycombe v Bristol City - Saturday 16th December 1995