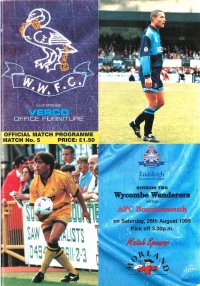 Wycombe Wanderers 1
Bournemouth 2
Saturday 26th August 1995
Football League Division Two
Wanderers' added to an already unwanted club record as Steve Brown became the fifth Wycombe player in five matches to be red-carded during a 2-1 home reverse to Bournemouth. Alan Smith's side had scraped through a midweek League Cup encounter with Leyton Orient following a narrow 3-2 aggregate victory having won the 1st leg 3-0 but had seen Paul Hyde and Paul Hardyman red-carded. Those red cards and the two previous involving Jason Cousins and Mark Foran had been for second bookable offences but Brown's dismissal was far worse - the midfielder headbutting an opponent after seeing a penalty appeal waved away.

The meeting with The Cherries saw the Wycombe debut for Wimbledon loanee Stewart Castledine - the midfielder had been brought in for an initial one month spell to cover for the looming suspenions about to hit Alan Smith's side - and that was before knowing of Brown's dismissal.

Reporting for the Bucks Free Press, Claire Nash wrote: 'Wycombe Wanderers' abject failure to keep 11 men on the pitch has seen their shaky start to the season plummet to a new low. Skipper Steve Brown became the fifth Blues player in five games to be sent off when dismissed for a second bookable offence in Saturday's 2-1 defeat against Bournemouth.

Now Wycombe's unprecedented and abysmal catalogue of indiscipline threatens to unhinge efforts to get a foothold on this Division Two campaign. With disgruntled fans' shouts ringing in his ears after the final whistle on Saturday, Alan Smith was well aware that his honeymoon period was over.

A stream of suspensions will weaken the team in the next few weeks, confronting the Wycombe boss with a two-fold battle. His most immediate concern, with the club's poor conduct heading for embarrassing record-breaking proportions, is addressing what is clearly some players' sheer inability to keep their heads under pressure. Then, and only then, can Wycombe tackle a season which began with such high hopes.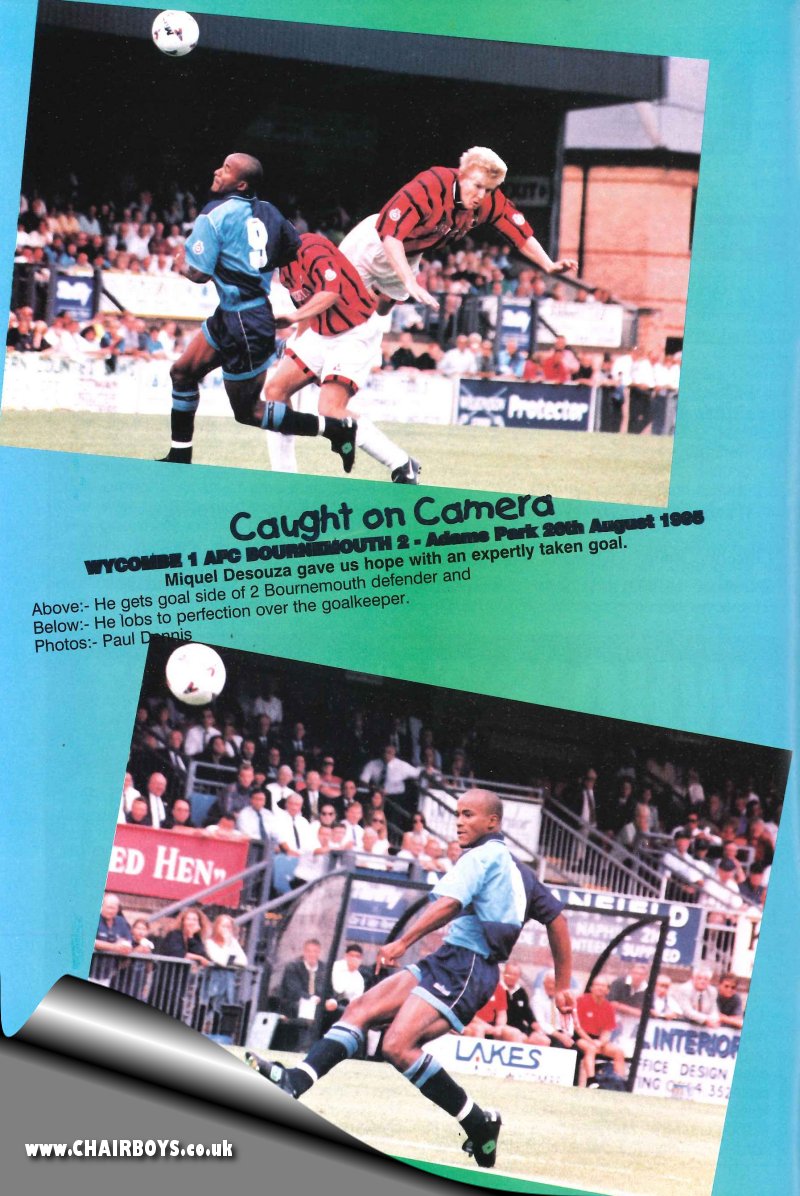 The mood on the terraces was bleak after Saturday's game. Although fans' aspirations are a long way from fading completely, a disappointing 4,749 crowd at Adams Park does not bode well if Blues' bad run continues. Wanderers have earned one League point from a possible nine so far. They need to be at least ten games down the road to view matters with some perspective, and the poor start could have been worse had Blues not reached the Coca-Coca Cup second round, courtesy of their sole victory thus far, a 3-0 win over Leyton Orient. But the fans' impatience, this early, is utterly understandable — and not because they've been spoilt with a constant stream of success during the past five years. They live on hope and have faith in those they pay to see.

Brown's sending off was a woeful betrayal. And he knew it — throwing down his captain's band and walking towards the dressing room — before told to do so by referee Graham Barber. The supporters' player of the year was dismissed for headbutting a Bournemouth player after having his appeal for a penalty turned down. His departure came amid an encouraging patch of Wycombe play, just moments after Miquel Desouza's opportunist's goal on 50 minutes put Wycombe in with a shout of salvaging a point. Video footage showed that Brown's appeal was correctly turned down. His dismissal left Wanderers with little more to hope for than damage limitation. Brown, One of the few consistent Blues players before Saturday, dashed past the waiting press afterwards to get to a wedding reception. Smith was more forthcoming. "I don't think the players are giving me or themselves a chance," he said.

The adjustment to Smith's way of doing things, having apparently gone smoothly behind the scenes, is clearly not transferring to the pitch in quite the same way. Wycombe's struggle and frustrating lapses of discipline are something the Blues boss had not bargained for, but he is not by any means likely to throw in the towel. "There's no point in my losing my head as well," said Smith.

[Simon] Garner's presence on Saturday, when he replaced Paul Hardyman who was stretchered off with concussion after 26 minutes, was a blessing. The wily wizard made an immediate difference to Blues' muddled play. But they already trailed Bournemouth after Steve Jones scored his sixth goal of the season after 20 minutes, his far-post header from John Bailey's cross making him the League's leading scorer.

Mel Machin's stylish side added a second just before the break, poor defending allowing Rob Murray to steal in and beat Paul Hyde with a downward header from Jason Brissett's flicked-on cross.

Blues and their fans harboured slim hopes of a revival after Desouza lobbed Bournemouth goal keeper Ian Andrews after Adrian Pennock inadvertently played Brown's long ball on. But Blues had too much on their plate after Brown's dismissal for head-butting Bailey. The Wycombe midfielder went for the Bournemouth forward after the latter said something after Brown hit the ground from Matt Holland's tackle.

Blues had a penalty appeal for handball turned down, after Morris touched Garner's cross in the area. Their woe, though, was again self-inflicted. Wycombe know they can do better. But until they can get back to full strength, once suspensions have been served and injuries cleared up, it will be an uphill struggle — one requiring a mental toughness that will separate the men from the boys.'

Wycombe: Hyde, Howard, Hardyman (sub 26 Garner), Soloman, Foran, Brown, Carroll, Bell (sub 72 Hemmings), Desouza, McGavin (sub 60 McGorry), Castledine
Scorers: Desouza 50
Bookings: ?
Sending-off: Brown (violent condict)
Bournemouth: Andrews, Young, Beardsmore (sub Rawlinson), Morris, Murray, Mean, Holland, Pennock (sub Victory), Jones (sub Town), Bailey, Brissett
Scorers: Jones 20, Murray 44
Bookings: ?
Referee: Mr Graham Barber (Warwick)
Attendance: 4,749

Speaking after the game Manager Alan Smith said: "Until we can keep 11 men on the field it will be difficult to win games. We are not that good that we can play with ten men and win. We have got to stamp this out." Apparently, Smith had warned the players about their conduct before the game in the wake of the previous week's double sending-off at Leyton Orient. Steve Brown, whom he appointed captain at the start of the season, had let himself down as well as the fans, according to the manager: "I think he is a good player but I think this shows why he is playing at the level he is." Smith, who went on to summon his players in for Sunday morning training again, added: "Steve will suffer as much as anyone. He will be fined the maximum he can be."


Meanwhile, 'veteran' striker Simon Garner, who played under 14 different managers at Blackburn Rovers, helped to explain Wanderers' early growing pains under their new boss: "It takes a while to adapt to different ideas on how the game should be played. But it shouldn't take that long," he said. "We have had six or seven weeks with a new manager. But the players are looking nervous before matches. I probably don't look as affected as the others because having had more experience, I understand what the manager wants. Half the team have been professionals for just two years. Perhaps it is taking longer for them to get used to this sort of situation than they expected." But the 35-year-old striker made no excuses for Wycombe's abysmal discipline: "Every one of the sendings off has been deserved." But he was optimistic they would pull through: "Everything's going wrong. But we have got to battle away to sort it out."



Next game - Brighton v Wycombe - Tuesday 29th August 1995