Wycombe Wanderers 0
West Ham United 2
Saturday 7th January 1995
FA Cup Third Round Proper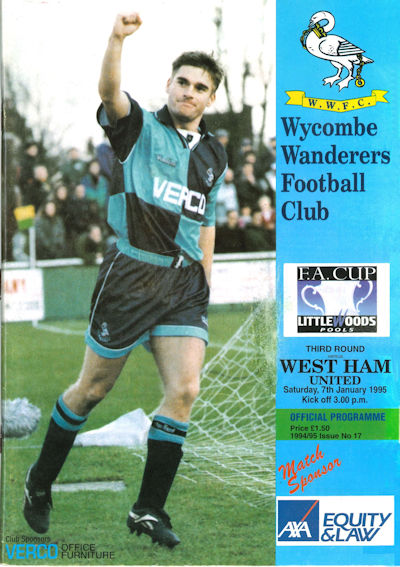 Wanderers' made their exit from the FA Cup after an anti-climactic tie with Premier League West Ham United at Adams Park. Pundits, including BBC's Alan Hansen, had tipped Martin O'Neill's side to upset the Harry Redknapp led Hammers side. However, in front of a record ground gate of just over 9,000, O'Neill's side held their own until the break but goals from Tony Cottee and substitute Kenny Brown, had the visitors dancing for joy.

The tie was featured on BBC's Match of the Day later the same day, but the sound engineers had to work their magic to muffle the choice charts, aimed at Alan Hansen, from the travelling West Ham fans.

Team news for the tie had seen O'Neill make one change from the side that had drawn at home to Bournemouth on New Year's Eve - Steve Thompson returning to the side in favour of Simon Stapleton. The Wycombe boss also out faith in the experienced front duo of Cyrille Regis and Simon Garner but the plan didn't pay off and O'Neill was not a happy man after the final whistle, initially saying "There's no story for you, so I don't know why you want to talk to me.", before taking an intake of breath and reflecting on a day that simply didn't go the way of the Wanderers.

According to press reports, the official attendance of 9,007 was 143 above the official capacity and 1,205 more than the previous ground record (7,802 the previous season versus Norwich City). This didn't include those watching from the trees above the Woodlands Terrace.

Reporting for the Bucks Free Press from Adams Park, Claire Nash wrote:

Wycombe Wanderers' dream of reaching the FA Cup fourth round for the first time was frustrated by West Ham's unflappable Premiership prowess at Adams Park on Saturday. The London club's cool, a newly- acquired confidence, after a troubled start to their current campaign in the top flight, saw them ride out Blues' impressive first-half dominance before swooping for the kill.

Wycombe's opening storm promised to live up to the hype which hampered, rather than helped, their chances of inflicting an upset. The nation's media was there in abundance, convinced that Martin O'Neill's men were pretty sure bets for humbling Harry Redknapp's Hammers. More than 7,000 Blue Army members among record- breaking 9,007 gate also wished for the same outcome against the three- time Cup winners.

But such romanticism, tinged by a touch of realism from the anything can happen' school of Cup football, was not so much strangulated at birth as forced to endure a drawn-out bowing to the inevitable. West Ham scored twice with perfect timing after half time to get their mission back on track and keep the vultures off their back. Blues still looked good value for pulling it back to a draw when 1-0 down, but an equaliser proved painfully elusive. The illustrious visitors' confidence grew as a result and they wrapped the game up, an emphatic header by substitute Kenny Brown adding to Tony Cottee's opener.

It may have seemed like deja vu for Wycombe, a year on from being beaten 2-0 by Norwich at the same stage of the competition. But expectations were deservedly a notch higher this year — with Blues being among the frontrunners for promotion from Division Two after a more consistent season than their baptismal Football League term in Division Three.

The shock potential of the tie had been fuelled by West Ham's stuttering progress in the Premiership, due to injuries and suspension. Match of the Day pundit Alan Hansen had also put in his penny's worth, which attracted rebukes from both sides.

Redknapp was not hindered by enforced absences on Saturday. The majority of his key men were back in business, and it showed. But still, Wycombe looked more likely to unlock the Hammers' defence than they did against Norwich's. Having two proven strikers in Cyrille Regis and Simon Garner was a major difference, and the additional combination of more midfield mettle and defensive steel saw Blues have markedly more possession than last year.

Wycombe appeared to settle sooner after opening bursts of activity by both sides. Wycombe's most eye-catching performances came from Mickey Bell and Steve Brown, both in encouraging harmony with each other on the left flank. The latter also put in vital tackles to stem the dangerous runs of Northern Ireland international winger Michael Hughes. Keith Ryan, stricken with a cold virus and playing with an injured ankle strapped up, was driving force in Blues' onslaught.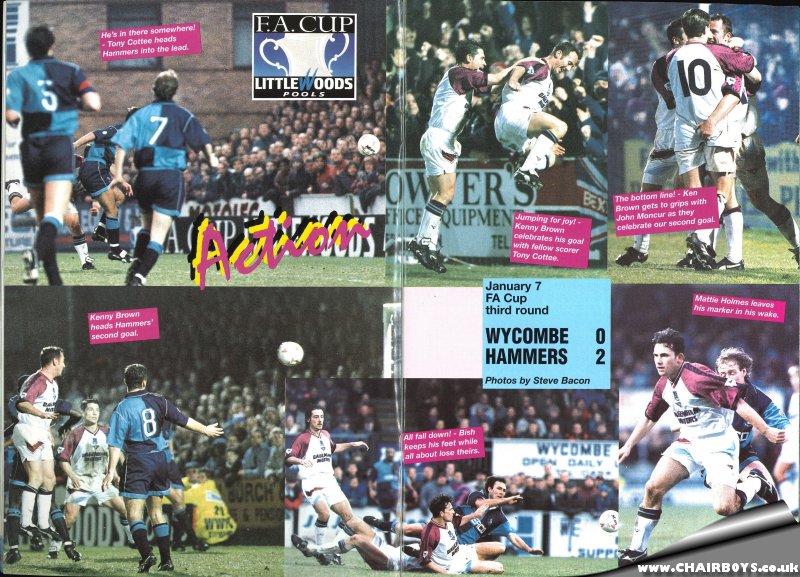 John Moncur, one of West Ham's returnees, threatened to do untold damage. But, for all the midfielder's good work, he initially lacked back up from Ian Bishop, while strikers Tony Cottee and Jeroen Boere were pretty effectively stifled by Terry Evans and Matt Crossley It was only a brave clearance by Hammers defender Tim Breaker which stopped Regis from heading in Steve Thompson's cross to the far post from the right on 28 minutes. Blues kept their momentum going and followed up with a promising opening which Carroll squandered with a woeful first touch from six yards out, his fortunate second bite being wayward as well.

West Ham would occasionally flicker ominously on the break, but Blues finished the half on top when Evans's header flashed by the far post. Trevor Morley, the Hammers' player of the season last term, replaced the anonymous Boeré after the break and soon made more of an impact.

The man who caused Blues' downfall, however, was Hughes. The midfielder, currently on-loan from Strasbourg, caused havoc on both wings and it was his right-wing cross which threw Wycombe's defence into disarray, with Cottee peeling away from Jason Cousins to head home at the near post on 48 minutes.

Wanderers took the blow in their stride and put off an impending sense of inevitability when Bell's darting runs suggested a salvaging operation was on the cards. Carroll's free kick forced a good save from Ludek Mikiosko on the hour to spark a further rally by Wycombe. The battle of the veterans between former England internationals Regis and Hammers centre half Alvin Martin was ultimately won by the latter, with Regis replaced by Hemmings on 74 minutes.

Although the 36-year-old striker appeared to labour from a call strain which had kept him out for nearly two months, Blues' last hope of scoring seemed to go with him, apart from a turned-down appeal for handball against Martin.

West Ham killed the game of after Hughes revelled in space on the left flanks, his cross picking out substitute Kenny Brown who emphatically headed in from close range after 78 minutes. Wycombe looked unlikely to turn the tide from thereon-in.


Wycombe: Hyde, Cousins, Brown, Crossley, Evans, Ryan, Carroll, Bell, Regis (sub 74 Hemmings), Garner, Thompson (sub 81 Stapleton) - sub not used: Moussaddik (GK)
Scorers: none
Bookings: Cousins 68 (foul)
West Ham: Mikiosko, Breaker, Potts, Martin, Dicks, Holmes (sub 67 Brown), Moncur, Bishop, Hughes, Boere (sub HT Morley), Cottee -sub not used: Sealey (GK)
Scorers: Cottee 48, Brown 78
Bookings: Potts 58 (foul)
Referee: G Willard (Worthing)
Attendance: 9,007

Speaking after the game, Martin O'Neill said: "I thought we did brilliantly in the first half. We had some chances. But the lasting memory for most people will be of West Ham having the ball. If we had got through the first 15 minutes of the second half without conceding a goal, then I think we would have got a draw. Premier League sides tend to think about shutting up shop then, rather than take any risks."

Wanderers' defender Jason Cousins added "I think, to be fair, we could have played a little bit better. For the first half, West. Ham definitely knew they were in a game. But we conceded a goal at a terrible time, three minutes into the second half."

Meanwhile, West Ham boss Harry Redknapp ""It may have looked like a possible upset, but I can honestly say I've never felt so confident going into a game. We struggled in the League because we were missing the likes of Alvin Martin, John Moncur and Tim Breaker. But they were all back today and we were a different team."



Next game - Rotherham v Wycombe - Saturday 14th January 1995