Crewe Alexandra 2
Wycombe Wanderers 1
Saturday 30th April 1994
Football League Division Three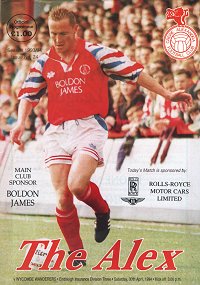 The trip to Crewe Alexandra on Saturday 30th April 1994 was significant for both sides. Victory for Wycombe, coupled with a defeat for fifth placed Preston would mean automatic promotion for the Wanderers. The game had been made all-ticket and there was controversy when Wycombe's allocation of 1,500 was distributed first to travellers on official club transport rather than prioritised to Season Ticket Holders. It meant a scramble for tickets for the Wycombe faithful who quickly snapped up the allocation by whatever means possible.
The majority of the Wanderers fans were packed on the small terrace behind the goal at Gresty Road and greeted the team on the pitch with a mass of blue balloons and ticker tape. The debris had hardly time to settle before Wycombe were behind when Ashley Ward side footed past Paul Hyde from the left side of the penalty to stun the away following. Wanderers never say die attitude paid off though with a bizarre equaliser on 15 minutes when a mis-hit clearance from Darren Rowbotham looped back into the Crewe penalty area and Tony Hemmings claimed he got a touch with his head as the ball ended in the net. After a fairly uneventful second-half, the game appeared to be heading for a draw but Wanderers were hit again by a late goal when a free-kick from the right wing was punched clear by Hyde but only as far as Ward who smashed the ball back into the net for the his second and the winner.

Wycombe: Hyde, Cousins, Stapleton, Crossley, Creaser, Ryan, Carroll, Hemmings, Thompson, Garner (sub 69 Langford), Guppy - subs not used: Brown, Mousaddik (GK)
Scorers: Rowbotham 15 (og)
Bookings: Creaser 35 (foul)
Crewe: Gayle, Booty, Smith, Wilson, Macaulsy, Evans, Annan, Naylor (sub 84 Smith), Ward, Lennon, Rowbotham - sub unused: Abel
Scorers:Ward 1, 76
Bookings: none
Referee: Mr G Cain
Attendance: 6,182
What the papers said:
Bucks Free Press - Claire Nash reporting from Gresty Road: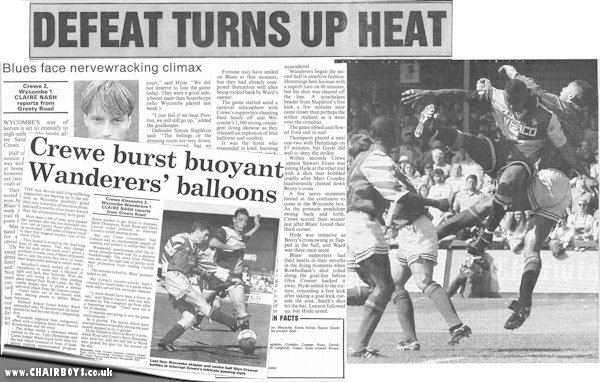 Wycombe'S war of nerves is set to intensify to nigh-unbearable levels after Saturday's defeat at Crewe. Half of the automatic promotion equation went their way with Preston losing 3-0 at home to Carlisle. Blues, however, couldn't turn pressure into a decisive breakthrough at Gresty Road.
They would have been promoted on Saturday had they won. As it was, Crewe usurped Blues' third place after a four- week tenure and Wycombe trail their conquerors by one point in fourth position. Martin O'Neill said beforehand he would have settled for a point, although he obviously hoped for a win. The Blues boss was shut away in a lengthy post-match dressing room inquest with first team coach Paul Franklin and chief scout, and former Nottingham Forest teammate John Robertson to find out what went wrong, or rather, why it didn't go right.
The game appeared to be heading for a draw. Wycombe's equaliser came courtesy of Darran Rowbotham's first-half miskick which followed Crewe's opener by Ashley Ward on just 59 seconds.
With 20 minutes to go it looked like the winner for either side would come from a mistake, rather than an individual tour de force. And so it proved. Blues' keeper Paul Hyde flapped at a cross, which Keith Ryan and Crewe's Steve Macauley also went for, and the ball fell for Ward who neatly slotted home his second. "I just tried to punch it and we all collided as a crowd," explained Hyde later.
Wycombe's 'automatic' hopes now hinge on beating Preston at Adams Park this Saturday and Crewe drawing or losing at Chester. The players, desperately disappointed at failing to gain the reward they sought at Gresty Road, believe it helps knowing just what they have got to do now. But they would rather not have to rely on others to help them out. "The ball's out of our court," said Hyde. "We did not deserve to lose the game today. They were a good side, a better team than Scunthorpe (who Wycombe played last week.) I just feel if we beat Preston, we will still go up," added the goalkeeper.
Defender Simon Stapleton said: "The feelings in the dressing room are very down, very disappointed, but we have got to hang on in there until the end. "We have lost the third position, but they (Crewe) have got a very hard game at Chester. They have got to pick up all three points there and we know we have got to beat Preston," he added. Simon Garner believes Wycombe will be better focused on the job in hand because of the defeat. "There will be more pressure on Crewe. We could have gone into the game against Preston with a point and been complacent. "Knowing we have got to win is a lot better," said the journeyman striker who has been involved in seven playoff scenarios with former clubs West Brom and Blackburn.
Garner and fellow forward Tony Hemmings had a barren battle on Saturday. Hemmings claimed the equaliser which bounced high and awkwardly from Rowbotham's sliced mishit before heading uninterrupted into the net on 15 minutes. Fortune may have smiled on Blues at that moment, but they had already composed themselves well after being rocked back by Ward's opener. The game started amid a carnival atmosphere with Crewe's supporters chanting their heads off and Wycombe's 1,500 strong contingent doing likewise as they released an explosion of blue balloons and confetti.
It was the hosts who responded in kind, bursting out of the blocks with quick, neat darting passes which created havoc. Richard Annan found Ward unmarked and the striker walloped the ball beyond Hyde's despairing dive. Wycombe, though, were very much back in it, after Rowbotham kindly levelled.
Steve Thompson, Keith Ryan and Dave Carroll put in a ton of work to interrupt Crewe's stylish play. Blues' defence remained pretty airtight too. But then so did Crewe's. Neil Lennon is a masterly and hardworking midfielder. Full backs Martyn Booty and Shaun Smith added to the hosts' strength when going forward. The defence generally put up a mean resistance that was lacking during the 3-1 defeat at Adams Park last November. Carroll on the right provided a rich vein of service for Wycombe but much of what he proffered was often squandered. Wanderers began the second half in assertive fashion. Hemmings beat his man with a superb turn on 48 minutes, but his shot was cleared off the line. A nonchalant header from Stapleton's free kick a few minutes later came closer than perhaps the striker realised as it went over the crossbar.
The game ebbed and flowed from end to end. Thompson played a neat one-two with Hemmings on 67 minutes, but Gayle did well to deny the striker. Within seconds .Crewe captain Stewart Evans was testing Hyde at the other end with a shot that bobbled cruelly after Matt Crossley inadvertently chested down Booty's cross.
A few nervy moments hinted at the confusion to come in the Wycombe box. As the pressure pendulum swung back and forth, Crewe scored their winner just after Blues' forced their third corner. Hyde was tentative as Booty's cross swung in, flapped at the ball, and Ward was there once more. Blues' supporters had their hearts in their mouths in the dying moments when Rowbotham's shot rolled along the goal-line before Glyn Creaser hacked it away. Hyde added to the torture, conceding a free kick after taking a goal kick outside the area. Smith's shot hit the bar, Lennon followed up, but Hyde saved.