Wycombe Wanderers 1
Rochdale 1
Tuesday 19th April 1994
Football League Division Three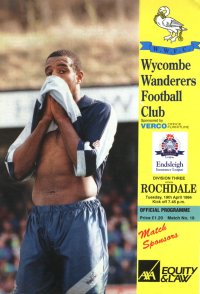 Rochdale were the visitors to Adams Park on Tuesday 19th April 1994 when Wanderers would have the chance to get the previous Saturday's defeat at Scarborough out of the system. Rochdale had two previous visits to High Wycombe that season aborted due to the weather and when this encounter got underway it proved to be a close affair. Wanderers took the lead on 16 minutes when Guppy's corner from the right saw Garner recover from a failed header to turn and shoot home from inside the six yard box. Wanderers couldn't add to the goal and were pegged back in the 72nd minute when a cross from the left saw Mark Stuart's header slip through the hands of Hyde. Then in a frantic closing, Garner and Ryan both went close before Simon Stapleton contrived to conjure up what was described at the time "as the worst miss ever at Adams Park", when he somehow cleared the ball from his own goalline with just two minutes left on the clock.
The result left Wycombe in 3rd place on 68 points. Crewe were now just a point behind with three games remaining - Wanderers would travel to Gresty Road for the penultimate game of the season sandwiched by homes games with Scunthorpe United and Preston North End.

Wycombe: Hyde, Cousins, Stapleton, Crossley, Creaser, Ryan, Carroll, Hemmings (sub 82 Langford), Thompson, Garner, Guppy - subs unused: Brown, Moussaddik (GK)
Scorers: Garner 16
Bookings: none
Rochdale: Hodge, Thackeray, Graham (sub 70 Formby), Reid, Bowden, Butler, Stuart, Boyle, Lancaster, Whitehall, Peake - sub unused: Milner (GK)
Scorers: Stuart 72
Bookings: Bowden 67 (dissent), Butler 67 (foul)
Referee: Mr K Barratt
Attendance: 5,226
What the papers said:
Bucks Free Press - Claire Nash reporting from Adams Park: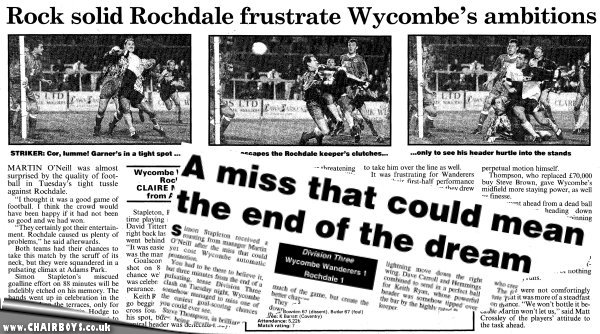 Martin O'Neill was almost surprised by the quality of football in Tuesday's tight tussle against Rochdale. "I thought it was a good game of football. I think the crowd would have been happy if it had not been so good and we had won. They certainly got their entertainment. Rochdale caused us plenty of problems," he said afterwards.
Both teams had their chances to take this match by the scruff of its neck, but they were squandered in a pulsating climax at Adams Park. Simon Stapleton's miscued goalline effort on 88 minutes will be indelibly etched on his memory. The hands went up in celebration in the stands and on the terraces, only for Rochdale keeper Martin Hodge to help scramble the skewered shot to safety. Stapleton, Blues' utility man, this time playing at left back instead of David Titterton following a stint at right back last Saturday, said the ball went behind him after it bobbled. "It was easier to score than to miss," was the manager's view.
Goalscorer Simon Garner's meaty shot on 84 minutes was another chance well saved by Hodge, who was celebrating his 500th League appearance. Keith Ryan also let a good opening go begging when Tony Hemmings' cross found him with time to pick his spot, but the midfielder's dead- central header was deflected away.
Rochdale were forever threatening to catch Wycombe out as O'Neill's men pressed to restore their first-half advantage secured by Garner's 16th minute opener. They deservedly pegged Blues back after dominating the opening 20 minutes of the second half. Mark Stuart's blistering header was too hot for Paul Hyde to handle. The Wycombe keeper got his hand to it, but it seemed to take him over the line as well. It was frustrating for Wanderers because their first-half performance kept Rochdale, with whom they drew 2-2 at Easter, effectively at bay. This was largely due to Steve Thompson's industrious and stout- hearted performance in central midfield. Blues' sole part-timer was more than a match for Rochdale's skipper Shaun Reid, who was a picture of perpetual motion himself. Thompson, who replaced £70,000 buy Steve Brown, gave Wycombe's midfield more staying power, as well as finesse. Blues went ahead from a dead ball situation: Garner heading down Guppy's corner before spinning round and slamming it home. But they promised more from multi-man moves which is, dare it be said, a rarity at Adams Park. Jason Cousins surged down the right to boost the attack. And Hemmings often created something out of nothing with blistering runs. Wycombe were not comfortingly assured, but it was more of a steadfast performance. "We won't bottle it because Martin won't let us," said Matt Crossley of the players' attitude to the task ahead.