Scarborough 3
Wycombe Wanderers 1
Saturday 16th April 1994
Football League Division Three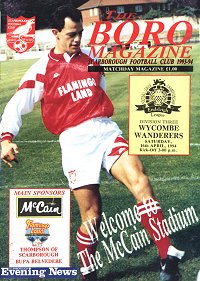 Before the trip to Scarborough on Saturday 16th April 1994, Wanderers learnt that three of the squad had been called up into the PFA's Division Three team of the season. Jason Cousins, Terry Evans and Steve Guppy were the players to grab the honours and Wycombe were the only side to be represented three times. Cousins commented "It was a shock. I just went there to rub shoulders with the stars. To see my name in the list was a big surprise. The other lads deserved it. It speaks volumes for how well we have done this season." Meanwhile, Evans, who was honoured despite being injured since February, added "It just helps make it worthwhile." Martin O'Neill was also "absolutely delighted" that three of his squad had earned this honours, commenting in The Blues News that it was "A fitting tribute to their eforts in making this football club successful. Perhaps all those people who wrote to me demanding the sacking of Jason after his challenge on the Doncaster left-winger, may be quietly pleased that I didn't take their advice (Actually there were only seven letters and all of them came from Jason's mother anyway"). Steve Guppy was just pleased that the voting had been cast before we played Rochdale at Spotland on Easter Monday. My daughter played better than him and she wasn't there!"
The game at Scarborough proved a bit of a disaster for Wycombe. A nervous looking Wanderers, without a suspended Jason Cousins, conceeded twice just before the interval to leave Martin O'Neill fuming. First on 38 minutes a 20 yard effort from Steve Charles crept in off Paul Hyde's right hand post. A minute later a shot from the edge of the box was deflected by Matt Crossley into the path of Craig Whitlington who finished with ease from close range.
Wanderers did get back into the game with eight minutes remaining when a Steve Guppy shot hit the crossbar and Nick Cusack managed to shape himself to put in the rebound. However, any thoughts of a late equaliser were banished when another 20 yard plus effort, this time from Shaun Murray, looped over Hyde to complete a bad day at the seaside.

Wycombe: Hyde, Stapleton, Titterton (sub 62 Hemmings), Crossley, Creaser, Ryan, Carroll, Brown, Cusack, Garner (sub 75 Thompson), Guppy - sub unused: Moussaddik (GK)
Scorers: Cusack 82
Bookings: none
Scarborough: Sheppard, Knowles, Thompson, Calvert, Meyer, Rockett, Charles, Murray, White, Whitington, Young - subs unused: McHugh, Oineen, Robinson (GK)
Scorers: Whitington 38, Charles 39, Murray 89
Bookings: Ryan 29 (foul)
Referee: Mr T Lunt
Attendance: 2.090
What the papers said:
Bucks Free Press - Claire Nash reporting from Seamer Road: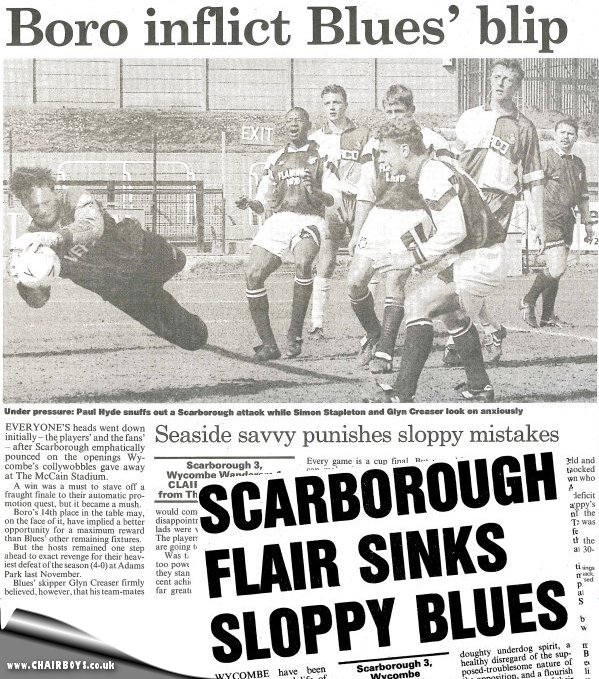 Wycombe have been leading a charmed life of late, but the collywobbles came home to roost in a dismally big way at Scarborough. Blues sloppily conceded two goals in the space of a minute just before half time on Saturday. They were left with a mountain to climb to snatch just a point from a confrontation eyed as a three-point must to stave off a fraught finale to their automatic promotion quest. Nick Cusack reduced the deficit with eight minutes to go but Scarborough killed Wanderers off with a third on 89 minutes.
Wycombe, who remain third, four points behind Chester and three ahead of Crewe, are now mathematically assured of a play-off place. Results went their way to some extent again with Chester drawing at Bury and Crewe drawing with Shrewsbury. Blues and their supporters will not, however, relish the prospect of going to Wembley where a penalty shoot-out could eventually decide their fate. It would mean nine months of hard slog is decided by who scores the best of five spotkicks. Such a sobering thought would be well borne in mind by Wanderers' players with Rochdale and Scunthorpe champing at the bit.
Blues' next two opponents are fighting tooth and nail to scrape into the play-offs. A place represents their end-of- season manna from heaven. Wycombe's final two opponents Crewe and Preston, are, like Blues, there to be shot at. Wanderers are in a good position from which they should march into Division Two if they plough a steady furrow. But if they stagnate on 67 points, which they will if they play again like they did at The McCain Stadium, it will be an abject disappointment. Rochdale, who visit Adams Park tonight (ko 7.45 pm) in a twice snowed-off match, and Scunthorpe are tough and have got going. Such momentum poses a serious threat now and in the play-offs should both sides reach them. Are expectations of Blues going up automatically, which appeared to be quite straightforward despite their poor form, too high? Not really, because they have got into such a good position by showing they have the grit and the gumption to bounce back from a bad patch, or put on the style for the big occasion ala Coventry - and Swansea. The latter was perhaps their last impressive all-round performance just four weeks ago. They need a dose of that doughty underdog spirit, a healthy disregard of the supposed-troublesome nature of the opposition, and a flourish of flair, for every one of their next four games is a cup final. Martin O'Neill knows that a sizeable part of the run-in battle will be a psychological one for his mainstay players.
They should be mentally the better for Saturday's kick up the proverbial. Blues conducted the opening half hour of fencing and probing in windy conditions and a pitch surface that made the football blow and bounce around like beach ball. But they failed to hit the right note to stamp their authority on the piece. It then became piecemeal. It didn't help that Jason Cousins was suspended, his Jekyll and Hyde character - so often Blues' consistent star, so often booked— tripping him up once more. Early industriousness gave little hint of the horrors ahead. Boro keeper Simon Sheppard had to get down sharpish to Dave Carroll's fine free kick which he bent round the defensive wall on 14 minutes. David Titterton played in a good cross moments later, but it was just too long for Simon Garner. Scarborough's Shaun Murray announced his presence with a fine shot that followed an eight man move from midfield.
A flurry of corners followed until Paul Hyde snuffed out the danger with a save amid a goalmouth melee. Murray tested Hyde again on 32 minutes as the hosts underlined their intent to gain revenge for their worst defeat of the season (4-0) at Adams Park in November. Wycombe produced two encouraging moves. Garner's header went narrowly over from another Titterton cross. The striker then fed Steve Guppy with space on the left, but the attack petered out, and Murray was on his way again. The midfielder hit the side netting on 36 minutes. Within two minutes, the former Portsmouth player had carved his side's opener, after his pass was put away by Steve Charles from 20 yards. Glyn Creaser joined in the next build up from the restart — at the wrong end. It was, admittedly, a rare nightmare mistake by Blues' defence. But it was a howler. Murray weaved his way up from the halfway line, played the ball into the box where Wycombe's skipper knocked it into the - path of Craig Whitington, who couldn't miss. Blues needed to make an early breakthrough in the second half to get back on level terms. They forced a series of corners after the break, but couldn't make them count. O'Neill then threw caution to the wind in a rare formation change and pushed a third man up front in the shape of Tony Hemmings who replaced Titterton to leave a three-man defence. It was a bold move by the manager, who later replaced Garner with midfielder-forward Steve Thompson. But his daring didn't ultimately win anything this time.
A free kick just outside the area on 82 minutes, however, gave Wycombe hope. Carroll's initial shot rebounded back to him off the wall. He played it short and wide to Guppy whose lob hit the crossbar. Cusack, though, was on hand to stab it in from five yards. But Murray came up with a piece of individual skill that set him apart from anyone else on the pitch. He sealed Boro's emphatic victory on 89 minutes when he curled a shot from 30 yards out. The ball cut back from its initial wide trajectory so much that Hyde was transfixed as it sailed into the net. Wanderers were left dazed. Their heads need to be clearer by the time Rochdale role into town tonight.