Wycombe Wanderers 1
Torquay United 1
Saturday 2nd April 1994
Football League Division Three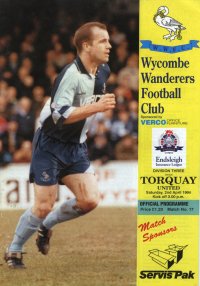 Martin O'Neill made a return to writing for the matchday programme for the home game with Torquay United on Saturday 2nd April 1994, but was cautious when commenting "I have no doubt this season will prove every bit as dramatic as the last few years and there will be many a twist and turn before events are decided on the last day of the season." O'Neill would have probably cracked-up if you had told him that Wycombe would go on to register just one victory in the final eight League games of the season.
Torquay were in 6th on 55 points and were behind against Wycombe when Matt Crossley headed home Steve Guppy's corner on 13 minutes. Wanderers continued to dominate but couldn't add what would have been a vital second goal. However, trying to take centre-stage was referee Phillip Don who contrived to book nine players, including four from Wycombe. "It was bordering on incredibility" said O'Neill after the game after he had seen Mark Sale grab an equaliser for the visitors with a headed goal in the sixth minute of stoppage time.
The Easter program would continue for Wanderers on Easter Monday with a visit to mid-table side Rochdale and then a home meeting with 7th placed Walsall on Saturday 9th April 1994.

Other news in the week leading up the Torquay game saw Wanderers reveal new 'home and away' strips to be used for the next two seasons. The first choice 'home' shirt remained quartered but with an added embroided crest in a new white v neck detail. The 'away' kit was a yellow effort with black trim. The new adult shirts would retail for £30.99 (an increase of £1 from the previous season), while the shorts sold for £16.50 (up £3.01). Marketing Manager Mark Austin commented "We don't want to rip our fans off. We value their support. There is an economic balance we try to strike." It was also revealed that the new quartered short would make a 'one-off' appearance during the current season for the home game with Scunthorpe on 23rd April. The Club reported they took almost £1,000 worth of replica-strip orders in the week following the launch.
Meanwhile, it was confirmed that Wanderers would compete in the Evening Standard Five-A-Side Tournament at Wembley Arena on Monday 9th May 1994 and that Chelsea would be their First Round opponents. Tickets for the event ranged from £12.50 to £20.

Wycombe: Hyde, Cousins, Titterton, Crossley, Creaser, Ryan, Carroll, Brown (sub 78 Stapleton), Cunningham, Hemmings, Guppy - subs unused: Langford, Moussaddik (GK)
Scorers: Crossley 13
Bookings: : Cousins 25 (foul), Hyde 42 (ungentlemanly conduct), Brown 49 (foul), Cunningham 57 (foul)
Torquay: Bayes, Okorie, Colcombe (sub 62 Goodridge), Kelly, Moore, Curran, Trollope, Buckle, Foster (sub 68 Sale), Darby, Hathaway - sub unused: Lowe (GK)
Scorers: Sale 90
Bookings: Okorie 20 (foul), Foster 42 (ungentlemanly conduct), Darby 45 (foul), Moore 73 (foul), Curran 75 (foul)
Referee: Mr P Don
Attendance: 5,808
What the papers said:
Bucks Free Press - Claire Nash reporting from Adams Park: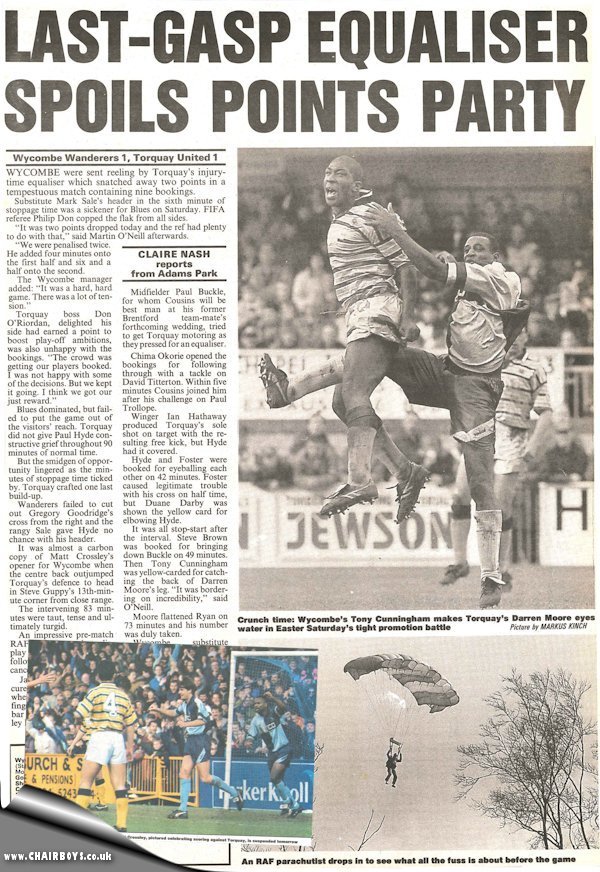 Wycombe were sent reeling by Torquay's injury-time equaliser which snatched away two points in a tempestuous match containing nine bookings. Substitute Mark Sale's header in the sixth minute of stoppage time was a sickener for Blues on Saturday. FIFA referee Philip Don copped the flak from all sides.
"It was two points dropped today and the ref had plenty to do with that," said Martin O'Neill afterwards. "We were penalised twice. He added four minutes onto the first half and six and a half onto the second." The Wycombe manager added: "It was a hard, hard game. There was a lot of tension." Torquay boss Don O'Riordan, delighted his side had earned a point to boost play-off ambitions, was also unhappy with the bookings. "The crowd was getting our players booked. I was not happy with some of the decisions. But we kept it going. I think we got our just reward."
Blues dominated, but failed to put the game out of the visitors' reach. Torquay did not give Paul Hyde constructive grief throughout 90 minutes of normal time. But the smidgen of opportunity lingered as the minutes of stoppage time ticked by. Torquay crafted one last build-up. Wanderers failed to cut out Gregory Goodridge's cross from the right and the rangy Sale gave Hyde no chance with his header. It was almost a carbon copy of Matt Crossley's opener for Wycombe when the centre back outjumped Torquay's defence to head in Steve Guppy's 13th-minute corner from close range. The intervening 83 minutes were taut, tense and ultimately turgid.
An impressive pre-match RAF freefall parachute display proved a hard act to follow for the two sides who cancelled each other out. Jason Cousins nearly secured an early breakthrough when his free kick was fingertipped onto the crossbar by Torquay keeper Ashley Bayes on four minutes. Midfielder Paul Buckle, for whom Cousins will be best man at his former Brentford team-mate's forthcoming wedding, tried to get Torquay motoring as they pressed for an equaliser. Chima Okorie opened the bookings for following through with a tackle on David Titterton. Within five minutes Cousins joined him after his challenge on Paul Trollope.
Winger Ian Hathaway produced Torquay's sole shot on target with the resulting free kick, but Hyde had it covered. Hyde and Foster were booked for eyeballing each other on 42 minutes. Foster caused legitimate trouble with his cross on half time, but Duane Darby was shown the yellow card for elbowing Hyde. It was all stop-start after the interval. Steve Brown was booked for bringing down Buckle on 49 minutes. Then Tony Cunningham was yellow-carded for catching the back of Darren Moore's leg. "It was bordering on incredibility," said O'Neill. Moore flattened Ryan on 73 minutes and his number was duly taken. Wycombe substitute Simon Stapleton, returning after a back injury, nearly started and finished a sweetly- worked move. Blues tried to confine play to their half in stoppage time. But Torquay forced possession and Sale made the most effective use of it.