Wycombe Wanderers 2
Darlington 0
Tuesday 29th March 1994
Football League Division Three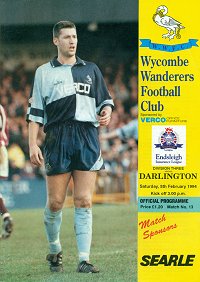 Wanderers moved back up to second place in the Division Two table after a relatively comfortable 2-0 victory over bottom of the table Darlington at Adams Park on Tuesday 29th March 1993. Second half goals from Steve Guppy and Tony Hemmings ensured the points that got Wanderers promotion campaign back on target. Martin O'Neill commented afterwards "One could almost feel the tension on Tuesday, especially when Tony Hemmings' goal immediatedly after half-time was inexplicably disallowed. However, the players didn't wilt and, remarkably, neither did you. Your encouragement certainly helped us get the all important first goal"
The victory over Darlington left Wycombe on 62 points. Leaders were Chester City on 63 points, while trailing Wycombe were Crewe (61 points), Shrewsbury (61 points) and Preston (58 points).
Wanderers' remaining games were split five at home and three away, with Martin O'Neill believing that 77 points would clinch automatic promotion. However, he added "To get up automatically will be very hard task for us." Meanwhile, Captain Glyn Creaser added "The ball's in our court. It's all about what we do. We just have to keep plugging on"

Wycombe: Hyde, Cousins, Titterton, Crossley, Creaser, Ryan. Carroll, Brown, Cunningham, Hemmings (sub 88 Langford), Guppy - subs unused: Thompson, Moussaddik (GK)
Scorers: Guppy 51, Hemmings 83
Bookings: none
Darlington: Collier, Sunley, Cross, Callaghan, Crosby, Creagan, lsaacs (sub 70 Ellison), Painter, Chapman, Ball (sub 74 Kirkham), O'Shaughneusy. Sub unused: Scott (GK)
Scorers:none
Bookings: Creagan 66 (foul)
Referee: Mr P Danson
Attendance: 4,491
What the papers said:
Bucks Free Press - Claire Nash reporting from Adams Park:

It's all systems go for Wycombe's fixture-filled Easter weekend after they moved into second place with Tuesday's 2-0 win over Darlington. The victory over the bottom-of-the- table club, secured with goals by Steve Guppy and Tony Hemmings, now leaves Wanderers with 15 points to earn from eight games to reach Martin O'Neill's hoped-for target of 77 points for automatic promotion. Blues now play sixth-placed Torquay tomorrow (Saturday, ko 3pm) and have a trip to mid-table Rochdale on Bank Holiday Monday (ko 3pm). "I was every bit as concerned about the Darlington game as I would be about Torquay and Rochdale. Their bottom of the league position meant nothing."
O'Neill was frustrated that Wycombe's win, which banished blues from Saturday's 1-0 defeat by Chesterfield, had not been more emphatic. He believes Hemmings' 47th minute effort which hit the back of the net, after the striker latched onto a long ball, should have stood. But referee Paul Danson disallowed it for offside. "We overcame it and I thought we deserved to win the match. Darlington had just one good chance," he said. Wycombe's manager was pleased with his side's general performance. He singled out Dave Carroll, who tore Paul Cross to pieces on the right wing, for praise. "He was phenomenal," he said.
The only change in Tuesday's line-up was Tony Cunningham starting in place of Nicky Cusack, who strained his right calf during Saturday's debut. The tall 36-year-old impressed with his strength and aerial power up front. Wycombe needed their second goal to put this match safely out of reach. They bombarded Darlington goalkeeper Darren Collier after Guppy put Blues in the lead from Carroll's cross. Collier, however, was equal to further efforts by Guppy, Carroll, Glyn Creaser and Jason Cousins. Darlington played the ball around well when they had it and burst through on a couple of occasions to suggest they could snatch one back. But their finishing was woeful. Wanderers began the game in top gear. Full back David Titterton, who steamed up and down the left channel throughout, unleashed a thundering shot which Collier found too hot to I handle in the second minute. Titterton later released Hemmings with a good pass on ten minutes. The striker's cross, zipped across the goalface but was just too far for Carroll to connect with. The half then fizzled out.
Wanderers picked up their momentum again after the break. Hemmings latched onto a long pass and appeared to run past a defender, before the whistle was blown for offside on 47 minutes. Frustration galvanised Wycombe and their long-awaited opener was supplied by Guppy on 51 minutes. Carroll got around his man and crossed for the incoming left winger to bury. Guppy came close again moments later from Cousins' cross. For the next ten minutes Wycombe painted attractive patterns in the turf and almost supplied a suitable finish as well. Creaser hit the bar from Carroll's centre on 62 minutes. Guppy's shot from Cousins' free kick skimmed over the cross bar three minutes later. Collier did well to deny Carroll with a fine fingertip- save on 69 minutes. Darlington bounced back with an attack that caused a ripple of apprehension in the stands. Steve Callaghan almost beat Hyde at the near post on 72 minutes. Substitutes Lee Ellison and Peter Kirkham added zest to the visitors' efforts. Cross ran onto a throw-in but skewered his shot wide. Wycombe's moments of living dangerously ended once Hemmings scored their second on 83 minutes. Ryan broke out from Darlington's half and looked to be in a good shooting position himself. But he played the ball to Hemmings on the left. Collier looked to have the striker's shot covered, but it squirmed under his body.