Wycombe Wanderers 0
Chesterfield 1
Saturday 26th March 1994
Football League Division Three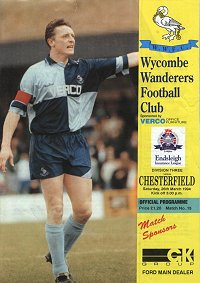 The home game with Chesterfield on Saturday 26th March 1994 would kick-off Wanderers' final ten Division Two games of the season. Seven of those were at Adams Park and there was every hope that this would see a run to automatic promotion.
The home meeting with The Spireites saw Nick Cusack make his Wycombe debut, while on the bench was another new signing in the form of Tony Cunningham.
7th placed Chesterfield provided testing opposition although John Duncan's side appeared to have come for the 0-0 draw but it was the visitors who grabbed all three points via a 39th minute penalty awarded for handball against Matt Crossley. It was a Steve Norris shot that appeared to wrong-foot Crossley who back-pedalled and then handled as the ball went goalwards. Crossley was red-carded by referee Kenneth Leach and Wanderers never really recovered after Norris converted the spot-kick. There was a late flurry by the Wycombe that saw Cunningham, Ryan and Guppy go close. Then in the final minute Mark Jules was shown the red card for bringing down Dave Carroll down the right wing but the resulting free-kick came to nothing and Wanderers were back down to 4th spot in the table on 59 points behind Shrewsbury (61), Crewe (61) and Chester (63). Just below Wycombe were Preston on 58 points while back in 13th place on 45 points were Carlisle United.
After the game Martin O'Neill reflected on his earlier outburst at fans following a home defeat to Wigan. The Wycombe boss commented "I'd heard George Graham saying for a couple of months with Arsenal they had been winning matches almost on the side. Their performances had been poor, in fact they had been booed off the field a couple of times at Highbury. I didn't feel so bad after that. If 40,000 are booing George Graham, who has won two League Championships and endless cup competitions and they are being booed at Highbury for lack of performance and they were still involved in the European Cup Winners Cup, I shouldn't have taken it badly about being booed against Wigan."

Wycombe: Hyde, Cousins, Titterton, Crossley, Creaser, Ryan, Carroll. Brown (80 Reid), Cusack (72 Cunningham), Hemmings, Guppy - Sub unused: Moussaddik (GK)
Scorers: none
Bookings: Hemmings 30 (foul) Red Card: Crossley 39 (deliberate handball)
Chesterfield: Leonard, Hewitt, Rogers, C Carr, D Carr, Law, Curtis, Davies. Morris (31 Norris), Moss, Jules - Subs unused: Pearson. Thompson (GK)
Scorers: Norris 40 (penalty)
Bookings: none
Referee: Mr K Leach
Attendance: 5,752
What the papers said:
Bucks Free Press - Claire Nash reporting from Adams Park: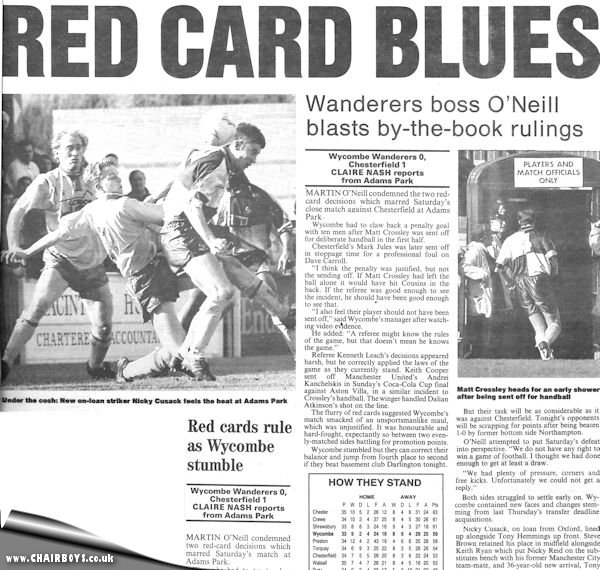 Martin O'Neill condemned the two red- card decisions which marred Saturday's close match against Chesterfield at Adams Park. Wycombe had to claw back a penalty goal with ten men after Matt Crossley was sent off for deliberate handball in the first half. Chesterfield's Mark Jules was later sent off in stoppage time for a professional foul on Dave Carroll. "I think the penalty was justified, but not the sending off. If Matt Crossley had left the ball alone it would have hit Cousins in the back. If the referee was good enough to see the incident, he should have been good enough to see that. "I also feel their player should not have been sent off," said Wycombe's manager after watching video evidence. He added: "A referee might know the rules of the game, but that doesn't mean he knows the game." Referee Kenneth Leach's decisions appeared harsh, but he correctly applied the laws of the game as they currently stand. Keith Cooper sent off Manchester United's Andrei Kancheiskis in Sunday's Coca-Cola Cup final against Aston Villa, in a similar incident to Crossley's handball. The winger handled Dalian Atkinson's shot on the line.
The flurry of red cards suggested Wycombe's match smacked of an unsportsmanlike maul, which was unjustified. It was honourable and hard-fought, expectantly so between two evenly-matched sides battling for promotion points. Wycombe stumbled but they can correct their balance and jump from fourth place to second if they beat basement club Darlington tonight. But their task will be as considerable as it was against Chesterfield. Tonight's opponents will be scrapping for points after being beaten 1-0 by former bottom side Northampton.
O'Neill attempted to put Saturday's defeat into perspective. "We do not have any right to win a game of football. I thought we had done enough to get at least a draw. "We had plenty of pressure, corners and free kicks. Unfortunately we could not get a reply."
Both sides struggled to settle early on. Wycombe contained new faces and changes stemming from last Thursday's transfer deadline acquisitions. Nicky Cusack, on loan from Oxford, lined up alongside Tony Hemmings up front. Steve Brown retained his place in midfield alongside Keith Ryan which put Nicky Reid on the substitutes bench with his former Manchester City team-mate, and 36-year-old new arrival, Tony Cunningham. Chesterfield forward Andy Morris almost helped Wycombe on their way, before going off injured, when he nearly headed into his own net on 14 minutes. He limped off on 31 minutes to be replaced by Norris. The visitors' leading scorer wreaked immediate havoc. He unleashed a shot on 39 minutes which beat Blues' keeper Paul Hyde and wrong-footed Crossley who back-pedalled furiously to clear. The centre back handled the ball as he levered up to head it away. "I handled it," Wycombe's player of the month for February admitted. "I was wrong-footed by the shot. I could not get my head there and my arm went up. I was trying to persuade the referee that it was not deliberate, but he said he had no option but to send me off. "It makes you feel as though it's all your fault," added the defender. Norris converted the resultant spot-kick, leaving Wycombe with it all to do in scrambling an equaliser.
Blues dominated the second half impressively with just ten men. They ended with a 14-3 corner tally, but Chesterfield soaked up the pressure with their keeper Mick Leonard a formidable obstacle. Carroll and Steve Guppy impressed with their flair, finesse, and industry, on the wings but Wycombe's forays lacked a killer punch up front. Blues had a scare when Jamie Hewitt unleashed a 25-yard free kick which beat Hyde. But it hit the underside of the crossbar, bounced away and was hacked to safety. Cunningham added power to Blues' forward line when he replaced Cusack on 72 minutes. His 76th minute header tested Leonard, but was held. Leonard again stood his ground to deny Keith Ryan's blistering volley on 80 minutes. Guppy's overhead shot whistled narrowly over on 82 minutes. Carroll latched onto a long ball down the right in stoppage time when he was brought down by Jules. The Chesterfield midfielder was shown the red card. Wycombe's free kick fizzled out for a messy ending.