Wycombe Wanderers 2
Bury 1
Saturday 5th March 1994
Football League Division Three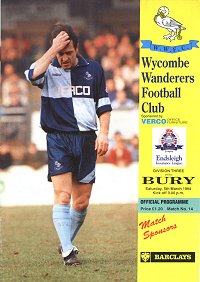 New signing Nicky Read made his Wycombe debut in the home game with Bury on Saturday 5th March 1994. The 33 year old full-back was a former team-mate of Martin O'Neill at Manchester City and arrived at Wycombe on a free transfer from West Brom after O'Neill had made a trip to the Midlands the previous day to secure his signature.
Reid slotted into a Wycombe side missing the suspended Steve Brown and Steve Blatherwick but who were ahead inside the first minute when Garner flicked home a header following a Steve Guppy cross from the left. However, the visitors were back on level terms two minutes later after Matt Crossley had wrestled Shakers leading scorer Mark Carter to the ground. The former Runcorn and Barnet striker and target of O'Neill a few years previous, converted the penalty himself.
The following hour was a tight affair and it took a 'route one' move for Wycombe to grab the winner in the 63rd minute. Hyde punted the ball down field where Dave Carroll watched the ball sail over the heads of the Bury defence before slotting the ball past Lee Bracey in the Shakers goal with a single touch from 15 yards.
Garner received a standing ovation when he was substituted later in the game and Wanderers could have increased their winning margin when Creaser went close with a header. However, it was the Wanderers Captain who made a vital contribution at the other end in the final minute when he hooked the ball off the line as Bury claimed he had fouled Ronnie Mauge. Then in the final minute Carroll attempted an audacious lob from more than 50 yards but the ball dropped the wrong side of the post. More importantly though, all three points belonged to Wycombe and took them back up to 4th place in the table with 53 points from 30 games - 5 points behind leaders Crewe but just a point behind both 2nd placed Chester and 3rd placed Shrewsbury.
Commenting after the game Martin O'Neill said, "I think the first half is about as well as we have played for some time. There was a lot of desire and commitment from the players."

Wycombe: Hyde, Cousins, Stapleton, Crossley. Creaser, Ryan, Carroll, Langford (sub 87 Titterton), Reid, Garner (sub 73 Thompson), Guppy - sub unused: Moussaddik (GK)
Scorers: Garner 1, Carroll 63
Bookings: Cousins 2 (dissent)
Bury: Bracey, Hughes, Stanislaus, Dews, Lucketti, Mauge, Kelly, Carter, Stevens, Rigby, Jackson (sub 81 Cross) - subs unused: Johnrose, Nixon (GK)
Scorers: Carter 3 (penalty)
Bookings: Stevens 14 (foul), Dews 37 (foul), Kelly 44 (foul)
Referee: Mr C Wilkes
Attendance: 4,737
What the papers said:
Bucks Free Press - Claire Nash reporting from Adams Park: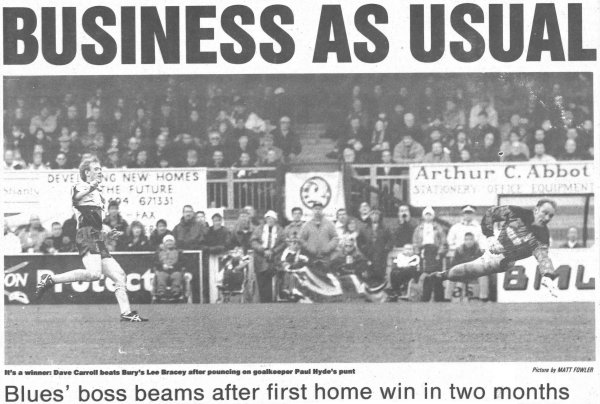 This match opened with a bang and closed with a breakneck-pace finale. The bit in the middle could have done with a bit more bite, but the taste was sweet enough for Martin O'Neill. The day belonged to Wycombe Wanderers in their first home victory for nearly two months.
Simon Garner set the ball swiftly rolling, scoring his second goal in as many games within 50 seconds. With the first move of the match sparked by Tim Langford, the former West Brom striker raced in to convert Steve Guppy's cross with a flicked header that almost burst the net.
Wanderers' soaraway start lasted a minute. Bury equalised after a controversial penalty decision. Referee Clive Wilkes saw Matt Crossley wrestle Shakers' skipper and leading scorer Mark Carter to the ground as the striker tried to flick the ball over the Wycombe defender. Mr Wilkes was pursued by Wanderers players after pointing to the spot. The referee plucked Jason Cousins out of the cluster and booked the full back for dissent. Cousins was sent off the last time the pair encountered each other in last September's match against Colchester.
Two minutes had nearly elapsed by the time Carter, swiped by former Barnet boss Barry Fry from under Martin O'Neill's nose four years ago, converted from the spot. Two goals in three minutes indicated either a goal-feast, suggested by Bury's cavalier reputation, or a more cagey routine. The latter was more or less on the button, but Bury's midfield and defence gaped enough to give Blues further space to exploit. Langford darted through from midfield with seemingly well-timed runs after being released by Crossley, but play was hauled back by a fidgety near touchline linesman. Mr Wilkes was in accordance. Maybe Amos would have raised his eyebrows. Wycombe continued to pressure. New signing Nicky Reid snapped up anything loose in midfield and distributed wisely. He neatly supplied his former West Brom and Blackburn Rovers team-mate Garner with one effort saved by Bury keeper Lee Bracey on half time. Garner had earlier had another attempt cleared off the line. Paul Hyde pulled off a fine save from Carter on 30 minutes after the striker sneaked round the back of Wycombe's defence to unleash a close- range shot. That was Bury's last attempt on target until the last five minutes of the game.
Blues did not start the second half in convincing fashion, though. Simon Stapleton was caught in possession as he hovered over the ball within a minute of the restart. Tony Kelly tried to force a way through for Bury down their right wing after taking note of Stapleton's inertia. But it was Bury's Keystone Cops-like defending which helped Wycombe take a decisive grip. In a pure Route One move, Hyde punted the ball downfield from a free kick. Bury defenders Chris Lucketti and Michael Jackson appeared to take evasive action and ducked as it sailed over their heads. Carroll, however, had his wits about him to follow it through and slot it past Bracey. Garner earned the first standing ovation for many a month when he was substituted by Steve Thompson on 73 minutes.
Blues continued to put Bury under the cosh. The visitors, who lost a 2-0 lead at Shrews- bury the previous weekend, looked likely to shoot themselves further in the foot, with Wycombe pulling the trigger. Captain composure Glyn Creaser, in his first League game in two months, went close with a flicked header on 83 minutes. But he made a more vital contribution a few minutes later. Bury claimed they should have had either a goal or a penalty after Creaser hooked a clearance out of the goal- mouth on 89 minutes.
Ronnie Mauge raced after a long ball which beat both Creaser and Hyde. The Bury midfielder looked to have steered it home, but Creaser, in a sprightly sprint belying his 34 years, reached the ball just as his chase appeared in vain. He somehow managed to scoop the ball out. Bury boss Mike Walsh believed Creaser pulled Mauge's shirt. "I think it was six of one and half a dozen of the other," said Blues boss O'Neill later. He was adamant that Creaser had not hooked the ball out after it crossed the line. The drama continued on 90 minutes when Carroll nearly scored an audacious goal. Taking advantage of another Bury blunder, he spotted Bracey way off his line. He tried to lob the keeper from around 55 yards out. Bracey back-peddled furiously, spectators dropped jaws in anticipation, but the shot bounced the wrong side of the post.