Gillingham 0
Wycombe Wanderers 1
Saturday 26th February 1994
Football League Division Three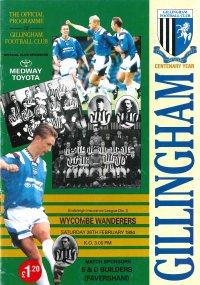 As Wanderers made their first ever League visit to Gillingham on Saturday 26th February 1994, the Bucks Free Press launched a 'Cheer up Martin' campaign after Manager Matrtin O'Neill had refused to talk to the press and also the Club's official telephone newsline 'Ringing The Blues' following certain reaction to the 1-0 home defeat to Wigan Athletic.
Club Chairman Ivor Beeks said "Martin did take umbrage to the way a minority of fans responded. That was hard for him to take." While O'Neill later commented "I've decided not to say anything for a while. I don't want to hear myself anymore. I have got sick of listening to myself. I am deciding to clam up"
The comments didn't stop over 800 Wycombe fans travelling to Priestfield where a late goal from Tim Langford saw Wanderers snatch all three points when most people had settled for a draw. It was a howler from The Gills defence that led to the goal with 'keeper Steve Banks punching a Steve Guppy through ball to defender Gary Breen who then headed the ball into the path of Langford who was more than happy to slot home his 15th goal of the season. O'Neill walked straight down the tunnel at the final whistle leaving the travelling fans to celebrate with the players. Despite the victory Wanderers dropped to 5th place in the table but were still well in touch with the leading pack as a relatively traumatic February drew to a close.

Wycombe: Hyde, Cousins, Stapleton. Crossley, Blatherwick, Ryan, Carroll, Langford, Thompson, (sub 80 Brown), Turnbull, (sub 68 Garner), Guppy - sub unused: Moussaddik (GK)
Scorers: Langford 89
Bookings: none
Gillingham: Banks, Dunrie, Palmer (sub 32 Reinelt), Breen, Green, Carpenter, Smillie, Forster, Baker. Smith, Micklewhite (sub 70 Henry) sub unused: Barrett (GK)
Scorers: none
Bookings: Dunne 36 (foul). Reinelt 76 (foul)
Referee: Mr R. Bigger
Attendance: 4,292
What the papers said:
Bucks Free Press - Claire Nash reporting from Priestfield: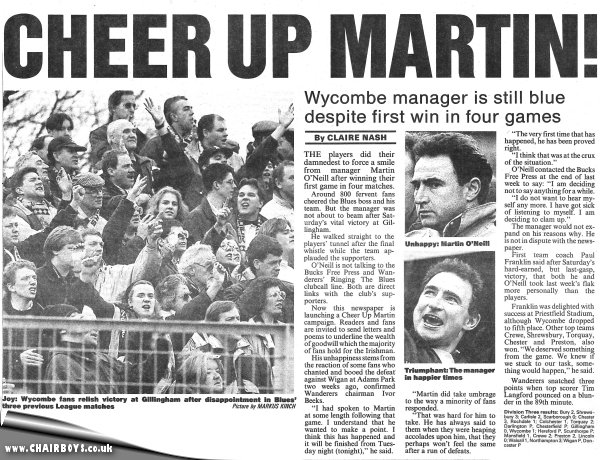 Wycombe got by with a little help from their rivals at Priestfield Stadium on Saturday. Blues should have already taken the game by the scruff of its neck when Gillingham goalkeeper Steve Banks and defender Gary Breen gifted an unmissable second chance for Martin O'Neill's men. A downfield punt by Steve Guppy, with striker Tim Langford on the case, sparked verbal confusion between the Gillingham pair when it bounced awkwardly. Banks raced out to punch it, Breen ended up heading the ball goalwards, Langford said thank-you very much and rammed the ball into the empty net to stem Wanderers' run of three successive League defeats.
Langford, who had previously started Wycombe's last three games from the substitutes' bench, said the players would have rued earning just a point from the hard-going confrontation. "It would have been two points dropped. But we have worked hard and deserved our bit of luck which has been missing in the last couple of weeks. The teams around us have picked up three points soit was important we got a result." Blues' leading scorer added: "It's nice to be back in the side. I felt I could have contributed a bit more today. I had two or three efforts which the keeper parried."
Langford's start was at the expense of Simon Garner. Steve Thompson replaced another recent signing Steve Brown in central midfield. Both changes were made in the wake of Wanderers' woe against Wigan. Grimaces were transformed into wide grins on the faces of Wycombe's loyal 800-strong multitude which made the relatively short trip to Kent, compared to usual long-haul sojourns. They had to endure a disjointed first half. Neither team menaced when it mattered in front of goal.
Encouragingly for Wycombe, though, their defence looked unlikely to spring any leaks. Matt Crossley and Steve Blatherwick, sent off last week in his first game in a one-month on-loan stint from Nottingham Forest, were a more settled partnership. Gillingham strikers Nicky Forster and Paul Baker were effectively thwarted by the duo. Full backs Jason Cousins' and Simon Stapleton's staunch mopping up helped negate the threat of veteran wingers Neil Smillie and Gary Micklewhite.
Set pieces still posed a problem. Paul Hyde was in trouble when he punched away Micklewhite's corner only as far as Baker who steamed in to drive it across the face of goal. No one was there to connect. Substitute Robert Reinelt became a force to reckon with in midfield, coming on in place of injured full back Lee Palmer. One blistering 25-yard effort singed Hyde's hands on 35 minutes. Hyde pulled off a match-winning save during first-half injury time. Baker produced a bullet header from Neil Smith's cross, but Blues' keeper reacted with excellent reflexes to tip the shot over the crossbar.
The second half was a much more delectable spectacle all round. Langford darted goalwards with Thompson's pass to force Wycombe's second corner on 46 minutes. The corner count then rapidly overhauled the hosts as Blues piled on the pressure. Their best chance arrived on 51 minutes. Keith Ryan, an industrious dynamo in midfield and defence throughout, failed to find his feet, or rather his head in front of goal. He missed with a close-range header after racing in to meet Carroll's cross when Banks left his goal gaping. Langford's snapshot was parried for a corner on 59 minutes. Carroll drove a cross across the face of the goal after Thompson and Steve Guppy were involved in a good build-up in the 68th minute. Gillingham struggled to contain Blues' breaks during the last quarter of an hour, but still Wanderers could not force the winner. In the end they were presented with it.