Fulham 2
Wycombe Wanderers 2
After extra-time - Wycombe won 4-2 on penalties
Tuesday 8th February 1994
Auto Glass (Football League) Trophy
Southern Area Semi-Final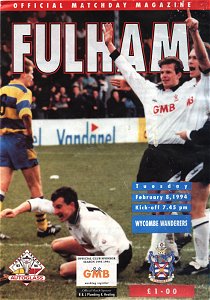 Wanderers' AutoGlass Trophy tie with Fulham at Craven Cottage on Tuesday 8th February 1994 goes down as one of those magic moments in the history of the Club. Close to 2,000 Wycombe fans were there to see it and came away with a spring in their step after a superb performance capped with a penalty shoot out victory took Wanderers into a Southern Regional Two-legged Final with Swansea City. Click here for the 'Magic Moments' report
However, the victory over Fulham didn't come without its casualties. Skipper Terry Evans was ruled out for the remainder of the season when he damaged knee ligaments after Fulham 'keeper Jim Stannard fell on him. Duncan Horton was also forced off in the same game with a hernia problem and Matt Crossley needed stitches in a cut to his chin.

News prior to the tie at Craven Cottage had seen Wanderers make two signings. Former Blackburn Rovers legend Simon Garner moved on a free from West Brom. Commenting on his one and half year deal, Garner said, "I do not think I would have dropped down a division if I was not coming to a club that is going places. I am here to score goals. I hope that is what I can do for them". The 34 year old's parting shot to his former team-mates at West Brom was "I'll see you in the Second Division next season."
Meanwhile. Martin O'Neill also bagged Northampton Town midfielder Steve Brown for an initial £40,000 fee. 27 year old Brown said after signing his two year deal, "I am sad to leave them. But I am keen in my career to escalate and if that's with Wycombe then I just want to get out there to do the job Martin O'Neill wants me to. I want to help th lads go in the right direction. There will be pressure on me earning a place but it's a nice sort of pressure."
Both players were signed on Friday 4th February 1994 but were prevented from the chance of making their Wycombe debuts the following day because the scheduled home meeting with Darlington was postponed due to a waterlogged surface at Adams Park. It was the only game postponed that day in the Football League, mainly due to a deluge of rain on the Friday, prompting a FA official to call off the match to prevent Darlington fans travelling down.

Wycombe: Hyde, Cousins, Horton (sub HT Langford), Crossley, Evans (sub 43 Kerr), Ryan, Carroll, Thompson, Stapleton, Garner, Guppy
Scorers: Langford 62, 93
Bookings: none
Fulham: Stannard, Jupp, Pike, Onwere (sub 98 Mison), Angus, Thomas, Hails, Bedrossian (sub 105 Tierling), Eckhardt, Brazil, Baah - Sub unused: Harrison (GK)
Scorers: Brazil 1, 119
Bookings: Jupp 42 (foul), Onwere 47 (foul)
Referee: Mr J Brandwood
Attendance: 8,733
What the papers said:
Bucks Free Press - Claire Nash reporting from Craven Cottage: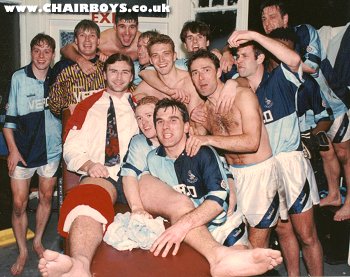 Wanderers launched a magnificent comeback in a Craven Cottage cauldron to blast their way one step nearer to Wembley. Nailbiters would have run out of material by the end of this pulsating clash which went to the wire when perhaps Blues had enough chances to win it in normal time. Every Wycombe player did their bit on a memorable night for their 2,000 supporters.
Tim Langford scored a brace to put Wycombe into the lead, but Fulham equalised in the second period of extra time. It went to penalties, the first Blues have ever endured, to take supporters' nervous systems almost to the point of no return. But Paul Hyde, cool as you like, saved two spot-kicks to take a little pressure off. Langford, Andy Kerr and Dave Carroll had already scored. Simon Stapleton's effort was saved. It was left to Jason Cousins, who took on the captain's mantle after Terry Evans went off injured, to strike home the decider. Once it went in, just, after Fulham keeper Jim Stannard got a hand to it, delirium ensued.
Wanderers' Indian sign over Second Division clubs continues. This is their seventh victory over such opposition this season. But it looked bleak on the outset. Fulham's leading scorer Gary Brazil put his side ahead within 45 seconds. He caught Evans' clearance from a corner on the half volley and blasted it inside the far post.
The London club continued to assuredly stroke the ball around and thwarted Wycombe's forays with their off-side trap. Evans left the field after Stannard fell on his knee. Then Langford replaced left back Duncan Horton, who needs surgery on a hernia, at half time. The odds were stacked mountain high. But manager Martin O'Neill harangued Blues into the right direction for the second half. Simon Garner gave Fulham centre half Terry Angus a torrid time, with the diminutive but wily new signing twisting and turning his way into promising shooting positions.
Reward arrived just after fortune had smiled on Wycombe. Hyde's goal kick rebounded favourably straight back to him off Brazil. His punt down field beat the last line of Fulham's defence and Langford nipped in to shove the ball under Stannard's body. Garner had a fine effort denied on 71 minutes. Then Steve Guppy's cross hit the post. The action flowing relentlessly and breathtakingly from end-to- end in extra time. Carroll hit the crossbar when found unmarked at the near post on 91 minutes. Within two minutes Langford put Wycombe in front when he chipped home a deep pass.
Cousins had to clear off the line at the start of the second period of extra time as Fulham stepped up their pressure. The home fans raised the roof when Brazil snatched an equaliser on the break on 114 minutes. The six remaining minutes ticked away. It was time to check penalty- taking credentials. "I just asked the players who fancied taking one as some of them had cramp," said Cousins afterwards. Langford, Kerr and Carroll emphatically rifled their spotkicks over, past, and below Stannard. Hyde had released the pressure valve for them with his save from Pike. Brazil and Lee Tierling scored theirs. Hyde denied Duncan Jupp after Stapleton failed to find a velocity factor on his effort. Cousins stepped up and crowned Wanderers' glory.