Wycombe Wanderers 0
Norwich City 2
Saturday 8th January 1994
FA Cup Third Round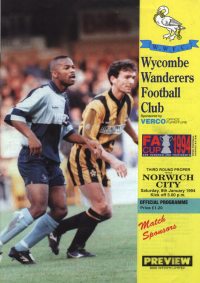 Wanderers made their first appearance in the Third Round of the FA Cup for eight years on Saturday 8th January 1994 - taking on Norwich City in front of a sell out 7,802 crowd at Adams Park.
The match only went ahead after Wanderers had splashed out a reported £3,000 on full pitch covers and hot air blowers in the days leading up to the game. The new equipment was used to protect the surface from rain, snow and frost. Groundsman Jim Gardener said "If it had not been covered the match would have been called off.". There was snowfall on the Thursday before the game with Norwich but the covers and drying equipment plus the hard work of the ground staff meant the cup tie went ahead as planned.
Also in the lead up to the game, the Canaries had been rocked on the Friday with confirmation that Manager Mike Walker had left for Everton, leaving assistant John Deeham to take control against the Wanderers. BBC Grandstand were at the ground in the morning to preview the game and speaking on live TV Martin O'Neill was asked if this was a good time to be playing Norwich. O'Neill responded "Yes I do. I met John Deehan a couple of hours ago and he's definitely very worried about it...all his hair has fallen out. Seriously, I think they are too professional for that" With Walker's departure to Premier League Everton, O'Neill was quizzed on whether he regretted turning down the Nottingham Forest job the previous summer and responded "I'll wonder what I'll say to this, this week? It's an interesting one because people say when you stay and don't go to another side it's called lack of ambition and if you do make the move it's called lack of loyality. I'm not sure where I stand on this. Perhaps it's because I haven't outstayed my welcome here yet."
Wanderers were given a boost before the game with the news that Matt Crossley had recovered from his leg injury picked up in the game at Torquay and would take his place in defence. There was a small financial boost too with both BBC Match of the Day and SKY covering the game. However, they both ommitted much of Wycombe's early possession and chances. Indeed, the MOTD highlights package dedicated just three minutes to the opening half, providing just enough time to see an unmarked Chris Sutton head past Paul Hyde following a ball swung in from the right on 38 minutes by former Sutton United forward Efan Ekoku. Earlier Steve Thompson had shined in the Wycombe side but Canaries' keeper Brian Gunn was not tested. Wanderers best chance to level came just before the hour mark when Steve Guppy's curling cross from the left side of midfield picked out Dave Carroll but Gunn managed to block the effort just in front of his goalline. Paul Hyde kept Wycombe in the game with a string of saves and blocks and it wasn't until three minutes from time, when Ruel Fox played a short ball for Sutton to convert from the edge of the penalty area, that the tie was sealed.

Wycombe: Hyde, Cousins, Stapleton, Crossley, Evans, Ryan, Carroll, Hodges (sub 58 Langford), Thompson, Hemmings (sub 76 Horton), Guppy - sub unused: Moussaddik (GK)
Scorers: none
Bookings: none
Norwich:Gunn, Culverhouse, Woodthorpe, Newman, Butterworth, Fox, Megson (sub 88 Smith), Crook, Bowen, Sutton, Ekoku (sub 66 Ullathome) - sub unused: Howie (GK)
Scorers:Sutton 37, 87
Bookings: none
Referee: Mr P Vanes
Attendance: 7,802
What the papers said: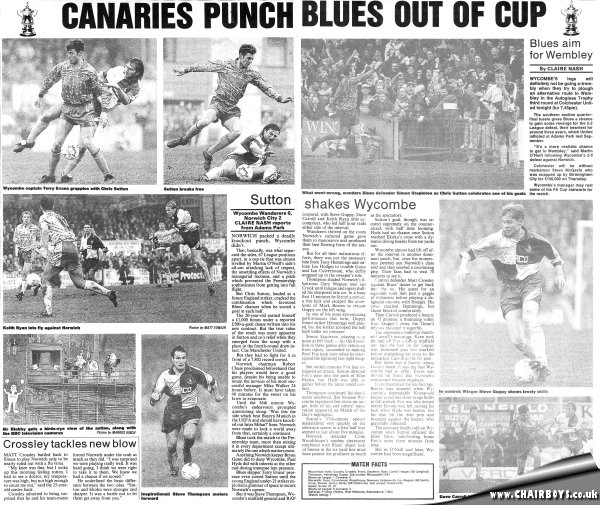 Bucks Free Press - Claire Nash reporting from Adams Park:
Norwich packed a deadly knockout punch, Wycombe didn't.
That, basically, was what separated the sides, 67 League positions apart, in a cup tie that was almost levelled by Martin O'Neill's side's all-out attacking lack of respect, the unsettling effects of Norwich's managerial ructions, and a pitch which prevented the Premiership sophisticates from getting into full flight. But Chris Sutton, lauded as a future England striker, cracked the combination which favoured Blues' chances when he scored a goal in each half. The 20-year-old earned himself a £1,000 bonus under a reported £500-a-goal clause written into his new contract. But the true value of the result was more apparent in Sutton and co's relief when they emerged from the scrap with a place in the fourth-round draw intact. Cue Manchester United. But they had to fight for it in front of a 7,802 record crowd.
Norwich chairman Robert Chase proclaimed beforehand that his players would have a good game, despite his being unable to retain the services of his most successful manager Mike Walker 24 hours before. It must have taken 60 minutes for the sweat on his brow to evaporate. Until the 36th minute Wycombe's endeavours prompted questioning along: 'Was this the side which beat Bayern Munich in the UEFA and should have knocked out Inter Milan?' lines. Norwich were made to look a world away from that, certainly a continent.

Blues took the match to the Premiership team, more than mixing it in every department except ultimately the one which matters most. Anything Norwich keeper Bryan Gunn did to deny Wycombe, Paul Hyde did with interest at the other end during immense late pressure. Blues skipper Terry Evans' presence even cowed Sutton until the young England under-2 1 striker exploited a glimmer of space to secure Norwich's opener. But it was Steve Thompson, Wycombe's midfield general and RAF corporal, with Steve Guppy, Dave Carroll and Keith Ryan able accomplices, who led half hour raids either side of the interval. Wanderers thrived on the room Norwich's cultured game gave them to manoeuvre and produced their best flowing form of the season. But for all their industrious efforts, there was not the necessary bite from Tony Hemmings and on- loan Lee Hodges to trouble Gunn and Ian Culverhouse, who deftly mopped up in the sweeper's role. Thompson shaded Norwich's illustrious Gary Megson and Ian Crook until fatigue and injury dulled his sharpness late on. In a busy first 15 minutes he forced a corner, a free kick and escaped the attentions of Mark Bowen to release Guppy on the left wing. In one of his most eye-catching performances this term, Guppy found striker Hemmings well placed, but the striker scooped the ball high under no pressure.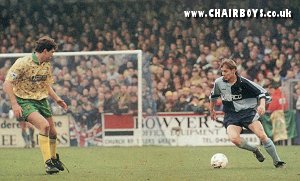 Simon Stapleton, playing with poise at left back— his third position in three games after returning from injury, succeeded in making Ruel Fox look dozy when he intercepted the lightning fast right winger. But within minutes Fox had instigated an attack. Sutton directed Fox's pass into the path of Efan Ekoku, but Hyde was able to gather before the latter could connect. Thompson continued his dominance unabated. But because Wycombe registered few shots on target, little of his and others' innovation appeared on Match of the Day's highlights. Sutton's 37th-minute opener materialised very quickly on the television screen in a first half that seemed to last about five minutes. Norwich defender Cohn Woodthorpe's aimless clearances combined with Blues' abject lack of finesse in the six-yard box must have pained the producer as much as the spectators. Sutton's goal, though, was secured supremely on the counterattack with half time looming. Hyde had no chance once Sutton reached Ekoku's cross with a dynamic diving header from ten yards out.
Wycombe almost had lift off after the interval in another dominant patch, but, once the momentum petered out Norwich's class told and they exerted a convincing grip. Their fans had to wait 70 minutes to see it. Central defender Matt Crossley typified Blues' desire to get back into the tie. His quest for an equaliser took him past a gaggle of defenders before playing a delightful one-two with Hodges. His cross reached Hemmings, but Gunn blocked comfortably. Then Carroll produced a beauty on 55 minutes, a thumping volley from Guppy's cross, but Gunn's reflexes matched it superbly. The impressive build-up matched Carroll's execution. Ryan took the ball off Fox's toes in midfield and laid the ball on for Guppy who shimmied past two markers before unleashing his cross to the unmarked Carroll at the far post. But there was a finality about Gunn's block. It was the best Wycombe had to offer. Evans was moved up front. But Norwich's composure became emphatic. Hyde frustrated the late barrage. Bowen was stunned when Wycombe's dependable 30-year-old keeper saved one close-range bullet at full stretch. Fox was also denied before Bowen was left cursing his luck when Hyde was beaten, but his shot hit the near post and bounced against the keeper, who gratefully collected. The pressure finally told on Wycombe when Sutton inflicted the killer blow, side-footing home Fox's cross three minutes from time. But as O'Neill said later, Wycombe had been magnificent.