Torquay United 1
Wycombe Wanderers 1
Monday 27th December 1993
Football League Division Three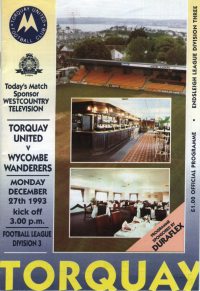 Wanderers Christmas holiday programme for the 1993/94 season began with a visit to Torquay United on Monday 27th December 1993. It proved to be a dour encounter where Wanderers were grateful to grab a point from a 1-1 draw. An amazing 850 Wycombe fans made the trip to Plainmoor and they saw Paul Hyde in top form again although he could do nothing to prevent Paul Trollope opening the scoring on 28 minutes when he shot home at the near post after Wanderers had failed to deal with a corner.
Wanderers grim day continued on the hour mark when Matt Crossley was injured after a falling awkwardly following a challenge with Darren Moore. Crossley was stretched off with suspected knee damage. However, with some Wycombe fans already departed, Wanderers snatched a draw with their only shot on target of the game. It came following a Carroll free-kick from the left which Evans connected with at the far post to head past the 'keeper and in off the post.
Wanderers were due to play Rochdale the following day at Adams Park but that game fell foul to the weather. A waterlogged pitch was caused by a thaw following a three day long freeze in the High Wycombe area. Wanderers came in for criticism for the decision but it was match referee Arthur Smith who called the game off two hours prior to the 3pm kick-off. One lady Rochdale supporter even vented her anger at Martin O'Neill himself. The comments wouldn't be forgotten!

Wycombe: Hyde, Cousins, Horton, Crossley (sub 60 Titterton), Evans, Ryan, Carroll, Langford (sub 74 Thompson), Hayrettin, Hemmings, Guppy - sub unused: Moussaddik (GK)
Scorers: Evans 81
Bookings: Hemmings 35 (foul), Guppy 86 (kicking the ball away)
Torquay:: Bayes. Hodges, Kelly, O'Riordan, Moore, Curran, Trollope, Myers, Foster (sub 85 Darby), Sale, Hathaway - subs unused: Lowe (GK), Hancox
Scorers:Trollope 28
Bookings: Moore 36 (foul), Foster (foul)
Referee: Mr R Milford
Attendance: 4,991
What the papers said:
Bucks Free Press - Claire Nash reporting from Plainmoor:
The depressing sight of Matt Crossley being stretchered off with torn knee ligaments summed up Blues' bleak midwinter day at Plainmoor. Wycombe were thankful to escape with a point in a match where the festive spirit had all but drained away among their 850-strong support until Terry Evans' header scraped home a late equaliser. Wanderers forced their way back into a game which Torquay should have put beyond their reach. Crossley's departure was a further body blow until Evans intervened.
Torquay boss Don O'Riordan led his players on a formidable charge which Wycombe struggled to contain. And without Paul Hyde's match-saving efforts in goal, Wanderers would have had the worst possible start to an intensive holiday fixture programme.
"They kept on bombarding us," said striker Tony Hemmings. "The biggest problem for the forwards was that they were picking up all the loose balls which was really frustrating. Everything was between our midfield and defence."
O'Riordan, a former Notts County team-mate of Martin O'Neill's, led his side by example with marauding runs forward from central defence to unleash- a series of telling crosses into the box.
"We played 95 per cent of the game in their half. We did everything right today," he said afterwards. "Wycombe are a good side but weren't allowed to look like one," added the Torquay boss, whose young side has already beaten Preston and drawn with Crewe at Plainmoor this season.
O'Riordan went for goal himself on 12 minutes, but Hyde pulled off a reflex block and safely gathered at his second attempt. Hyde was tested again on 17 minutes when the ball dropped sweetly for Paul Trollope who walloped a shot straight at the keeper. O'Riordan and left back Tom Kelly combined with intelligent play before Chris Myers forced the corner which led to Torquay's opening goal. Wycombe failed to clear the danger from the resulting cross and Trollope took advantage of their disarray, giving Hyde no chance with a well-drilled shot.
Tempers started to flare in the physical encounter where much venom was directed from all sides at illustrious FA Cup Final referee Roger Milford. Hemmings was booked for a challenge on Torquay skipper Chris Curran. Then burly United centre half Darren Moore was given the yellow card for upending Blues midfielder Keith Ryan.
Torquay ended the half on top with Hyde having to stretch to save Moore's header at the far post. Blues were exploring unfamiliar territory on their travels, having failed to get a single shot on target during the first 45 minutes. Passing moves broke down and Torquay, in front of their largest crowd of the season, snapped up anything loose. United's effective physical play lapsed into unnecessary needle when leading scorer Adrian Foster tried to provoke Hyde when the keeper geared up for a goalkick. But Hyde ignored the irritation and almost punted the attendant Foster down field with the ball. Dave Carroll zoomed goalwards from the right wing in Wanderers' most potent attack of the match on 58 minutes, but no Wycombe player was there to meet his cross at the near post.
Foster was booked for a non-sensical - challenge on Hyde on 64 minutes as the game became heated once again. The hosts continued to press home their advantage, and it was during one scramble in Wycombe's box that Crossley was injured when Moore inadvertently fell on his leg after both jumped for the ball.
Wycombe now had to pull back, and keep Torquay out, during the last 30 minutes without a vital defensive mainstay. Crossley was replaced by left back Duncan Horton, with substitute David Titterton taking up the latter's position. Everything held together, just. And Wycombe stepped up the pressure. Strikers Hemmings and Tim Langford continued their battle to break through but inviting balls were scarce.
Torquay should have gone 2-0 up on 73 minutes. Gangly striker Mark Sale missed from close range after Hyde blocked Trollope's shot. Then Evans plucked a gem from nowhere. Steve Guppy swung in a free kick and Blues' captain directed his header towards the near post. With keeper Ashley Bayes slow to react, the shot rebounded and trickled over with Hemmings in close attendance if it failed to do so. Referee Milford pushed O'Neill to boiling point when he overruled a throw- in decision which had originally been in Wycombe's favour. The Blues boss charged from the dug-out, but retained his composure. With the final whistle came only huge sighs of relief.