Bristol Rovers 1
Wycombe Wanderers 2
Sunday 14th November 1993
FA Cup First Round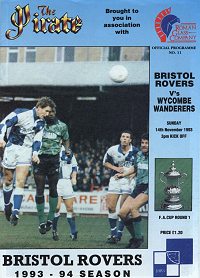 Backed by just over 1,000 fans, Wanderers came away from their FA Cup tie with Bristol Rovers at Bath with a somewhat fortunate victory. With eight of the squad affect by a flu bug, the travelling fans saw the home side, managed by John Ward, take the lead on 25 minutes when Lee Archer's 30 yard free-kick breached the Wanderers' wall and past 'keeper Paul Hyde. However, in typical fashion Wycombe responded and scored from their next attack on 34 minutes when Dave Carroll's cross from the right saw Steve Guppy's effort hit the bar and Tim Langford on hand to knock the ball in. With both sides struggling to create further chances all thoughts were on a replay at Adams Park up until the 78th minute when it was 'step forward Brian Parkin'. The Rovers 'keeper came out to clear a back pass by Worrell Sterling but Parkin scuffed his kick into the path of Carroll who controlled the ball before coolly placing a finish past the former Palace player. It was a result that was described on Rovers' matchday video commentary as being "A real pig if you're a Rovers fan". For Wycombe followers it went to make up for the previous bad luck in cup ties against West Brom and Coventry.
Commenting after the game, Martin O'Neill, who had turned the chance to manage Rovers two years previous, said, "I had a chance to come here to Bristol Rovers. It was a great opportunity at the time for me to go into the Football League but that is what I set out to I do at Wycombe Wanderers and I I felt I still had a job to do there. There's something in my mind at the moment which says that the job here is still not finished." Reflecting on the tie, O'Neill added, "'We came here with only 13 fit outfield players so we have done exceptionally well today. Coming here to a club that is in a division above us and winning is a very good performance. But the fans will now be expecting us to repeat it if we draw Manchester United!"
The draw for the Second Round paired Wanderers at home to the winners of the Reading/Cambridge United replay at Elm Park. It prompted Wycombe to make contingency plans for ticket allocation for a guaranteed sell-out tie with The Royals. The plans were shelved when Reading lost the replay.
The biggest off the pitch news came on the Wednesday following the game with Rovers, when there was the shock revelation that the Club had agreed an initial £300,000 transfer deal that would take Keith Scott to Premiership strugglers Swindon Town. 26 year old Scott, who cost Wanderers £30,000 when he joined from Lincoln City in 1991, had been tracked by Town boss John Gorman since they had played Wanderers in a pre-season friendly draw at Adams Park the previous July. Gorman said "Keith is a goalscorer, that is the main reason we have brought him to Swindon. He has got a hatful for Wycombe. I just hope he can keep scoring in the Premiership"
Scott was delighted with the move that would see him score on his Town debut against QPR and later at Anfield versus Liverpool. Commenting on the transfer, Scott said "I have got a few regrets about leaving Wycombe. I have left a lot of friends behind and I had a good relationship with the supporters. But once I weighed things up, it took me about three seconds to decide to sign for Swindon." However, he went on to praise his now former boss, adding "I have got the utmost respect for Martin O'Neill and I am grateful for his help in getting me this move"

Wycombe: Hyde, Cousins, Horton, Creaser, Evans, Ryan, Carroll, Langford (sub 61 Hutchinson), Hayrettin, Scott, Guppy - subs unused: Hemmings, Moussaddik (GK)
Scorers: Langford 34, Carroll 78
Bookings: Scott 83 (foul)
Bristol Rovers:Parkin, Channing, Maddison, Browning, Clark. Wright, Sterling. Taylor. Saunders, Skinner, Archer - Subs unused: Tillson, Hardyman, Kelly (GK)
Scorers: Archer 25
Bookings: none
Referee: Mr M Pierce
Attendance: 6,421
What the papers said:
Bucks Free Press - Claire Nash reporting from Twerton Park: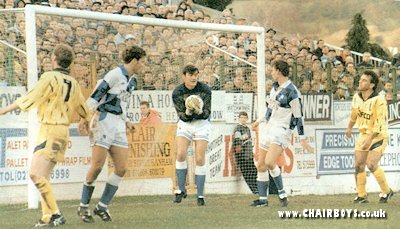 For once the cookie crumbled Wycombe Wanderers' way after their flu-plagued players' resolute determination put them in the position to ride any good fortune which arose against Bristol Rovers on Sunday.
They duly galloped when Rovers keeper Brian Parkin's 78th-minute clanger of a clearance went straight to the feet of Dave Carroll, who coolly took the ball up to him before pushing it into the net for an historic victory - Blues' finest ever in the FA Cup.
For the previous 77 minutes Martin O'Neill's re-organised side had withstood a barrage of assaults from the Second Division side to protect Tim Langford's equaliser at Bath City's ground, where they had won only once before in seven visits. Blues keeper Paul Hyde, one of eight players suffering from a virulent cold, held impressively firm during the first half where Rovers dominated in lengthy patches. But it was an all-round hardworking team performance where Wanderers' efforts in clearing their lines was an integral part of their victory once it was sealed by Carroll's strike.
Full backs Jason Cousins and Duncan Horton had perhaps the toughest marking jobs on the pitch to contain Rovers' pacy wingers Worrell Sterling and Lee Archer, who scored the opening goal. But they harried the skilful pair all the way, Horton, despite being ill at half time. Skipper Terry Evans provided the backbone which ultimately stayed solid after being forced to creak and groan under the weight of Rovers' early pressure. Alongside him Glyn Creaser, replacing Matt Crossley who failed a late fitness test with a groin strain, had possibly the most daunting task of all in keeping tabs on Rovers' leading scorer John Taylor. It was only the central defender's third first-team appearance since his heel was run over by a forklift truck ten months ago, and he admittedly struggled with the pace of both Taylor and Rovers' other marksman Carl Saunders during the first half.
Rovers had selection hurdles to negotiate themselves with their star England under-21 striker Marcus Stewart still out through injury. Their skipper Gary Waddock was dropped after a loss of form. But they soon gained the upper hand in the cup-tie cut and thrust after Blues' leading scorer Keith Scott missed a chance within 46 seconds, his shot trickling by the far post after chasing a through ball to the edge of the box.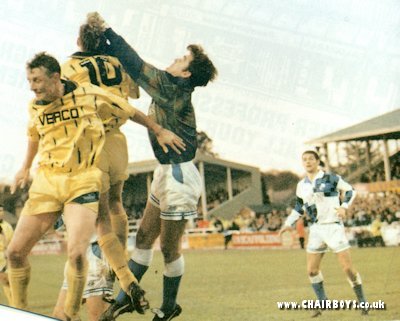 Hyde saved well from Saunders' 25-yard loosener, but within five minutes Rovers were in front. Creaser's foul conceded the free kick from which Archer scored 30 yards out. Hyde appeared to cave in on the line, but Wycombe's wall, or rather lack of one, presented Archer with a flimsy obstacle on 25 minutes.
Wycombe, however, made the most of their next attack in a rare foray forward on 34 minutes. Scott persevered on the edge of the box and capitalised when his marker Ian Wright fell over to lay the ball on for Carroll, whose cross from the right was met by Steve Guppy. The left-winger's shot hit the bar, but Langford was on hand to finish off.
O'Neill made a telling substitution when he replaced Langford with Simon Hutchinson, moving Carroll into a forward position and installing Hutchinson on the right. Rovers lost their rhythm. But Wycombe looked unlikely to score either until Parkin's error opened the door. Sterling played the ball back to the former Crystal Palace keeper who immediately found Carroll with his reply. Carroll, though, did well in a position where jitters could have intervened to push the gimme wide. But he didn't, and Wycombe and their 1,000 fans delighted in their healthy helping of luck.
With previous cup-crushing moments in mind-Steve Morgan's decisive aggregate equaliser for Coventry in the Coca-Cola Cup, Bobby Taylor's late winner for West Brom in last year's FA Cup second round replay - perhaps no one, except Rovers' supporters, would begrudge them that.