Wycombe Wanderers 4
Scarborough 0
Tuesday 2nd November 1993
Football League Division Three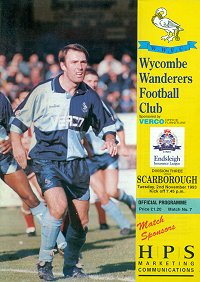 Wanderers returned to winning ways with an emphatic 4-0 victory over Scarborough in an evening Division Three encounter at Adams Park. Wycombe's first League win for a month, in front of an impressive 4,000 plus midweek crowd, came after Dave Carroll got the scoring underway with a goal officially recorded at 22 seconds. Boro, managed by former Wanderers player Steve Wicks, were outclassed during a first half where they conceeded four times before holding Wycombe during a subdued second half. Speaking after the game, Wicks said, "They were far better than anything else I have seen in Division Three so far." Talking of his time at Wycombe, he added, "Loakes Park was an odd ground. I always thought I should have one leg shorter than the other for that sloping pitch." And went on to say, "There was always a driving ambition at the Club. And there is one thing I will say is that I think there is no one who comes here who does not hope that Wycombe do their very best in the Football League."
Meanwhile, Martin O'Neill was pleased his players performance after warning after a poor display against Shrewsbury that some could soon find themselves replaced by new additions to the squad. However, he warned, "The players will dictate what happens to them. If they are not doing it, there will be no room for sentimentality, they will have to go. There is not a player at this club who has not had an opportunity to perform."
Off the pitch, the Club announced they were to open a shop in High Wycombe's Octagon Shopping Centre, opposite Littlewoods. 'Wanderers in Town' was set to be officially opened by Martin O'Neill and the players on Monday 8th November 1993.

Wycombe: Hyde, Cousins, Horton, Crossley, Evans, Ryan, Carroll, Hayrettin, Thompson (sub 73 Hemmings), Scott, Guppy. Subs unused: Hutchinson, Moussaddik (GK)
Scorers: Carroll 1, Crossley 9, Scott 40, 43
Bookings: Scott 83 (kicking the ball away)
Scarborough: Burridge, Knowles, Swales, Calvert, Davies, Rockett, Charles. Murray, Henderson, Horsefield, Young. Subs unused: Ashdijan, Cawthorn, Evans (GK)
Scorers: none
Bookings: Davies 36 (foul), Calvert 77 (foul)
Referee: Mr S Dunn
Attendance: 4,289
What the papers said:
Bucks Free Press - Claire Nash reporting from Adams Park: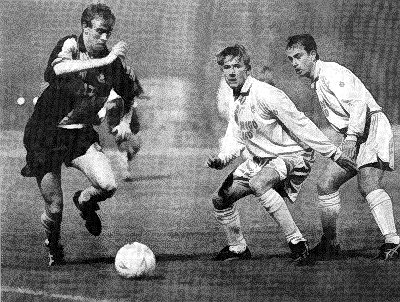 Wycombe raced to their finest League win so far with a nigh-bionic first-half display against Scarborough which excelled with positive thinking and clinical finishing. Blues had pretty much wrapped things up by half time, but three points were not fully secure until it was obvious the visitors could find no adequate reply to Wanderers' early spellbinding play.
Dave Carroll got the ball rolling in record-breaking fashion on Tuesday when he homed in on Steve Guppy's corner within 30 seconds to head home the fastest goal ever at Adams Park. It was only Wycombe's third touch of the ball and set the pattern for the next 43 minutes of pulse-racing entertainment which forced former Crystal Palace goalkeeping legend John Burridge to endure a humbling evening.
Stalwart defender Matt Crossley scored a breathtaking header at the far post on eight minutes, again from a Guppy corner, for his first goal of the season. Then Keith Scott pumped up the scoreline with two goals before the interval, the first of Which followed one of the best build-ups ever to grace the ground. Steve Thompson laid the ball off to Carroll who played a first-time cross along to floor into the box for Blues' leading scorer to drill into the net with precise venom at the near post.
Within minutes Scott secured his 14th goal of the season with his second bite at a Carroll cross after his initial header bounced off the crossbar. Thompson and Hakan Hayrettin only narrowly missed adding to the goal feast after the former's header had to be hooked off the line and the latter's 30-yard piledriver veered fractionally off-target.
The action was markedly calmer in the second half, with Wycombe not surprisingly unable to retain top gear throughout, and Scarborough pressured for a respectability restorer. Wanderers' performance was something of a transformation from recent matches. They had been prone to losing their way in the midst of attacks, but here they gave a classy exhibition of one touch play which had Scarborough chasing shadows.