Northwich Victoria 0
Wycombe Wanderers 1
Tuesday 26th October 1993
GMVC Championship Shield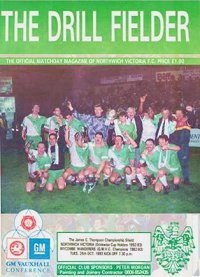 A break from League action saw Wanderers retain the GMVC Championship shield with 1-0 victory over Northwich Victoria at The Drill Field. Wycombe were outplayed for large portions of the game but Scott's speculative 25 yard effort, that caught Vics 'keeper Tony Bullock by surprise, was enough to earn victory against a side who had beaten Wycombe the previous season in the final of the Bob Lord Trophy. Speaking after the game Martin O'Neill said "It was a bit of sweet revenge on Northwich Victoria. We didn't play all that clever in the game but we did win it and it might eventually be the only thing we win this season, so it's nice to have the trophy re-instated in the Boardroom cabinet and that importnant for us. It's also nice to have won it three times and we will never have to defend it again I hope unless we are relegated back to the Vauxhall Conference but that sort of thought is not really in my mind at the minute."
Other news had seen the Wanderers drawn away to Bristol Rovers in the First Round of the FA Cup. It would be a trip to the Club that Martin O'Neill turned down an opportunity to manage in the summer of 1991 after Gerry Francis left Rovers for QPR. Rovers current Manager was John Ward and commenting on the draw he said "We have got a great deal of respect for Martin O'Neill. I have been talking to my assistant Dennis Booth, who used to Manager at Stafford Rangers, and we recognise the quality you have got in the Wycombe side." The tie was eventually scheduled for Sunday 14th November 1993 to avoid clashing with Bristol City's home meeting Fulham on the Saturday, even though Rovers played their 'home' games at Bath City.

Wycombe: Hyde, Cousins, Horton, Crossley, Evans, Creaser, Carroll, Hayrettin, Hemmings, Scott, Hutchinson - subs unused: Guppy, Ryan
Scorers: Scott 3
Bookings: Hayrettin 66 (dissent), Scott 67 (foul). Horton 79 (foul)
Northwich: Bullock, Norman, Simms, Donnelly, Parker, Jones, Butler, Boyd, Hardy, O'Connor, Christie - subs unused: Westray, Lewin
Scorers: none
Bookings: Parker 64 (dissent)
Referee: Mr K Lynch
Attendance: 805
What the papers said:
Bucks Free Press - reporting from The Drill Field:
Wycombe retained the GMVC Championship Shield for the second time on Tuesday night with a narrow win over Northwich at the Drill Field. They completed their nonleague commitments, but were reminded how hard Conference life sometimes was. Blues were outplayed for large portions of the game by Vics, the team which denied them a unique treble last season by taking the Drinkwise Cup in a thriller at Adams Park.
Wycombe at least evened that score, with a goal after only two and a half minutes of the game. There seemed little danger when Keith Scott collected the ball 25 yards from goal. He saw options open to him, so tried a speculative shot which took Tony Bullock by surprise. A minute later the Drill Field's returning hero Tony Hemmings charged into the six-yard box to meet Dave Carroll's low cross, only to launch the ball over an open goal. Hemmings, anxious to impress against his old team-mates, made a muck of things again two minutes into the second half. Simon Hutchinson's corner fell to him by way of Terry Evans, but he screwed a close-range shot wide of a post.
Wycombe looked unlikely to increase their lead. Instead they had their work cut out preventing Vies from scoring an equaliser. Paul Hyde performed heroics to twice deny Mark Jones from a Dave Christie corner. But the danger passed and Wycombe collected the handsome shield and their plaques.