Chesterfield 2
Wycombe Wanderers 3
Saturday 2nd October 1993
Football League Division Three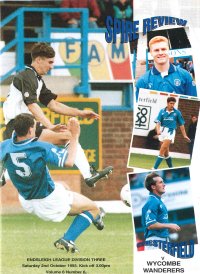 Wanderers made hard work of beating a disrupted Chesterfield side as Martin O'Neill's men returned to League action. The Spiretes had been put up for sale in the days proceeding the game after the fans had demanded the resignation of the board of directors. Wanderers eventually ran out 3-2 winners, with two more strikes from top scorer Keith Scott and a headed goal from new Captain Terry Evans - the latter having his loan spell from Brentford extended by two weeks.
Prior to the game there was mixed injury news for Wanderers with the revelation that Tim Langford had aggrivated his hernia and would be missing for an estimated six weeks. On the plus side, Duncan Horton returned on the bench.
Speaking of his need for a striker to cover for the loss of Langford, Martin O'Neill said "I might have to spend. The chairman (Ivor Beeks) is on holiday in Portugal. He might get an expensive phone call". After the game with Chesterfield, O'Neill continued with his desire to sign Terry Evans on a permanent basis, saying, "As long as Evans is at the Club he will be captain. I think he is in the Creaser mould." However, he was not happy with Brentford's asking price, saying, "We will have to see what we can do,", who did not dismiss the suggestion of a £50,000 price tag. "We have approached the club and are trying to do something," he added. Meanwhile Evans said after the game at Chesterfield, "It was a great honour to be made captain." and added, "I would like it to be more permanent. I am enjoying it here."

Wycombe:Hyde, Crossley, Potter, Kerr, Evans, Ryan. Carroll, Hayrettin, Hemmings, Scott, Guppy - subs unused: Hutchinson, Horton, Moussaddik (GK)
Scorers: Scott 11, 50, Evans 77
Bookings: Hyde 35 (handball out of area), Hayrettin 62 (foul), Crossley 80 (foul)
Chesterfield:Leonard, Rogers (sub 45 Cash) C Carr (sub 64 Dennis), Brien, D Carr, Curtis. Dyche, Norris, Lyne, Turnbull, Morris
Scorers: Morris 53, Turnbull 90 (penalty)
Bookings: none
Referee: Mr Alan Dawson
Attendance: 2,956
What the papers said:
Bucks Free Press - Claire Nash reporting from the Recreation Ground:
WYCOMBE continued their unbeaten away record in the Football League with a thrilling confrontation that became more nail-biting than it should have been against Chesterfield on Saturday.
Keith Scott scored twice and new skipper Terry Evans headed a third for the scoreline to reach a reasonably realistic 3-1 conclusion at the Recreation Ground. But while Blues appear to be travelling well, they seem too prone to stressing themselves out in the later stages of away games, this time conceding a penalty in the dying seconds.
Wycombe should, in the words, of their manager, have scored more. "I am pleased we won, but we could have scored six. But once I we conceded a goal we momentarily went all over the place. But the way we play, we are always likely to concede goals," said Martin O'Neill afterwards.
That Wycombe were in a position to count spurned chances was in due part to a favourable decision by referee Alan Dawson. He allowed Paul Hyde to stay on the pitch after the goalkeeper clearly handled the ball outside the box. But Hyde was merely booked for the professional foul. A sense of dread, however, ran through Wycombe's 500-strong ranks of supporters when Dawson reached for his notebook - the spectre of a third sending off in three weeks was a haunting prospect.
Blues could have put the game out of reach by the interval, if Tony Hemmings' long-range shot had not cannoned away off the underside of the bar, to add to Scott's 11th-minute header. The winger-cum-striker, replacing injured Tim· Langford, had two further second-half chances from which Wycombe could not fail to capitalise. He was through on goal, only having to knock the ball across to attendant Blues bodies to tuck away from close range. But he clearly heard the rapturous adulation before he struck the ball, and blasted it on a trajectory in line with Chesterfield's famous crooked church spire.
Wanderers had run their opponents ragged in the first half. Scott scored the first of his brace after Steve Guppy's deep cross from midfield sent him charging in on goal. He rose with Chesterfield keeper Mick Leonard to head the ball in, with the latter, under pressure, appearing to let it go through his hands.
Andy Kerr had hinted at the defensive lapses to come when he struggled to come to terms with Chesterfield's top scorer Steve Norris. But Wycombe continued their attacks in much the same vein after the interval, scoring their second on 50 minutes. Hakan Hayrettin played a good ball wide to Keith Ryan who drilled in a killer cross for Scott to nod home for his ninth goal of the season.
But the hosts, reshuffied in the wake of a series of defeats, were in determined mode and began to exploit gaps in Wycombe's defence, pulling a goal back within three minutes. Kerr was left standing by Norris, who was surrounded by four Wycombe shirts in the six-yard box, but still managed to get in a cross for Andy Morris to score.
The action was now flowing at break-neck speed from end to end. But Blues could rely on effective counter-attacks which Chesterfield's defence, which included former Wanderer and 1991 FA Trophy medal winner Stuart Cash, consistently struggled to contain.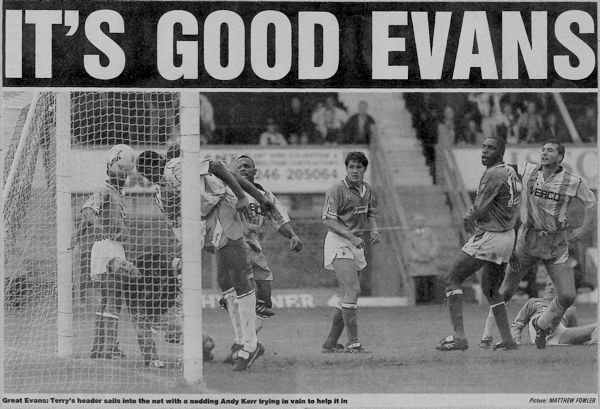 Evans capped his first game as skipper with his 77th minute header, which was a second bite at Dave Carroll's corner. But Chesterfield proved to their demanding crowd that they were not dead and buried when defender Tony Brien homed in on goal. He still had work to do in the box when Carroll was adjudged to have fouled him. Lee Turnbull converted the resulting penalty.