Wycombe Wanderers 1
Doncaster Rovers 0
Saturday 25th September 1993
Football League Division Three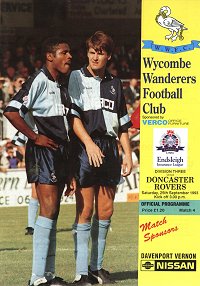 A Jason Cousins horror tackle overshadowed what was another great result for the Wanderers against Doncaster Rovers at Adams Park. The Wycombe defender launched himself with both feet at Rovers' David Moss just before half-time, leaving the onlooking crowd stunned and Manager Martin O'Neill fuming as Cousins was sent packing down the tunnel in disgrace.
To Wycombe's credit they responded after the break with a Tim Langford goal and hung in for all three points to move to fourth place in the table. But talk of promotion was not the priority after the game as the Cousins tackle was set to make national news. "If he does it again he will not play at this football club anymore", said a raging O'Neill in the post match interviews as he revealed he had stripped the Club Captaincy from the 22 year old, fined him a week's wages and suspended him for seven days. O'Neill went on to add, "I thought that the decision when he was sent off against Colchester last week was harsh, but his behaviour this week was a total disgrace. He should have been sent off regardless of the yellow card beforehand. It was a terrible challenge." However, O'Neill was quick to remain balanced of the player's future, saying, "It has not wrecked his career at Wycombe. I think everybody is entitled to a second chance. But what he did is something we won't stand for. It was not in the spirit of this football club. It was incomprehensible especially after last week, and that is the whole point." On further reflection and seeing some of the absurd overreaction to the challenge, O'Neill went on to comment on the aftermath in his programme notes a few days later, concluding, "He will no doubt have to live with his actions for quite some time. Perhaps you are still not in the forgiving mood but Jason Cousins will get one more chance by this Manager to prove himself all over again. I hope he, for his family's sake, succeeds."
Other news in the week of Doncaster game saw the Club take their first steps to introducing a Centre of Excellence. A Youth Team had been introduced under the Managership of Jim Kelman a few years previous but the Centre of Excellence would extend the age range down to the Under 11 category from the existing U15 to U18. The Youth Team, Managed by Jim Melvin, had held Birmingham City to a draw at home in the First Round of Southern Junior Floodlit Youth Cup and were set for a replay at St. Andrews.

Wycombe:Hyde, Cousins, Potter (sub 81 Kerr), Crossley, Evans. Ryan, Carroll, Langford, Hayrettin, Scott, Guppy - subs unused: Hemmings, Moussaddik (GK)
Scorers: Langford 49
Bookings: Cousins 38 (foul), Cousins 43 red card (second bookable offence)
Doncaster: Beasley, Measham, Freeman, Yates (sub 71 France), Wilcox, Bottomley, Harper, Hulme, Jones (sub 84 Hewitt), Jeffrey, Moss - sub unused: Taylor (GK)
Scorers: none
Bookings: Moss 35 (foul)
Referee: Mr Mick Pierce
Attendance: 4,905
What the papers said:
Bucks Free Press - Claire Nash reporting from Adams Park: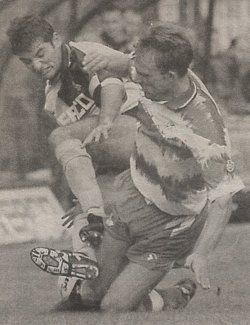 Wycombe were given a tumultuous standing ovation for their character-laden victory over Doncaster on Saturday after being reduced to ten men for the second week on the trot.
Perhaps learning from the 5-2 drubbing inflicted by arch-rivals Colchester the week before, Blues stubbornly defied their one-man disadvantage to turn the tables on their opponents at Adams Park.
"I thought the side did brilliantly. We were in an almost identical position as last week, but the ten men on the field really buckled down to it," said delighted manager Martin O'Neill afterwards.
Mammoth performances by central defender Terry Evans and striker Tim Langford were the centre-pieces of a gritty all-round performance after Jason Cousins was sent off for the second time in seven days.
"Terry Evans was magnificent. It was his best game so far in a Wycombe shirt," said O'Neill of the on-loan centre halfs performance. Evans, who has had his loan period from Brentford extended for another two weeks, said: "We were determined not to crumble. We just got a lot of bodies behind the ball and it paid off."
The visitors became visibly impatient with the hosts' steadfast refusal to surrender a one-goal advantage supplied by Langford at the start of the second half. Evans made vital early interventions with Rovers' David Moss threading penetrating passes through to targetmen Kevin Hulme and Mike Jeffrey.
Wycombe, while still at full strength, eased themselves back into contention. Steve Guppy supplied Langford with a string of tantalisingly whipped in crosses which the striker just failed to flick past Rovers keeper Andy Beasley.
Blues were justified in feeling aggrieved when penalty appeals were turned down by referee Mick Pierce after Hulme appeared to catch Evans' powerful header from Guppy's cross in the 31st minute.
But Cousins' damning misdemeanours threatened, with the previous capitulation against Colchester still fresh in the memory, to destroy their good work. The former captain was sent off just before the interval after his horrendous challenge on Moss, just five minutes after being booked for a foul on Jeffrey. But O'Neill, who had white-hot fury etched in his face as he walked down the players' tunnel at half time, expertly re-jigged his side to produce an inspired second-half performance.
Wycombe scored within four minutes of the interval. Keith Scott, who took over as captain, flicked on Graham Potter's long ball to Langford who fully exploited space conceded to him by Doncaster's defence with a well-executed strike from the edge of the box for his third goal in three league games.
Wanderers played the remaining 40 minutes with a sturdy 4-3-2 formation. Keith Ryan was moved from midfield to fill Cousins' right-back position, with Evans and Matt Crossley remaining in the centre and Potter on the left. Andy Kerr, recalled to the first team squad after beiug dropped in midweek for the Coventry clash, substituted Potter late on to herald a second rejig with Crossley going to left back to withstand Doncaster's last-gasp assault.
Langford and Scott proceeded to run Rovers ragged at the other end. Wycombe threatened to go two up after forcing three quick corners in the 74th minute. Doncaster skipper Russell Wilcox cleared on · the line from Guppy, who forced Beasley to pull off a fine save from a fierce dipping left-footed shot two minutes later.
The last 15 minutes saw the visitors muster all they could to get back on level terms, but they appeared to allow their impatience with resolute Wanderers to cloud their ability to break through.